Community Beacon Faithfully Serves Families in Need Alongside His Partner in Life & Service
Meet Daily Point of Light Award honoree Robert Jenkins. Read his story and nominate an outstanding volunteer or family as a Daily Point of Light.
At 78 years young, Robert Jenkins will tell you he's followed his wife's lead in serving his community. But it is because of his steadfast commitment to volunteerism and his deep community roots, says Robert's wife, Carolyn, that thousands have benefitted from the Stafford, Virginian's service.
The transportation liaison volunteer for Jenkins Donelson Foundation (JDF), an organization his wife founded in 2016, Robert is literally helping low-income families from the bottom up, by providing everything from shoes and socks to essentials and kitchenware. Even powering through challenges during the COVID-19 pandemic to ensure people in need, from children to single mothers to seniors, did not go without, Robert is volunteering to relieve financial and mental stress for families.
Points of Light spoke with Robert and Carolyn about his service.
What inspires you to volunteer?
Robert: I'm inspired to volunteer because of my wife and her desire to help others. I followed her lead and I too, like to help people. There's a lot of people crying out there, you just don't hear them. I was raised with a good heart, and I feel it's the right thing to seek people out and help in any way possible.
Describe your volunteerism with JDF.
Robert: As the volunteer transportation liaison, I work with our retail partners to pick up items that are then distributed, through JDF and also through our community partners.
Carolyn: Robert is the face of the organization and because of the relationships he's built with retail stores, the foundation has benefited. He gets items directly to people in need. We work with places like the sheriff's department, animal shelters and schools to make sure people are getting help. We've helped thousands across the United States and also internationally, including sending clothes and goods to Ghana.
Share one personal story with me from your volunteerism.
Robert: My interaction with others is very important. They have to know we are helping them in good faith, with good intentions. One day, I'd picked up donations including bicycles, and as I was driving, I saw this fellow, a senior citizen, walking down the road. He wasn't as old as me, but he wasn't far from it. I'd visited a neighborhood where I thought some children could use the bicycles, but I saw this senior and gave him a bicycle. I still feel good about that. I couldn't pick that man out of a lineup now, but I feel good that God led me there to help another man.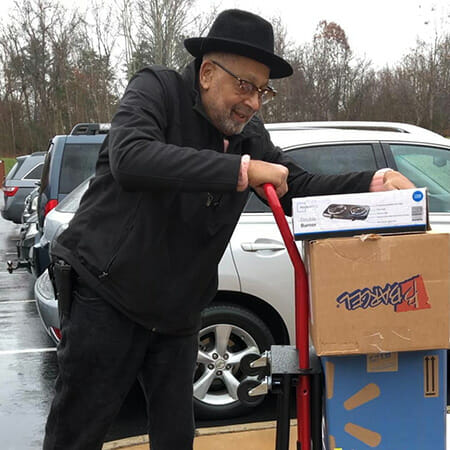 Why do you think it's important for others to give back?
Robert: To whom much is given, much is required. We all have a responsibility to help others as we can, wherever we can. We'd have a better world if we helped others with a unified heart.
How have you continued to volunteer throughout the pandemic?
Carolyn: Our volunteerism changed a bit, but we are seeking out people in different ways because people needed the help even more. Robert never missed any volunteering during the pandemic. We'd leave donations in parking lots, had more people come to pick up, and followed all masking and safety protocol. The pandemic created opportunities for us to expand our partnerships. We recently gave over 19 pallets of school supplies to kids in eight different school districts.
What do you want people to learn from your story?
Robert: To some degree, we are all on this earth together, and we need to live together in the spirit of helping each other.
In one word, what does volunteering mean to you?
Robert: Caring.
How can readers help?
Please visit the Jenkins Donelson Foundation website for more information about how you can help.
Do you want to make a difference in your community like Robert Jenkins? Find local volunteer opportunities.
Share this post
---