Community Leader and Public Health Activist Fights for a Better Future for His Neighbors in Puerto Rico
Meet Daily Point of Light Award honoree Jeffrey Rivera-Sanabria. April is Global Volunteer Month, a global movement to recognize volunteers and people who actively support their communities, whether through volunteerism or other elements around the Points of Light Civic Circle®, like Jeffrey. Read his story, and join the Global Volunteer Month celebration.
Jeffrey Rivera-Sanabria's volunteer service started when he was just a kid and Hurricane Hugo, a category five storm, hit Puerto Rico. He helped collect and dispose of debris at the local elementary school. Years later, his commitment to serving his community has only increased. In college, he studied business administration and psychology with concentrations in computer information systems and social work — all topics that set him up for his expansive volunteer roles. 
Among other things, Jeffrey is a community leader of the Residencial Luis Llorens Torres, a public housing complex in San Juan, Puerto Rico, where he helps in virtually every aspect of improving the lives of under-resourced residents. He has done everything from delivering essentials to seniors during the COVID-19 pandemic and solving problems that face the community to organizing programs promoting culture and the arts. Having grown up there himself, the complex holds a special place in his heart. Jeffrey has also been a member of the Puerto Rico Medical Reserve Corps since 2011. As such, he assists the Department of Health with emergencies, natural disasters and public health issue awareness. 
Since 1997, Jeffrey has been recognized with numerous awards and leadership positions, and he has no intention of taking a break. With an eye on eventually joining the Peace Corps, he also hopes to further his education in social work. In short, he's the neighbor everyone wishes they had but very few are lucky enough to get. 
What inspires you to volunteer? 
What inspires me to be a volunteer is being able to give what I know and have learned in my personal, professional and educational life, and put it towards helping the most vulnerable. I want to be part of social change, for all people to have the same opportunities, rights, equity, justice and respect. I want their dignity to be recognized. 
Describe your volunteer work in
Residencial Luis Llorens Torres and in disaster relief and public health.
My work with the residents of the Luis Llorens Torres Res. began as a kid in 1989, when Hurricane Hugo hit Puerto Rico. I helped collect and dispose of debris at the Luis Llorens Torres Elementary School. I continued through the Boy Scouts of America until I started volunteering in sports and recreation, education and cultural activities from 2009 to the present. After hurricanes Irma and María in 2017, I brought First Aid kits to the elderly residents and people with disabilities along with food, water, flashlights and other essentials for all residents.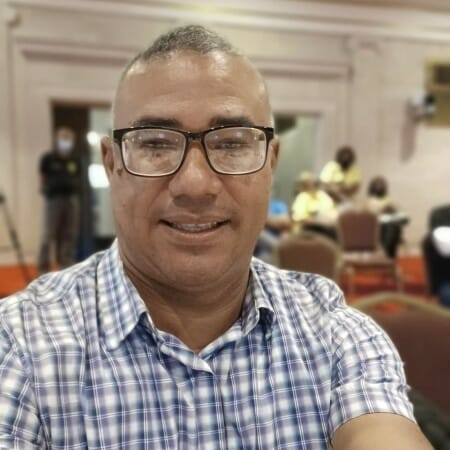 During the COVID-19 pandemic, I delivered food, masks, sanitizer, gloves and other supplies. I developed COVID prevention education and vaccination activities. I also carried out the following: a summer camp for young people; delivery of food and toys to children and youth; delivery of food to seniors and people with disabilities; distribution of groceries and turkeys for Thanksgiving dinner; delivery of roses, postcards and cookies for mothers; and tutoring assistance for students at all levels.  
During Hurricane Fiona last year, I helped residents process documents from government agencies and their review appointments, as well as assisting people filing for FEMA aid due to loss of food during lack of electrical service. 
What's been the most rewarding part of your work? 
My specific causes are helping seniors and people with disabilities, as well as the young people of my community. Older adults sometimes live alone, and sometimes their relatives don't take care of them. Many of them live day-by-day with the little they receive either from their retirement funds or social security. 
What have you learned through your experiences as a volunteer? 
Children are our present and future, and we must give them the necessary tools to make good decisions and contribute to the well-being of Puerto Rico. We should also give them the opportunity to integrate into our spaces by listening to them and nurturing their ideas and contributions. 
Volunteer work has changed my life. It has helped me differentiate myself from my peers and avoid the mistakes that many of those who grew up with me did not. I've learned to be patient and a supportive, more empathetic person. In addition, I've added on-the-ground experience to my knowledge base. I've been nourished professionally and personally by helping improve the quality of life of my neighbors. It gives me great satisfaction to help others, especially young people, get ahead and be good citizens. Although you can't always see the results now, knowing that something is being done that will bear fruit in the future is fulfilling. 
Are there any future partnerships, programs or events that you are excited about?
I am still working on my project: We Care About You! This consists of disease prevention efforts and helps in the delivery of food, hygiene and cleaning items. 
We'll also be working with EduConsejo on a project aimed at helping students of all levels with homework and offering writing, reading, Spanish, English and mathematics tutoring.  
CiConsejo is another project that we hope to start in the next fiscal year through which we'll bring science closer to the children and youth of our community by developing scientific activities and discussions. 
Why is it important for others to get involved in causes they care about? 
Those causes affect us all and if we want our communities to have the same opportunities, we must empower ourselves and assert our human and civil rights through the different initiatives and the tools that we have available. We have to recognize problems and needs in order to find solutions and improve our quality of life. This contributes to creating the healthy coexistence of people in our community. 
What do you want people to learn from your story?
I want people to see me as an example and to understand that it's not important where you come from, where you study or what your social status is. The important thing is that you believe in your abilities, experiences and strengths to be a great human being and change agent.  
I want others to be able to emulate and help regardless of their living conditions and for the simple satisfaction of doing something for others. If you study and have discipline and dedication, you can achieve all your goals regardless of the adversities you face in life. 
Join the Global Volunteer Month celebration! Download our Global Volunteer Month toolkits and access resources to encourage volunteerism and civic action, recognize volunteers, and raise awareness for your organization's needs and funding opportunities. 
Share this post