Mother-Daughter Duo Grow Strong Bond While Volunteering Together Regularly
Meet Daily Point of Light Award honorees Kim and Kate Quintero. April is Global Volunteer Month, a global movement to recognize volunteers and people who actively support their communities, whether through volunteerism or other elements around the Points of Light Civic Circle®, like Kim and Kate. Read their story, and join the Global Volunteer Month celebration. 
While volunteering is a rewarding, empowering experience for individuals, there's something special that volunteering provides to family members who do social good together. April is Global Volunteer Month, and we're highlighting some special Daily Point of Light honorees as shining examples of service in their communities. 
Kim and Kate Quintero, a mother-daughter duo from Park Ridge, Illinois, have been volunteering together for years. Kate was 7 years old when she started with The Honeycomb Project, an organization that engages, mobilizes and inspires whole families to build strong and connected communities through service. Eventually, Kate and her mom, Kim, stepped up as ambassadors for The Honeycomb Project, spreading the word about Honeycomb's offerings with their friends and family.  
"Kate was in Catholic school and was doing community service and projects through the church, and I wanted to expand and look for other opportunities," shared Kim. "With young children, it's not easy to volunteer – there are often liability issues. So when I stumbled across Honeycomb. I thought, 'this is amazing.' They bring opportunities to you that are family-friendly, ready-to-go and so diverse in the types of programming they offer. We started with anti-cruelty and we just kept going from there." 
As part of the program, Kim and Kate assist families in completing service projects for many different nonprofits – all facilitated by The Honeycomb Project. Most recently they assembled craft kits for children in hospitals with Holiday Heroes, as well as made floor pillows for those transitioning from homelessness alongside Digs with Dignity. The pair has also done other projects such as beach cleanups, where a young Kate was fascinated by the issue of pollution and Googled it the whole way home, sharing facts and statistics with her mother.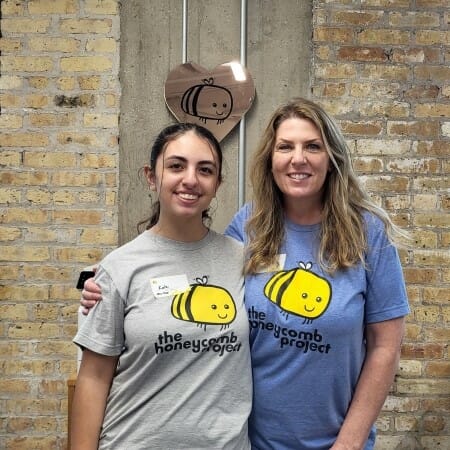 The mother-daughter team has led Honeycomb's Volunteer at a Free Store event almost every month for the past few years. They set up a free outdoor market in Chicago's Humboldt Park to distribute donations such as housewares to neighbors in need. 
"Our favorite is the free store run by Our Lady of the Angels in Humboldt Park," Kate said. "We help lead tables at the free store and organize housewares, children's books, toys, car seats, electronics, etc. We set up the tables before the store opens. People can come to the food bank and then free store. You get to meet a lot of people and have great conversations."  
This mission grew even closer to their hearts after the Quintero family experienced a house fire. Suddenly, they saw the impact of free stores as they were the ones in need of clothing and housewares.  
"I remember the first project we did after the fire was coming back from the free store. It gave the project so much more value. It gave us a whole new level of respect and appreciation after we had already been doing it for years," said Kate. 
"We always appreciated the project and loved it but to be on the flip side, having walked into a free store ourselves after the fire, gave us a different perspective," Kim reflected. "For me, as a mom, everything was upside down. We didn't have our house, our clothes, our things. But the one thing that was a constant for us was Honeycomb. It was so important for us to stay in that routine of volunteering. We could get up and know what we were doing that day. It gave us a purpose as we got back into our normal rhythm."  
Despite a challenging year, the Quinteros' commitment to Honeycomb continued to grow. In the last year, the pair has logged more than 50 service hours. Kate, now in high school, was accepted into Honeycomb Leadership Corp (HLC) which is designed for teens and parents who wish to build their leadership skills through service.  
"One key thing I learned from HLC was how much your attitude makes an impact," Kate shared. "When you're volunteering, you're showing up and having a good time, you're going to have a smile on your face. But with the Leadership Corp, you're assisting families. I'll see a kid walk in who's 6 or 7 or 8 and it's their first project. I can share that that used to be me, and just doing little things like checking in, giving them a big smile and telling them they're doing great really makes them want to come back and volunteer." 
The Quinteros have certainly made an impact through their work with Honeycomb and beyond. One project in particular, New Life for Old Bags, ended up being far more wide-reaching than the pair anticipated. Kate ended up pitching the project, which involved making mats for unhoused individuals out of old plastic bags, to her eighth-grade class and it was voted as their service project. The class was featured on Channel 5, and a parish member made giant looms for the class to make more mats. The project has lived on for a couple of years now. 
This mother-daughter team is certainly an inspiration to all civic-minded individuals and shows us that volunteer service as a family can provide a host of benefits to both the family members and their communities. We can't wait to see what Kim and Kate accomplish next as they continue shining their lights through The Honeycomb Project. 
Join the Global Volunteer Month celebration! Download our Global Volunteer Month toolkits and access resources to encourage volunteerism and civic action, recognize volunteers, and raise awareness for your organization's needs and funding opportunities. 
Share this post