Denver Woman Celebrates Her 60th Birthday by Founding an LGBTQIA Volunteer Group
Meet Daily Point of Light Award honoree Jennifer Croft. April is Global Volunteer Month, a global movement to recognize volunteers and people who actively support their communities, whether through volunteerism or other elements around the Points of Light Civic Circle®, like Jennifer. Read her story, and join the Global Volunteer Month celebration. 
Jennifer Croft, a resident of Winter Park, Colorado, has made a significant impact in the Denver community through the power of volunteerism by starting a Meetup group called Lesbians For Good. This group formed out of the social isolation she felt during the pandemic as an outlet to be more involved with marginalized community members engaging with nonprofits. 
In September of 2022, eight lesbian members gathered in a café for their first "Meet and Greet" and coat drive event. The group officially went live and grew to 111 members by December 2022. Today, it is 177 members strong.  
Lesbians for Good has served eight organizations and had 20 volunteer events. The group's total of volunteer hours to date is 342, with Jennifer's administrative hours totaling 280 for a combined 622 volunteer hours. Their total donations add up to $7,389. Read on to find out more about how this initiative started and what this group is doing for its local Colorado communities. 
What inspires you to volunteer?
I've done it pretty much my whole life in some fashion. It's really to just contribute back. Most of what I did before I started Lesbians for Good was teaching people how to run their own small businesses. So I had taught three or four thousand people in person how to do that and started a website with free resources. So I've always believed in teaching and giving and helping others. 
What inspired you to start Lesbians For Good?
I turned 60 last year, and what I really wanted for my birthday was more friends. After facing some isolation during the COVID-19 period, I had also really been thinking about my legacy of giving. At the end of my life, with my will, what nonprofits would I give to? And I started thinking, what was my life about, and what did I want this last portion of it to be about?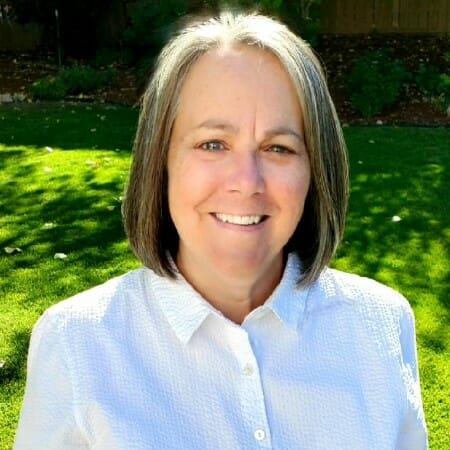 That's when I came up with the idea that I wanted to do more volunteering outside of just the business realm – in part, so I could learn more about these organizations. So I came up with the idea of the Meetup group so I could marry those two things – meeting like-minded people and getting involved in the community. It startled me how quickly and how strongly I formed a community within this group of LGBTQIA volunteers. I think it's the coolest thing that we now have a community that goes out and helps the community. It's been really powerful, even more so than if I had just jumped into a volunteer activity. 
What are some of the activities you do as a group?
I started it in August, and we had our first meeting to plan things in September. Since then, we've done 15 different events, with two different food banks, a clothing bank and a nonprofit that helps displaced people – one of my favorite projects. We painted a four-bedroom house in a single day for an Afghani family of eight people that were moving in. We got there at 9 am and by 3 pm, the house was ready, with 25 people that came that day. We also did a community cleanup project. We go to the cat shelter regularly and do mostly maintenance tasks and socialize the cats.  
We've done a toiletry drive and a separate coat drive for a shelter for unhoused women and children. We did a fundraiser for Club Q after the tragedy. We quickly rallied with some other lesbian Meetup groups to do that fundraiser. Coming up, we're going to help out with Pride Fest in Denver. We're going to go work with an urban garden and help them. So my main goal is to offer a mix of different types of projects with different organizations, in different parts of the Denver Metro area. I'm trying to rotate projects to have a variety.  
In the beginning, I was nervous partnering with these organizations, committing to them, and I didn't know if people would show up. I couldn't guarantee anything. But from the very first event, we've had people show up and we've had more and more people at each event. Now I'm looking for projects that accommodate 10-25, or 25-50 people. So I had a clear intention that I was going to do this for at least a year, even if it literally was just me showing up. It's been one of the most inspiring, engaging and meaningful things I've ever done. 
What are some lessons learned along the way?
The actual startup of the group took more time than I thought. I run my own business too, so I'm doing both. I ended up having to contact 40 or 50 organizations to even find our first six or seven projects. I needed to find events that would accommodate groups on weekends. So I think the amount of organizational time was more than I anticipated.  
The main thing I learned was how many people out there were craving the same community that I was craving. And so many of them were already doing their own volunteer work or working for a nonprofit, which was really inspiring. And I learned what it was like to show up, and how powerful it was to show up with other lesbians and work side-by-side with everyone. So in one way, there's nothing unusual about it, but in another, it is a huge act of courage for all of us.  
What's your advice for people who want to start volunteering?
I would wholeheartedly say to do something. Whatever stage of life you're at, whatever age you're at, it's incredibly rewarding. So start somewhere. The other thing I've learned in this process is how much need there is. I really wasn't aware of how much work nonprofits are doing and how much they're shoring up people and causes. Anyone can find something that appeals to their interests.  
I have a mantra before I start any project that I tell myself: "Focus on the work you're doing, not the work that remains to be done." Because it can be discouraging – sometimes I wonder if we even moved the needle. But the answer is always yes. And I've learned from these organizations how hard COVID hit them. People stopped volunteering. So there's a ton of deferred maintenance and deferred work, and a lot of these organizations, they're just trying to do what they're doing. They're not going to spend money to stain the fence outside. They're providing services. So I think this volunteerism, this time, is focused on service. 
How can people get involved?
LGBTQIA members and their allies in the Denver Metro Area can sign up through the Meetup link. They can sign up for individual events, based on what interests them. My goal is for us to complete two events every month.  
Join the Global Volunteer Month celebration! Download our Global Volunteer Month toolkits and access resources to encourage volunteerism and civic action, recognize volunteers, and raise awareness for your organization's needs and funding opportunities. 
Share this post