College Sophomore Amplifies the Voices of Indigenous Peoples
Meet Daily Point of Light Award honoree Tristan Espinoza. April is Global Volunteer Month, a global movement to recognize volunteers and people who actively support their communities, whether through volunteerism or other elements around the Points of Light Civic Circle®, like Tristan. Read his story, and join the Global Volunteer Month celebration.
Many people in today's America identify as being biracial. They connect with multiple cultures and sometimes even multiple languages. Tristan Espinoza, 19, is Mexican. His grandfather moved to the United States before starting what became a large family. But Tristan's family also has a long history in what is now the United States with his mother, a descendent of the Osage Nation, a tribe once living on a large swath of land across the current states of Missouri, Oklahoma and Arkansas. Today, the Osage Nation is a federally-recognized Native American government headquarted in Pawhuska, Oklahoma.
He's proud of his heritage, but Tristan considered his high school years in the small Texas town of Princeton, just outside of Dallas, a bit of a challenge. Being white-passing (a Black, Indigenous or Person of Color who may be perceived as white), he often felt he had to fight for his identity to be seen. During that time, he found himself taking the initiative to push the school about National Honor Society policies and making the group more inclusive. 
"My life was always this huge game of the television show Survivor, where I was basically thrown onto this island with people and clubs and different ideas that I just didn't choose to be around as an indigenous kid who is also Mexican, who was also the only out queer person in his high school for four years," he says.
Those experiences inspired his interest in politics and social justice. Now, as a sophomore political science major at Columbia University, he feels like he's finally off the island. During his first year in New York City, Tristan befriended Dylan Baca, founder of Indigenous Peoples' Initiative (IPI), a youth-led organization that aims to eliminate stereotypes of Native American communities, amplify their voices and advocate for a better future. 
Dylan had just come off of a big win, successfully advocating for President Biden's proclamation to designate Indigenous Peoples' Day (IPD) as holiday alongside Columbus Day. He was becoming known as the kid who got a phone call from the president around campus and was looking to build on IPI's success. Tristan jumped at the opportunity to join the advisory committee and, eventually, the board. 
"Whenever I talk about my culture and identity, it's always a narrative of either surviving something 'past tense' from colonialism, or constantly trying to fight to survive," he states. "I feel like I have this platform to help make a difference."  
Since January 2022, Tristan has held a communications role going between tribal nations and government officials, pushing for more indigenous rights. He has worked on advocating for H.R. 5473, the Indigenous Peoples' Day Act, and as chairman of the advisory committee, he leads the research that helps IPI make informed decisions and take action around things like how climate change is affecting indigenous communities' access to clean water.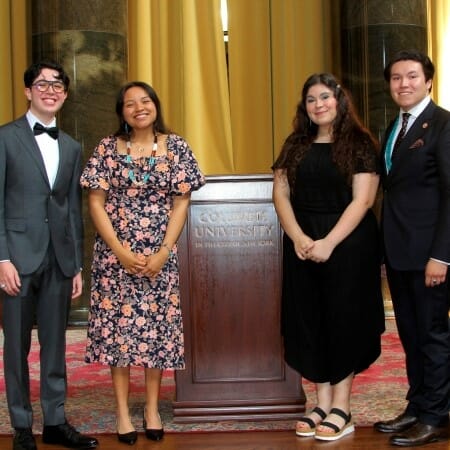 "Tristan's ability to relate to people and his ability to communicate well is really exceptional and makes him very valuable to the work that we do," Dylan says. "He will put aside everything and look at finding common ground with people and visions and missions in what we're trying to accomplish."
Informing policy is important, but it's a long game. While he enjoys the work, Tristan is focusing on short term projects as well. 
"We're now working with groups like the Smithsonian for returning artifacts back to tribal nations, making sure that tribes have clean water on their reservations and stuff like that," he says.  
Tristan typically spends two to three hours each day on various IPI endeavors. Last year, he also helped organize and implement a campus-wide celebration of Indigenous Peoples' Day at Columbia with the support of Barnard College.  
"There have been student-led celebrations, but the administration getting involved in any capacity had not happened," Dylan recalls of the accomplishment. 
October 2022 was different. The president of Barnard and representatives from Columbia, local government officials and people from the Metropolitan Museum of Art were all in attendance. Even the co-founder and co-director of the Lenape Center, on whose tribal land Columbia sits, joined the festivities. Grand Chief Sky-Deer from Canada came to speak. And members of Picuris Pueblo did a basket dance, much to attendees' delight.  
Tristan spoke at the event and remembers seeing children from Picuris Pueblo excited to have travelled across the country to perform, sitting in the front row.  
"I remember giving that speech almost looking directly at them, because they are the future. It was just really touching. It was like, this is who I'm doing it for," he adds. "That was the most rewarding feeling I've ever felt through any of my political work."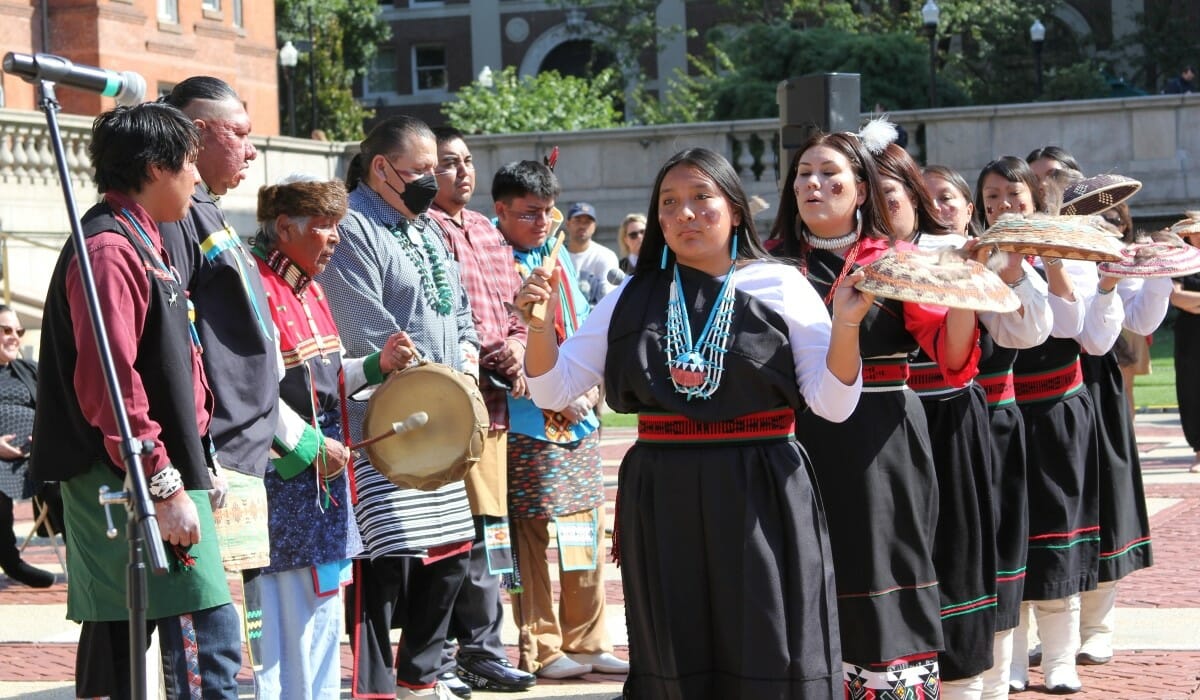 When it comes to his success, Tristan wastes no time in crediting the women in his life.  
"I was one of the first kids in my entire high school ever to go to an Ivy League. And that was really to their sacrifices that they made," he states. "I would be nothing if it wasn't for the sacrifices of Indigenous women, especially of my grandmother and my mom. So, I owe everything to them." 
His mom works in international tech business and is starting to spearhead her company's Native American network. Seeing her hard work has been a source of great inspiration for her son. 
Tristan is happy about the trajectory of his life, but as with most advocacy work, there can be challenging times. In order to reset his motivation, Tristan does two things: watch an episode of "Survivor" and remember where he came from, and focuses on kids like his younger self who feel isolated and who need someone to fight for them, for their voice to be heard. 
"It really isn't about me. It's about the people who came before me and the people who will come after me," he states.  
One of the biggest things he's learned has been to listen. Regardless of where someone is on the political spectrum, whether they have been wronged or feel unheard, simply letting people speak is a starting point for learning. He's quick to remind people not to speak over others or to speak for them, but to simply listen. 
"You never know when you walk past someone the struggles that they face. There are likely people who need help who are too afraid to ask for it," he adds. 
The future of IPI is in good hands, and with their ongoing success, they look forward to expanding their scope to indigenous communities abroad. Tristan plans to continue his activist work while seeking a fruitful career as an indigenous artist and writer. In the meantime, he's taking advantage of his time in college to push himself outside of his comfort zone. This semester, he'll be in his first musical.  
"When President Obama gave the Presidential Medal of Freedom to Joe Biden. He said, 'To know Joe, [was] to know love without pretense, service without self-regard and to live life fully.' That is what encapsulates Tristan, as well," Dylan summarizes. 
Public servants tend to go where they are needed. Tristan isn't running from the community where he felt unseen. He's running towards it. And towards a lifetime of standing up for the rights of those who need it most. 
"I want to make sure that I'm not just making change at my university, but I want to go back to Texas. I want to go back to my small town and go back to where it all started and help make a change there." 
Join the Global Volunteer Month celebration! Download our Global Volunteer Month toolkits and access resources to encourage volunteerism and civic action, recognize volunteers, and raise awareness for your organization's needs and funding opportunities. 
Share this post