Community-Oriented Teen Empowers the Underserved through STEM and Education
Meet Daily Point of Light Award honoree Dipen Mehta. Read his story and nominate an outstanding volunteer or family as a Daily Point of Light.
People around the world have limited exposure to science, technology, engineering and mathematics, but Dipen Mehta is determined to connect as many individuals and schools to STEM-related opportunities. The 17-year-old gives people of all ages, backgrounds and geographic locations the chance to a brighter future through innovative educational programs aimed at targeting underserved communities reach their full potential with technology.
After living in India as a child, Dipen realized that there are opportunity gaps between communities and certain demographics. As a sophomore in high school, he decided to create Coding for Community, an organization that uses the power of technology and education to empower underprivileged and disadvantaged communities across the globe. From helping students find career paths in STEM to assisting grandparents with sending emojis, Dipen is relentless in helping others solve issues through science and technology.
What first inspired you to begin volunteering?
I was inspired by many different things, which all eventually culminated. My experiences moving to India and living in relatively rural areas exposed me to the importance of community service and education in empowering populations. Throughout my life, I made many friends who were refugees. Through learning of their apprehensions about succeeding in a foreign land, I developed a sense of the incomparable emotional, physical and social tolls that immigrants and refugees endure. This was one of the first experiences that strongly influenced me to begin volunteering and helping those around me who do not have a level ground to succeed.
How did you become passionate about using coding and technology to improve communities?
When I moved back to the United States and went to Sope Creek Elementary, a school with an emphasis on STEM, I increasingly realized the importance of STEM in a world where technology is involving itself in every career and every aspect of life. As I pursued my interest in science and technology in high school through courses and clubs, I realized that not all schools in my county were like Sope Creek, and not all populations got such an exposure to STEM. That's how, as a sophomore, I was inspired to create Coding for Community, and volunteer to provide equal exposure and opportunities in STEM to disadvantaged communities across the world.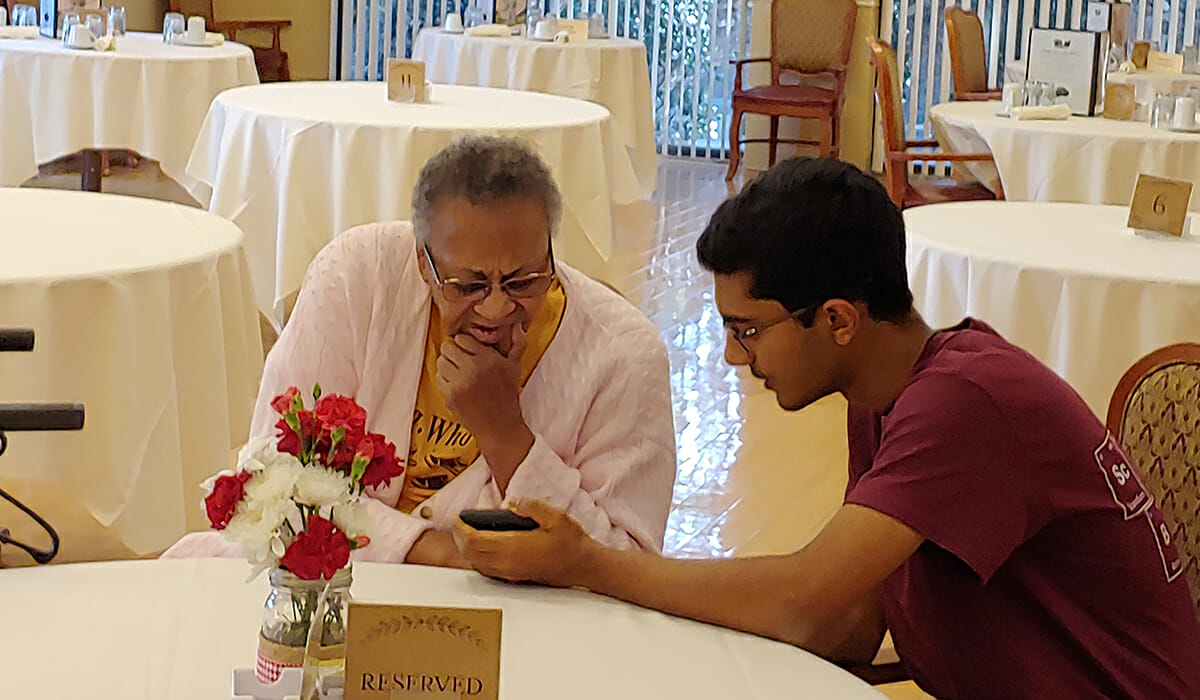 How has your volunteering gone global in helping Rohingya refugees in Bangladesh?
We have been fortunate enough to collaborate with Community Partners International in helping build a health survey app for UNHCR workers at Cox's Bazar, the largest refugee camp in the world. Specifically, we help with translating audio files into different languages so that the Rohingya refugees who reside in the camp will be able to understand and provide accurate responses to health-related questions. This app would make it easier for UNHCR workers to monitor the health of such large populations of refugees living in precarious conditions.
Describe your volunteer role with Coding for Community, and other activities you are a part of.
As President of Coding for Community, I plan and lead all of our initiatives. These initiatives are based of the four pillars of Coding for Community. The first is local outreach; as a part of local outreach, our volunteers and I go to disadvantaged communities including elementary schools in low-income areas, rehab centers, low-income residential areas, and senior living homes to teach relevant computer and technology skills. At elementary schools, we encourage students to explore STEM and possibly consider careers involving STEM. At rehab centers and low-income residences, we teach basic computer skills and digital literacy applicable to many kinds of careers. Finally, at senior living homes, we help seniors with their technology – such as smartphones, computers, etc. – and help them communicate with loved ones through text and email. Our second pillar is refugee outreach. Refugee outreach is similar to local outreach, but is expanded to involve activities that allow for a smoother transition for refugees into life in the United States. This includes basic computer skills, English language help, and citizenship test assistance. Our third pillar is social technology. Here, volunteers and I have mini-hackathons and work on projects that involve the creation of socially impactful technology. For example, one mobile app that volunteers and I created was "Stop Food Wastage," which is available on Android and iOS. This app is a very simple platform that allows restaurants to post and leftover food they have at the end of the day which charities and claim and pick up. We have contacted several local restaurants and charities and are in the stage of expanding the usage of the app. As a part of this pillar, volunteers and I also hold technology drives, in which our team collects functional technology donations from people who no longer want their old laptops, webcams and keyboards. Currently, we have collected $7500 worth of technology and are in the process of distributing it to low-income residential and refugee communities. Finally, our fourth pillar is international outreach. As I mentioned previously, through this pillar, I have led my team in our collaboration with Community Partners International for the Cox's Bazar health survey app.
How have you gotten members of your high school community to engage in volunteerism and "Coding for Community?"
The main ways I have involved members of my high school community are through the first and third pillars. Members of my high school's Coding Club – which is my high school's chapter of Coding for Community – have accompanied me to volunteer at local elementary schools and rehab centers. Also, when I work on social technology projects, I work primarily with high school Coding Club members.
What's been the most rewarding part of your work?
My most satisfying moment was this summer when Dana, now a seventh-grader, emailed me about her success in learning Python, a computer language that I haven't even grasped myself.
What have you learned through your experiences as volunteers?
Through my experiences as a volunteer, I have been able to witness firsthand the power of education, science and technology transform lives and empower communities.
Why is it so important for young people to be engaged in volunteering and service?
Cultivating a sense of community and a culture of service starts young. As the youth help to improve their communities, not only will they develop a habit of community service, but they will also benefit themselves by increasing their own well being and strengthening their sense of identity and self-esteem.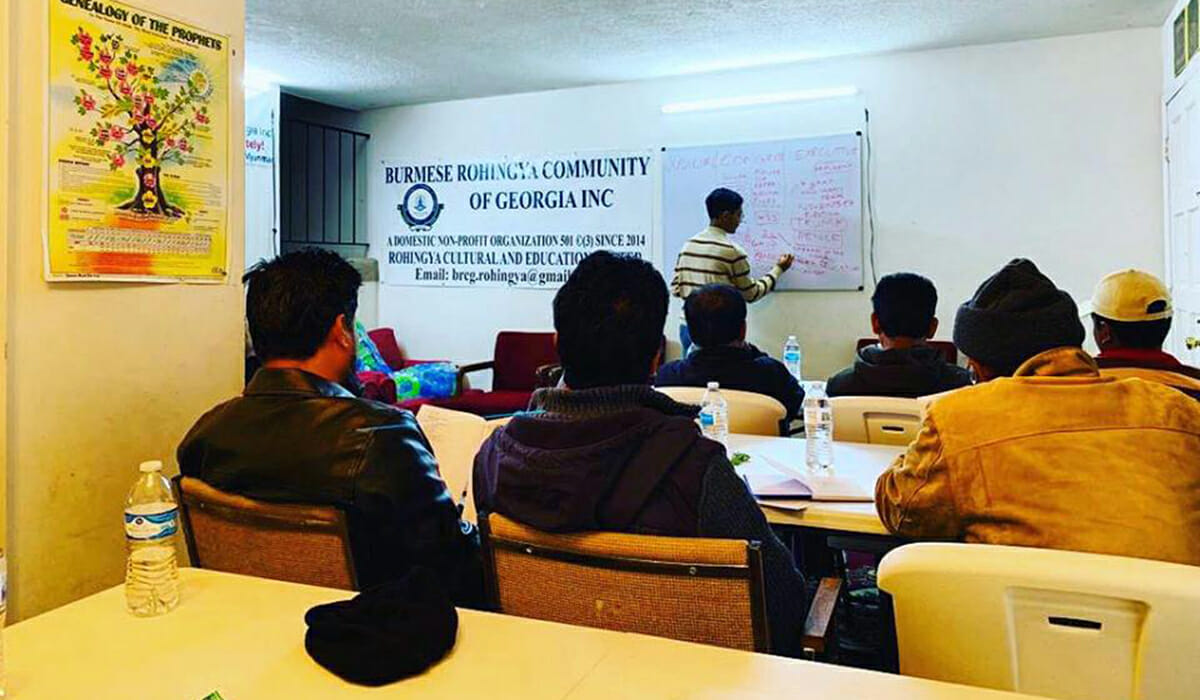 Are there any future partnerships, programs, or events that you are excited about?
Our team at the Coding for Community chapter at my high school is currently in the process of working on building an app for our school community using React. After implementing this at Walton, we plan to expand this idea to other schools. We currently have a sketch of the UI, but we're really excited for this project and we hope to finish before June.
Why do you think it's important for others to give back?
Giving back is something that allows individuals to uplift themselves and their entire community. Not only does giving back improve the well being of those who give back, it creates a tremendous positive change in the lives of others that can make people realize that everyone can use their own abilities to make more positive changes a reality. This strengthens their self-esteem and willingness to help.
What do you want people to learn from your story?
I want more people to mobilize STEM-based community service initiatives after looking at the progress that Coding for Community has made. From my story, I hope people realize the power of science and technology to empower communities both through education and through dynamic real-world applications.
Do you want to make a difference in your community like Dipen? Find local volunteer opportunities.
Share this post