Volunteer Inspires Confidence in Students Struggling With Math Through Tutoring Program
Meet Daily Point of Light Award honoree Prarthana Prashanth. Read her story and nominate an outstanding volunteer or family as a Daily Point of Light.
Eight years ago, Urvi Gupta developed the California OneInMath program. When she was in eighth grade, Prarthana Prashanth implemented the program in the Chicagoland area. While Prarthana's Chicago chapter began with only five students, OneInMath has expanded to six libraries and will be impacting around 200 kids this next session with around 40 high school volunteers.
At OneInMath, K-3rd grade students are taught in groups of five among students of different grades and abilities reducing peer pressure. Also, students are taught by the same tutor weekly for 10-12 weeks in fall and in spring, ensuring continuity. As the Chicago lead for OneInMath, Prarthana helps struggling students, trains tutors, and communicates with parents. She loves watching as students' fears towards math transform into love. She hopes to continue growing the program and encourages students to get involved in serving the community. Her story inspires others that, regardless of age, with dedication, hard work, and passion, anything can be accomplished.
Seeing both the students and high school volunteers grow throughout the session inspires Prarthana to continue volunteering. She loves seeing students that come into the first class uninterested, scared, or struggling with math slowly gain confidence and start to enjoy math. She also enjoys seeing volunteers grow in their communication and leadership skills through being a role model for students and through discussing with parents.
As the Chicago lead for OneInMath, Prarthana prepares flyers to advertise the program, trains all the new high school volunteers and appoints two session leads and one adult session manager per library before the session begins says Prarthana. Weekly, she rotates between libraries to check in on the volunteers. The volunteers work specifically with struggling students and occasionally substitute when volunteers are not available. Throughout the session, Prarthana handles communications with the parents, volunteers, and librarians. She meets with community stakeholders to expand her program.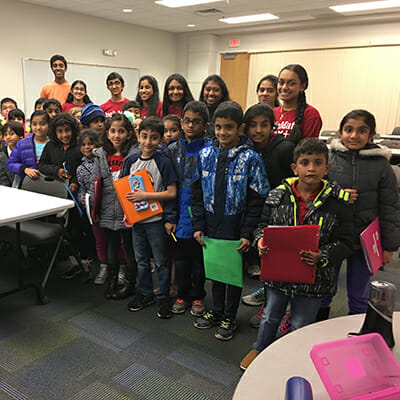 "The most rewarding part of my work has been seeing the numerous people in the community that has been impacted by the OneInMath program," says Prarthana. "After each session, we send out a survey to all the parents asking for their opinions and feedback on the program. It is so gratifying to see that more than 99% of the parents recommend the program, and it is amazing to read parents' testimonials regarding their child's growth inside and outside of school due to the program."
Beyond the impact OneInMath has on students and parents, Prarthana says it is rewarding to view OneInMath's impact on the development of local high school students and the growth of libraries' footprints as well.

Through her volunteering experiences, Prarthana has learned how to work with people of various ages and backgrounds, including young children, high school peers, parents, and librarians. Through teaching different types of children, she has learned how to communicate the same concept in a variety of methods.
"I have learned to be flexible and to utilize negotiation techniques in dealing with parents," says Prarthana. "Additionally, through volunteering, I have realized the importance of planning and organization, whether it be in monitoring each student's progress or in overseeing the program in each library."
Prarthana is currently attempting to create a sustainable OneInMath expansion plan for libraries outside of the Chicago Western Suburbs to implement the program. After trying out this plan in a few libraries, she hopes to scale the idea, implementing OneInMath across the nation.
"Giving back increases a person's sense of awareness regarding the community surrounding them. It exposes the person to a variety of backgrounds and perspectives that are usually hidden or overlooked," explains Prarthana. "Furthermore, seeing what others lack increases the person's gratitude for all they have. Most importantly, giving back allows society to balance and spread out opportunity. "
Through her story, Prarthana wants people to learn that with hard work and persistence, achieving any noble cause is possible. OneInMath helped her grow as an individual and a leader, in a way that no other activity has shaped her. Prarthana believes giving back is one of the best ways to discover yourself as a person, while also making a lasting impact on society.
Prarthana encourages everyone to be active participates in their community. "If there is a problem in your community that you hope to solve, do not hesitate and go for it!"
Do you want to make a difference in your community like Prarthana? Find local volunteer opportunities.
Share this post