Over Decades of Hospital Service, Senior Logs 10k+ Volunteer Hours
Meet Daily Point of Light Award honoree Judie Byers. Read her story and nominate an outstanding volunteer or family as a Daily Point of Light.
Watching her father undergo physical therapy following a debilitating stroke, Judie Byers says she discovered the power of medical interventions like physical therapy, and decided she wanted to be a part of healing others in her own community.
Serving as a volunteer for St. Vincent Anderson Regional Hospital as a member of the Victoria Guild Board for more than four decades, the 82-year-old Anderson, Indiana resident has logged more than 10,300 hours of service helping out in the hospital gift shop, transporting patients and more. Connecting with thousands of people at St. Vincent, Judie is brightening the days of inpatients, their family and friends.
Describe your role with St. Vincent Anderson Regional Hospital.
As a member of the Victoria Guild Board, I am a volunteer at St. Vincent Anderson Regional Hospital. I've done everything from transporting patients, working at the hospital gift shop to helping to organize projects at the hospital. I have also served several times as president of the Victoria Guild Board, whose mission is to support the hospital and the welfare of its patients through fundraising.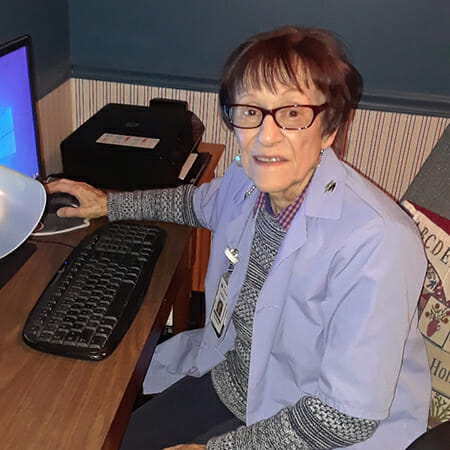 What inspires you to volunteer?
As a child, my teachers taught me that you step up and help people when they are in need of help. Our fundraising efforts help to support the hospital in the form of gifts, and when we put our support into resources and items like equipment needed at the hospital, I can see that we are helping others. I am continually inspired by the Victoria Guild Board's mission to support the welfare of the hospital.
Share one personal story with me from your volunteerism.
If someone comes to the hospital gift shop and asks how to reach a patient on a certain floor, I will personally guide them to the patient, because that's what the person needs. We have people coming in who have family members in the intensive care unit, for example, and we'll take the time to listen and console them. We act as ambassadors for the hospital and help people in their time of need.
You are a role model for younger volunteers. Why is that important?
When other volunteers tell me I'm amazing, I always say, 'You and all the others here in the organization are just as amazing!' It's important to get younger people volunteering because we need to encourage our next generation to give back to our community. Service at the hospital can also open the door for these individuals to seek a career in some other field like medicine. We'll get them at the hospital either way (laughs).
What's one way you hope to inspire others in your service?
Your volunteerism doesn't have to be a huge act to help people. You can serve in your own little way, by being kind and stepping up when you see something that needs to be addressed.
In one word, what does volunteering mean to you?
Helping people. That's two words (laughs).
What's been the most rewarding part of your service?
Getting to know the Victoria Guild Board members. We have 40 board members, myself included. It's rewarding to know that we are all looking in the same direction, dedicated and united in the purpose of serving others.
What have you learned through your experiences as a volunteer?
Sometimes people get bogged down with being tired, or losing sight of our volunteer mission while working in a particular job. I have learned that I can step up and remind people of our purpose and why we are there serving.
How can readers help?
Please visit St. Vincent's website or email volunteer and mission services coordinator Elizabeth Hart for more information about how you can give back.
Do you want to make a difference in your community like Judie Byers? Find local volunteer opportunities.
Share this post