Computer Science Leader Bridges the Gender Gap for Future Women in STEM
Meet Daily Point of Light Award honoree Sruthi Kurada. Read her story and nominate an outstanding volunteer or family as a Daily Point of Light. 
Sruthi Kurada knows that the mentors in her life had a lasting impact on who the woman in STEM that she is today. Now, the high school senior works to ensure that girls in her Littleton, Massachusetts, community have the same guidance and support to fill the STEM classrooms that are commonly crowded with male students.  
Sruthi directs the Metrohacks EmpowHER program, a year-long competition for high school girls to create and pitch STEM-related projects that benefit their community. After the competition, Sruthi helps raise and distribute thousands of dollars in scholarships to the competitors.  
Describe your volunteer role with the
Metrohacks EmpowHER program. 
I'm the founder and Academic Director of the Metrohacks EmpowHER competition and program. The organization itself was founded in 2015 by high school students from school. It's a year-long competition for high school girls to hone both their technical and business skills with the guidance of an industry professional. At the end of the year, we judge the projects that they submit and we're grateful to award national winners with scholarships for people to hopefully pursue STEM at the collegiate level. Our overall mission is about getting professionals in the STEM field and to work with sponsors to raise money for our scholarships. We're all high school students working with a team of mentors to set up the competition. 
I'm a STEM student myself, and I'm planning on majoring in computer science in college with a business minor.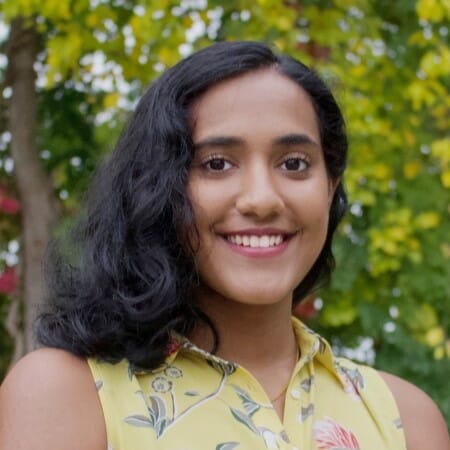 How can computer science projects serve community needs?
When creating the competition, one of the main things we want to emphasize to the girls who participate is to create projects that are beneficial to their community. The thing that we find the most important is not only learning STEM, but teaching the girls to program and run different workshops with leadership skills. We want the projects they create and lead to actually impact their communities.  
Last year for example, one of the winning projects was a website that helps connect people to resources in healthcare. Community members could figure out where they could get a free vaccine during the COVID-19 pandemic. Another project was a machine created to identify melanoma with image recognition to help hospitals diagnose people in need and improve treatment. So each one of these projects that the girls create are something that could help people in their community.  
Describe the scholarship program within the
Metrohacks EmpowHER program.
The scholarships are for the girls who participate in the year-long program, which is the competition they submit STEM projects in. It also involves public essays and a video describing their solution to a societal problem. The students submit all of these materials to our volunteer judges, who then use a rubric that identifies different skills and student growth from the beginning of the year to choose winners.  
Judges grant scholarships to three winners each year. Last year, we gave $5,000 to first place, $3,000 to second place and $1,000 to the third place team. The money is generously donated to us by our corporate sponsors and will be used by students to pursue their future careers and academic journeys in STEM.  
What inspires you to volunteer?
As a woman in STEM, I know that there's a huge gender gap in the field. A lot of my high school classes are mostly filled with male students. This kind of inspired me to start something that could help other girls break into the field.  
Before I started the Metrohacks EmpowHER competition, I participated in hackathon events when I was younger. This was another place that was completely open and free to participate in, but it was still so male-dominated. So from these two different experiences, I dedicated my time to help encourage other girls and women to get involved in STEM with mentorship and workshops. I want to give them opportunities to get involved in things they're genuinely passionate about.  
What have you learned through your experience as a volunteer?
I had never really taken on a larger leadership role before. I learned how to create the best experience for both our mentors and students and judges, which was difficult to do without prior experience. I faced some difficulties and challenges, but I learned to overcome those with the teammates that I had. I also learned how to talk to different companies for donations and sponsorship. I explained to them why they should care about this competition and how we can not only benefit the students, but also benefit their company in the future. We encourage corporate sponsors to reach out to the students too — these relationships could provide girls with potential employment opportunities after the competition.  
Why is it important for others to contribute, especially young people and students? 
I had many mentors growing up who were able to encourage me both in and out of the STEM world. It's important to also be that to other people who don't have the same opportunities in their schools or in their daily lives. Even one volunteer or tutoring session a week makes a difference in a student's life. It's a very gratifying experience to be able to help someone else who  may not have the same opportunity that you did.  
Are there any partnerships, programs, or events that you are excited about?
I'm headed to college in the fall, and there's a lot of different clubs focused on STEM volunteerism and women in STEM. One that I'm looking at now is called the Society of Women Engineers.  
Our Metrohacks EmpowHER competition season is wrapping up right now. The projects are due soon. Judging will happen throughout the month of July and we'll have our final ceremony in August. Us leaders who are heading off to college are hoping to guide the new program's leaders at our school.  
Do you want to make a difference in your community like Sruthi? Find local volunteer opportunities. 
Share this post