Creating Unforgettable Experiences for Families with Critically Ill Children
Meet Daily Point of Light Award honoree Linda Zampelli. Read her story and nominate an outstanding volunteer or family as a Daily Point of Light.
As a parent and grandmother, Linda Zampelli can't imagine anything worse than having a critically ill child. Motivated to provide uplifting experiences to families in these circumstances, Linda has dedicated her time to bringing personalized vacations to life since 2013, working towards replacing burdens with joy.
After retiring, Linda explored different volunteer programs in order to find the right fit for her skills. She found Casey Cares, which became near and dear to her heart because of its focus on keeping families' spirits high through personalized programming, from simple movie nights to mini vacations. Linda understands how difficult it can be to plan even the smallest of activities when a child is in the hospital, so she decided to begin meeting families where they are.
Linda works diligently to handle the vacation program at Casey Cares. She volunteers each week to make arrangements for vacations, including planning, creating and shipping the vacation package to each family. Every vacation consists of a free one- or two-night hotel stay, passes to a local activity of interest, gift cards for meals and new pajamas for each child in the family. Linda also finds new donors to support Casey Cares, coordinates with hotels, and reaches out to restaurants and entertainment entities for donations.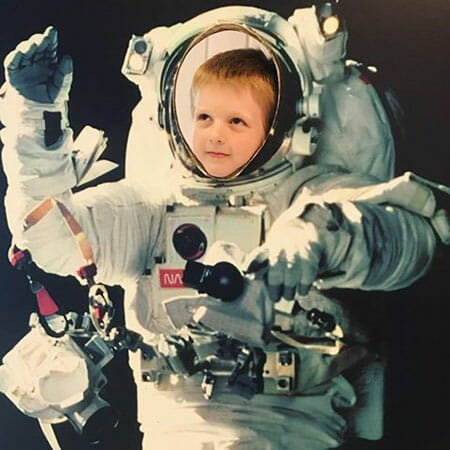 Casey Cares' programming is unique, since eligible families can receive a vacation package every other year. Volunteers like Linda are committed to ensuring that families receive continuous, ongoing support, and providing opportunities for them to build positive memories that will last a lifetime. She focuses on helping entire families, not simply the sick child.
One of Linda's favorite trips to plan was for Jaxsen, a 3-year-old boy who loved NASA and rocket ships. Linda discovered a NASA rocket program based in Chincoteague, Virginia, but she had never planned a vacation in that area before and had no contacts in the city. Even though it was a big challenge to take on, Linda was on a mission to get Jaxsen and his family to the NASA Wallops Flight Facility.
With Linda's help, Jaxsen and his family were welcomed by the small town and were able to receive a VIP tour of the NASA facility. She also partnered with the Chincoteague Chamber of Commerce to secure a boat cruise, miniature golf passes and treats at the local ice cream shop for the entire family.
"The families are so excited and grateful for the opportunity to take these trips," said Linda. "It just warms your heart, that's all there is to it."
Linda and the volunteers at Casey Cares fill needs that many people don't know exist, and support families with critically ill children in simple, yet impactful ways. "I know that volunteering is what you make of it," Linda said. "I've learned how strong these parents are. They look at every opportunity as an opportunity to make another memory and pick themselves up."
Do you want to make a difference in your community like Linda? Search local volunteer opportunities.
Share this post