A dentist for roughly four decades, David Black had skills his community needed. So when he got the call from the Virginia Dental Association to help run large free clinics in Roanoke, Va., he knew he could help.
Hear David Black talk about the work of the Roanoke Mission of Mercy Project. (Click image to watch video.)
The association had created Missions of Mercy in 2000 as a statewide program to provide high-quality dental care for Virginians who couldn't afford it. The association's director, Terry Dickinson, approached Black to help start the program in his town.
"When Terry asked me to help expand the program to Roanoke, I was enthusiastic about it," Black recalls. "My family has had three generations of dentists in this city, and I feel that since I've been privileged to have a good career, I'm expected to give back."
So five years ago Black served as a founding organizer of the Roanoke Mission of Mercy Project. Each year in Roanoke, Mission of Mercy brings together around 800 volunteer dental professionals and students who, during a two-day clinic, provide free dental care to hundreds of uninsured or underinsured local residents.
Black has taken the lead in recruiting volunteers, arranging facilities and managing event operations. And thanks to more than 2,000 volunteers over the years, the Roanoke Mission of Mercy Project has provided more than $5 million in free care to more than 5,000 patients.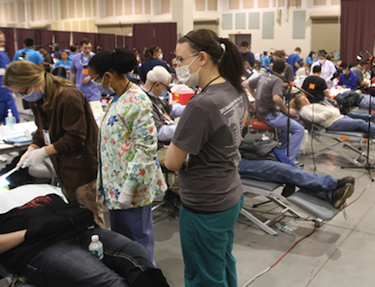 Volunteer dental professionals see patients at a Roanoke Mission of Mercy clinic.
An estimated 100 million Americans don't go to the dentist because they can't afford it. Even so, the first year Roanoke held its Mission of Mercy Project, volunteers were surprised by the number of people who lined up hours before the clinic opened.
"Even in Roanoke, which has relatively low unemployment, we had more than 1,000 people show up that first year," says Black. "We were using a simple first come, first-served system. We still use that, but we've modified it with a ticketing system to reduce the amount of time people spend waiting."
Black encourages dental professionals nationwide to get involved in volunteer clinics.
"I won't tell you that an event like this isn't hard work, but the need is great," Black says. "The dentists, dental assistants, hygienists and students who turn out each year are performing a great service to this community. The patients we see have often gone years without treatment, living with pain. And when they leave, the overwhelming gratitude they show us is its own reward."
Share this post