Moore, Oklahoma, Public School Teachers and Staff
As a massive tornado touched ground and headed for Moore, Oklahoma, it became frighteningly clear that three of Moore's public schools were directly in the twister's path. With only a few minutes' warning, the teachers and staff rushed to protect the children.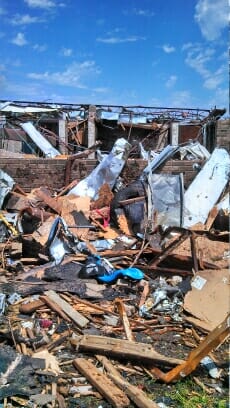 That afternoon, May 20, seven students died in Plaza Towers Elementary School when the tornado pummeled the building. As horrific as that loss was, it could have been far worse. Winds of up to 200 miles an hour decimated Plaza Towers and Briarwood elementary schools and severely damaged Highland East Junior High. The quick-thinking adults in those buildings, using instinct and emergency training, saved young lives.
Plaza Towers sixth grade teacher Janice Brim remembers ushering four children into a small closet, knowing that the safest shelter would be a small room with short walls. "I had them kneel down and cover their heads with their backpacks," she recalls. "I had to keep the door forced shut with my arm."
As the tornado began to hit the school, Brim and her students could hear screams from adjacent rooms, along with a roaring wind.
"I kept repeating, as loudly as I could, 'We're OK, we're OK,'" says Brim. "Over the roar, I could hear them singing a song I didn't recognize, probably a hymn about protection. I encouraged them to keep singing. They asked if they could pray, and I said, 'Of course!' Soon we saw light and knew that the roof was coming off."
About a mile away, at Briarwood Elementary, third grade teacher Valerie Singleton, a fellow teacher and a librarian brought about 20 children to a storage closet to take cover.
"The lights were already flickering, and the kids began to cry," says Singleton. "After we got them crouched down into safety positions, I suggested that we start a story round – with each kid telling part of a story. It helped a lot. By the end of the round, the children were laughing."
They had been in the closet only a short time when they started to feel the force of the tornado. The roof ripped off. Debris pelted them.
Then, quiet.
The children huddled with Brim and Singleton, and so many other teachers and staff members, survived.
"We don't become heroes when something this terrible happens," says Brim, a teacher for 20 years. "We all become mommies. It's just natural. … Students must be safe. You can't educate them unless you've made a safe place for them."
To hear Plaza Towers teachers tell their stories, watch this FEMA video about an artistic effort to recover and heal.
Share this post