The garden Dawn Blackman Sr. is tending is rooted in kindness, fed by hope and showered with love.
Blackman, 63, is a Chicago native with decades of experience in the food service industry. Although she never considered herself a gardener, the Champaign resident is now the garden steward for The Randolph Street Community Garden, a project conceived by an urban studies grad student and continued under the leadership of University of Illinois Master Gardeners. Although she started as a volunteer gardener, when the garden faced foreclosure in 2006, Blackman stepped up and took over its care.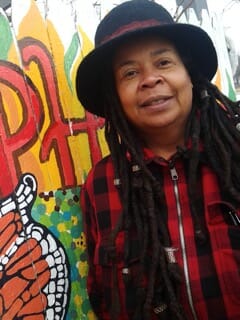 Dawn Blackman Sr.
Located in an underserved area of North Champagne considered a food desert by the USDA, the garden is a literal oasis of fresh produce in a landscape bereft of healthy food options. "You can buy all the junk food and fried fish you want but you can't buy an apple or a banana," said Blackman. Local residents can't buy healthy food within walking distance, and four in 10 don't own cars. Since the closest supermarket isn't on a bus line, Blackman found herself giving neighbors rides to the supermarket. "I though to myself, wouldn't it be easier if people could actually grow their own food?"
The Randolph Street Community Garden allows them to do just that. Run under the auspices of the Champaign Church of the Brethren, the garden started in 2003 with one 16 x 16 ft. bed, with10 children growing tomatoes and potatoes. Now nearly 2,000
people receive produce from the garden, which has grown to 66 beds. When people come to Church of the Brethren for food assistance, Blackman recruits them to become gardeners and offers them a bed of their own to plant. She also teaches canning and other food related skills in the church kitchen. "It's not really teaching," she said. "It's demonstrating, gently coaching and encouraging."
Because of the fruits of Blackman's efforts, fewer people need food assistance from the local church during the garden's growing season. Although she's now recovering from an injury, Blackman took a part time job at FedEx to help fund the project.
"It's important that our children know where food really comes from," she said. "These folks take enormous pride in working in the garden and growing their own food. The community served ranges in age from three to 93, and speaks Arabic, Berber, Chinese, English, French, Korean, Portuguese and Spanish. "We have a lot of divisions in our community, but in the garden everyone is the same."
Share this post