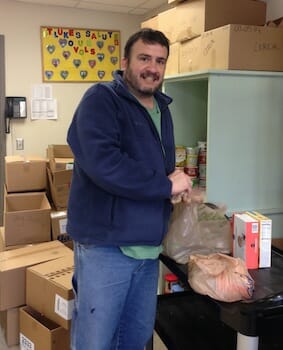 Dean Graber shows his love for his hometown of Nashville, Tenn., in ways you can see. In the past two years he has participated in nearly 100 diverse community service projects through Hands On Nashville, logging more than 250 volunteer hours.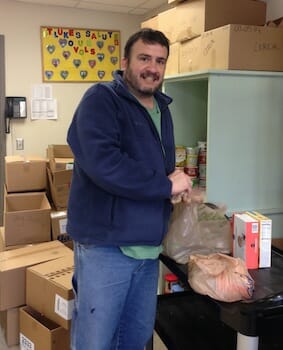 Dean Graber sorts donated food for the St. Luke's Community House food bank.
"I've had the chance to experience a variety of activities through Hands On Nashville," Graber says. "What sticks out is working on farms and gardens, maintaining trails, preparing and serving meals, distributing food at food banks and food drives, and working with people who are studying to become U.S. citizens."
Graber goes where he's needed. When a flood overwhelmed homeowners last summer, for example, he immediately responded to Hands On Nashville's call for volunteers to remove debris. He has helped restore trails at Radnor Lake State Park, delivered holiday gifts to families in need and accompanied seniors from their rooms at the Blakeford at Green Hills retirement community to an activity space where they enjoy fellowship and musical performances.
Graber, born and raised in Nashville, started volunteering when he was in junior high school at an American Red Cross blood bank, packing boxes of blood and delivering them to local hospitals and to bus stations for shipping to other towns. He moved to Texas in the early 1990s for 18 years, then returned to Nashville. Along the way he worked with several nonprofits, in print journalism and public radio, and on organic farms and gardens.
Back in Nashville, Graber says it's vital for people to give back to communities in need.
"Nashville continues to have enormous imbalances and disparities," Graber says. "It's important for those of us who can to do small things within our means – like giving our time – to address these imbalances."
Volunteering led Graber to work with Dismas House of Nashville, which helps people released from prison become re-acclimated to their communities. The nonprofit has hired Graber to help the staff gather information and interviews for a book and oral history CD that explores Dismas House's 40 years.
"I started volunteering there and it evolved into something that it is very interesting for me professionally since I've worked for – and volunteered with – many nonprofits in Austin and Nashville, and also worked in journalism," Graber says. "It's a fusion of interests."
If you're new to volunteering, Graber suggests picking a few different projects to get a feel of what type of service and work you would like to do. You may not find the perfect fit at first, but keep looking. Once you find your niche, find similar projects to fulfill your desire to serve your community.
To find a volunteer center near you, visit the HandsOn Network website.
Share this post