A Girl Scout since third grade, Lauren Levy has grown up serving her community. So when the Nashville, Tenn., teen found out about the Hands On Nashville internship program during her sophomore year in high school, she knew it was for her.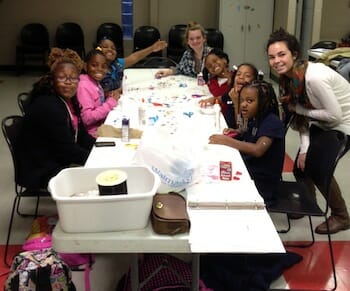 Lauren Levy, far right, smiles with her art class students at the Salvation Army.
As a Hands On Nashville intern, Levy – now a senior – leads and takes part in several community service projects and events throughout the year. Through the program, Levy has pitched in at a career fair for the unemployed; worked with the Salvation Army and the YMCA on community projects; and partnered with Starbucks for Global Youth Service Day. She also teaches a yearlong art program for 10 to 15 elementary school students as part of HandsOn Nashville's Youth Volunteer Corps.
"I love working with the elementary school kids; it's a great bonding opportunity," Levy says. "It makes me feel very happy to see kids appreciate all my work I put into it."
And Levy enjoys working with volunteers. At one of the five annual Hands On Nashville youth service events Levy worked with Starbucks partners and was put in charge of creating a butterfly garden, assigning roles to the other volunteers.
That leadership experience inspired Levy to establish the Summer Youth Leadership Program. She saw that many high school students had leadership roles during the school year on sports teams, in clubs and other activities, but during the summer leadership roles for teens were sparse.
"A lot of youth wanted to get involved with leadership during summer but they didn't know how," Levy says.
Levy created an application process, interviewed students and developed training and program materials to establish the youth leadership program. Each student accepted into the program tackled a different issue in their community – homelessness, the environment, hunger and others. The students then created and lead projects designed to address each issue. Levy oversaw each of the student leaders, assisted them in implementing their projects and evaluated their performance.
"A lot of teenagers can be self-centered," says Levy, who is leaning toward majoring in a health care-related field in college. "Once you start to help others you see it makes you better as a person. If you do good then others will do good and it will make the world a better place."
Share this post