Doctor Provides Free Trainings to Advocates Working With Victims of Violence
Meet Daily Point of Light Award honoree Dr. Amber D. Gray. During the third annual Global Volunteer Month, we celebrate the power of people who tackle society's greatest challenges, and build stronger, more vibrant communities through volunteerism and everyday actions, like Dr. Gray. Read her story, and join the Global Volunteer Month celebration.
Content Warning: Points of Light is proud to share the following uplifting and inspiring story. However, we acknowledge that a small portion below may be difficult for some readers. We encourage you to please care for your own wellbeing above all.  
The daughter of philanthropists and volunteers, Dr. Amber D. Gray has always placed an importance on service work. The Doctor of Behavioral Health has worked in violence prevention and intervention for over two decades and has found a love in helping victims of violence. It was a natural fit for Dr. Gray to continue her advocacy and violence prevention work in a volunteer capacity as well. Four years ago, she helped to co-found The Freedom Train Project, which helps victims of cultic abuse.  
As the nonprofit's Director of Violence Prevention and Victim Advocacy, Dr. Gray helps train advocates to be able to assist abuse victims. Aside from that work, Dr. Gray makes sure to volunteer an additional ten hours a month, frequently by providing free trainings for professionals and organizations who work with victims of violence. She also has served Children International for the last eight years by sponsoring four children for whom she helps provide food and medical care. 
What does The Freedom Train Project do?
The Freedom Train Project helps victims of cultic abuse escape their circumstances. They do it through victim advocacy — meaning resourcing them, getting them services they need, or linking them to other agencies that have therapists or provide education for people who have been trapped in cults for a long time. They also service different populations within cultic abuse. A person being abused by a cult may have human trafficking issues, labor issues, domestic violence, child abuse and may have been a victim of pedophilia, so we also have to service them per their population as well. 
Describe your role with The Freedom Train Project.
I am the Director of Violence Prevention and Victim Advocacy. My role is to help the advocates be able to assist the victims in a trauma-informed manner. I'm educating them and training them on how the business runs, how to interact with victims, how to interact with law enforcement and how to interact with other agencies. 
What has inspired you to do this work for the past four years?
I've been working in violence prevention and intervention, mostly domestic violence, for 26 years. I started when I was 17 years old from having troubles of my own and running into some wonderful ladies at a domestic violence center who encouraged me go to college and learn the craft. From there, I started working as a victim advocate. I moved up through the ranks over the years, and it's become my passion in life. I love working with victims of violence and helping them through their crisis.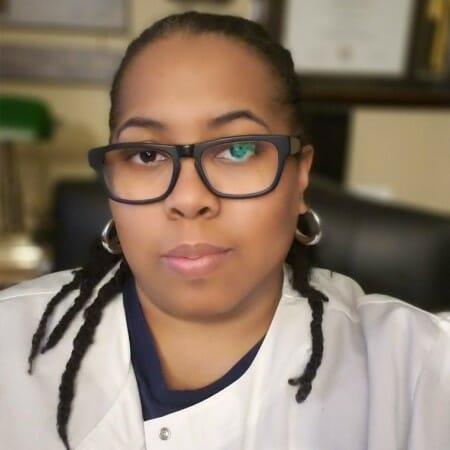 What specifically draws you to working with victims of violence?
When I was a child, I grew up in a violent home, and I needed a lot of help and a lot of resources. There were some people who assisted, but there just wasn't enough help back when I was younger. When I was a kid, I thought, "When I get older, I'm going to be the person who helps people." That's what drove me to it, but then I got distracted by my own growing-up issues and then brought right back into it through those wonderful ladies at the domestic violence shelter. 
What are you most proud of related to your work with The Freedom Train Project?
We had a client recently who was in another state, and she was in a cult of one. Her husband was a cult leader, and he was practicing at home with her and doing things to her. We weren't sure how to help that individual because they were in a home. We had to think on our toes and be creative about how to get her out of her home and into a position where other resources in her area could help extricate her from that home. It took about three months, but we were able to do that. We were really proud of that because that was difficult. 
In Which other areas do you volunteer?
I do ten hours of volunteer services a month for various organizations that may need help. Recently, I worked with the Human Services Network of Colorado. The director's name is John Dandurand. It was during the end of COVID, and he really needed his staff trained. I did an in-kind training. The training would have totaled to about $7,000 if he had to pay for services. I trained his staff on working with severe cases of individuals who were sexually violent. I did a 12-hour training for free for that. I do a lot of volunteer services for domestic violence agencies. Recently I worked with the Solano Advocates For Victims of Violence. They needed some volunteers so I did a MOU [Memorandum of Understanding] with them and told them whenever they needed to call me for any volunteers, I can provide that for them. My most recent one is a doctor named Anchal Goyal, and I have been training her to work in victim services for free. It's what I do — I volunteer my time for individuals who need to either get into this field or can't pay for certain trainings. 
Why is it important to you to make sure people have access to these kinds of trainings?
When I was working at a shelter, a few staff members weren't trained properly at the facility. One of the clients there didn't understand the process she was going through, and she ended up leaving the facility and jumping in front of a train. She committed suicide. She was a good person. I got to know her really, really well. All it required was that staff understanding that because of her situation, she needed to know exactly what was going to happen to her through this process. The staff didn't explain to her. She thought something was happening that wasn't happening. She was actually OK, it was just part of the process. She lost her life because of that, so it was very important to me to trauma-inform staff and to make sure all providers know how to deal with victims of violence so we don't retraumatize them. We don't know what their life has been like, so even if we retraumatize them a little bit, it can have a fatal outcome. 
Why do you think it's important for others to give back?  
The women who I encountered when I was a teenager gave back to me. All those women excelled through their career. They achieved the heights of their career, and they met this little rough kid, and they polished that kid and said, "We're going to take a chance on you and help you through life." I became a doctor. I think sometimes people need a hand up. If you give them a hand up, they will be able to excel. That's what drives me. If you help people, they can help themselves. Sometimes all they need is a little bit of help. 
What do you want people to learn from your story?
Things can be bad, but if you don't give up and you trust the process, sometimes it turns out OK. It's OK to trust the process, even when things aren't going so great. Things might be going bad for you, and you don't see a way out, but just hang in there for a little bit longer, and trust the people around you who are trying to help you, because there is always going to be a light at the end of that tunnel. 
Do you want to make a difference in your community like Dr. Gray? Find local volunteer opportunities. 
If you or someone you know may be considering suicide, contact the National Suicide Prevention Lifeline at 1-800-273-8255, or text HOME to 741741 to talk to a trained crisis counselor through Crisis Text Line. Both resources are anonymous, free and available 24/7. 
Share this post