Dressing Teens for Success in School and Life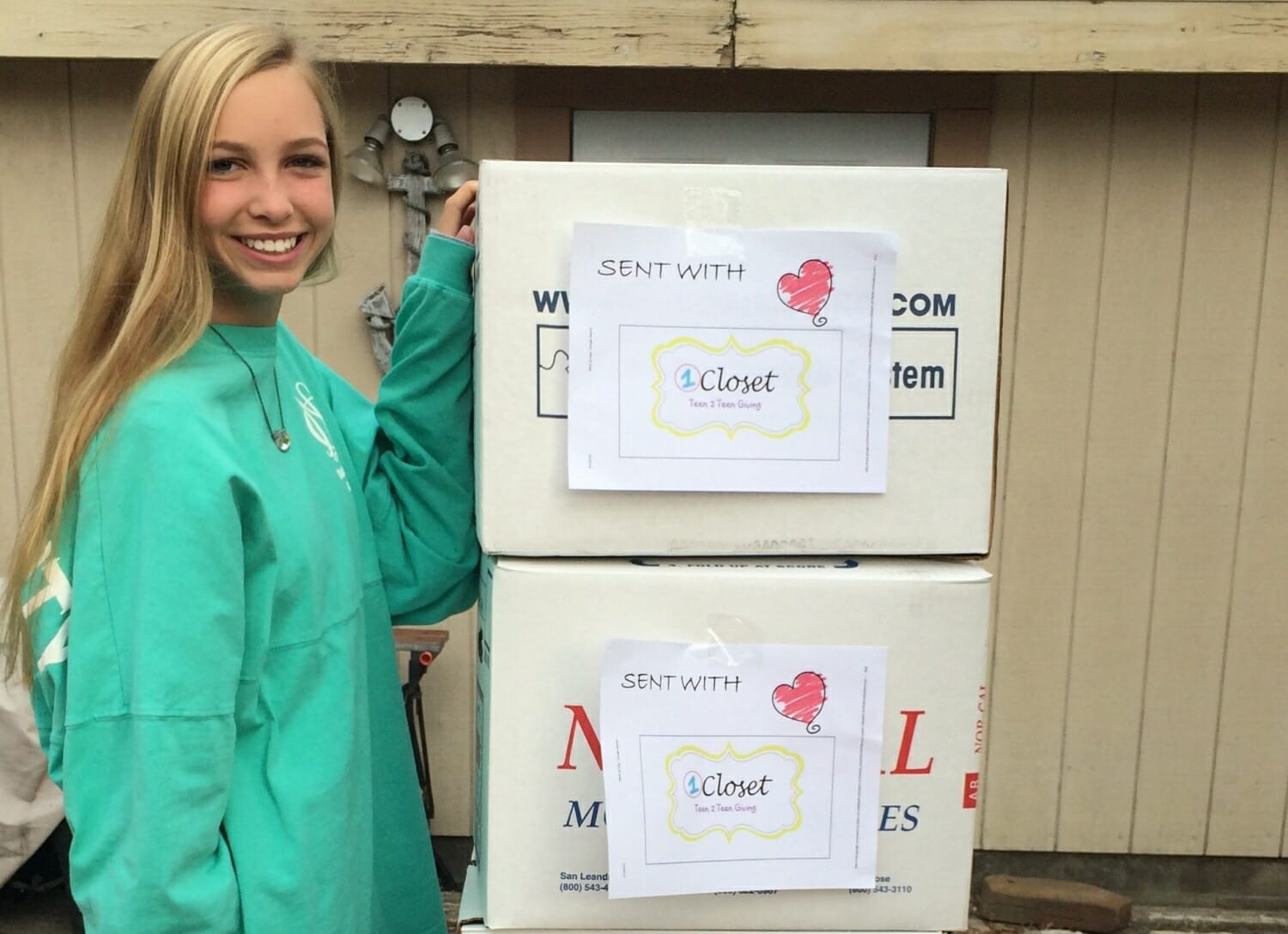 California teen, Carly Glasson, understands how clothing can affect a teenager's self-esteem. Carly serves as the director of 1Closet, a non-profit that coordinates the donation of new and gently used clothing to underserved teens in California's Alameda and Contra Costa Counties. Not having basic clothing can affect self-image, which can impact school attendance and social interaction. After food and a place to live, Carly believes that clothing is a critical necessity. 1Closet is all about teens helping other teens, with volunteers sorting, boxing and delivering clothing to teen-targeted non-profits that reach out to kids in foster homes and organizations working with survivors of human and sex trafficking. They have donated more than 500 boxes of clothing, which is about 175,000 garments worth close to $1 million dollars in the last five years. As she was getting ready for her own junior prom this year, Carly realized that disadvantaged teens couldn't have the experience without a dress. She set up first annual Prom Dress pop up, giving more than 80 girls the chance to "shop" for gorgeous dresses and accessories.
Carly is committed to making a difference in her community and she is today's Daily Point of Light Award honoree. Points of Light spoke with her about her commitment to service.
What inspires you to volunteer?
I am inspired to volunteer because I like helping my peers and getting my peers involved with helping others. It feels great to be able to give teen clothing to organizations that help teens. Teens are usually the group that gets left behind when helping those in need, so I like helping teens feel good about themselves.
Describe your volunteer role.
As director of our 501c3 1Closet, I am responsible for overseeing all aspects of our organization. I work with our partners who collect clothing donations for us and pick them up and bring them back to our home to sort into boxes by clothing item. I then make contact with the organizations we work with to distribute teen clothing to their programs. 1Closet works with low income, homeless and foster teens and organizations working with survivors of human and sex trafficking. I also founded the Prom Dress Pop Up this year and collect prom dresses to give away to teens in our community who are in need. I created a Pop Up event for the girls to "shop" for their dress.
What's been the most rewarding part of your work?
The most rewarding part of my work has been hearing stories from teens themselves and sometimes their parents about how their teens getting clothing or a prom dress meant so much. It feels like such a small contribution I'm making but it can really mean a lot to someone else.
What have you learned through your experiences as a volunteer?
I've learned through my experiences as a volunteer, that it doesn't take a huge act or donation to make a difference, sometimes just being able to help one person can really make a difference.
Are there any future partnerships, programs, or events that you are excited about?
I am excited about hosting the second annual Prom Dress Pop Up for teens in my community. It was such a successful and exciting event last year, I can't wait to make hundreds of other girls feel pretty and special on their prom night.
Why do you think it's important for others to give back?
It's important for others to give back, because life is about doing the right thing with the time you have on this earth. It's important to be a good member of society and give back to your community. You never know when you might need someone's help and you never know when someone might need your help. Giving back feels so much better than thinking only about yourself, it makes you realize what kind of person you are and can be.
What do you want people to learn from your story?
I want people to learn that it doesn't matter how old you are, how much time you have or what idea you have, there is always room to be that person that makes a difference in one or hundreds of people's lives.
Do you want to make a difference in your community like Carly? Visit All for Good for local volunteer opportunities.
Post written by Beth D'Addono.
Share this post