Family of Five Builds Bonds Through Commitment to Volunteering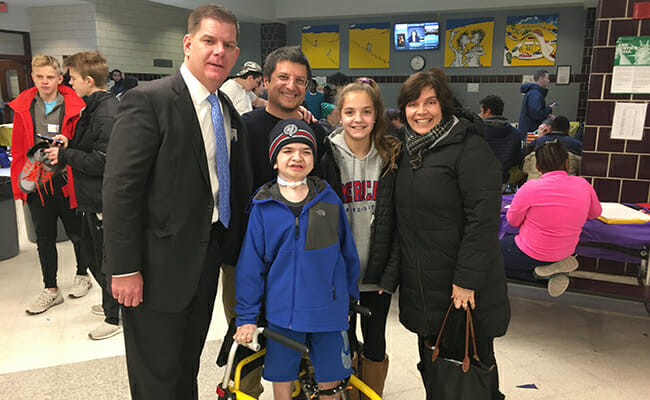 For the Elwy family, volunteering together is engrained in their lives. Rani, Sherin and their three children, 20-year-old Lucy, 17-year-old Ben and 13-year-old Charlotte, have spent hundreds of volunteer hours on projects ranging from distributing groceries at food pantries, to creating learning aids for ESOL students, to planting flags at dawn alongside Boston's 9/11 memorial. The family of five has discovered that volunteering is the one thing that brings them all together.
Rani and Sherin have learned it's important to listen to your kids and discover their wide range of interests. So, when Ben came to them two years ago with the desire to start volunteering, they wanted to find a way to make it happen. Ben was born with Schwartz Jampel syndrome, a rare genetic disorder that affects bone and muscle development – however, physical limitations could not deter Ben's service-oriented heart. Volunteering has connected him to his fellow classmates through school-based service projects, and created new bonds with family members. In recognition of their commitment to volunteering, Ben and his sister Lucy received the President's Volunteer Service Award in 2017 through Boston Cares, the largest volunteer agency in New England. Ben's involvement with the local American Red Cross food bank, Cradles to Crayons and Room to Grow allowed him to focus on social justice projects. In addition to these organizations, Lucy has volunteered with Mass Audubon's Coastal Waterbird Program, helping to shelter endangered birds along the shores of Boston.
Each member of the Elwy family is unique and different, and they look for ways to match their service activities to the things they are passionate about. Volunteering has become both unifying and contagious. "Before we knew it, we as a family were doing something every weekend," said Rani. "It was the only thing everyone made time for. It's cool to hear the kids ask, 'What volunteering activity are we doing this weekend?' – knowing that it's just part of the schedule."
Rani and Sherin are showing their children the magic that comes with celebrating others' differences, and that it is always possible to find ways to do more for those in need. From prison projects to distribution days at the local food bank, they understand that recognizing and understanding people's different circumstances is important.
Boston Cares, a Points of Light affiliate, has become a useful resource for the Elwy family. All volunteer events and projects are posted on an online calendar, and Rani and Sherin never fail to find service opportunities that are both family friendly and accessible to Ben. Charlotte can even get in touch with her crafty side with take-home DIY projects like fleece blankets. The Elwys also participate in the Boston Cares MLK Day and Family Volunteer Day activities each year. Last year on MLK Day, the family put together cards of encouragement for immigrants studying for their United States citizenship test.
When asked if she has any favorite memories from volunteering as a family over the past two years, One of Rani's favorite family volunteering memories is how Ben chose to spend his 17th birthday. Every year on July 31, Rani and Sherin take off work to spend the day doing whatever Ben wishes. That birthday turned out to be a little different than previous years, when he decided they would all spend the day assembling food bags at the local Red Cross food bank. Employees later gifted Ben with a large photo taken on his birthday, signed with thank-yous and words of encouragement.
The family's culture shift towards volunteering has brought tremendous light into their lives. "Volunteering is something we do because it is literally the one activity we can all do at once. We do it because we are grateful to help other people, but we also get so much out of it. We get time together. We don't know how to not volunteer anymore," said Rani.
There will always be volunteer activities scheduled on the family calendar, Rani says. The Elwys continue to volunteer every weekend, and enjoy time well spent united in giving back to their community.
Share this post