"Dynamic Duo" Brings Joy to Seniors Through Game of BINGO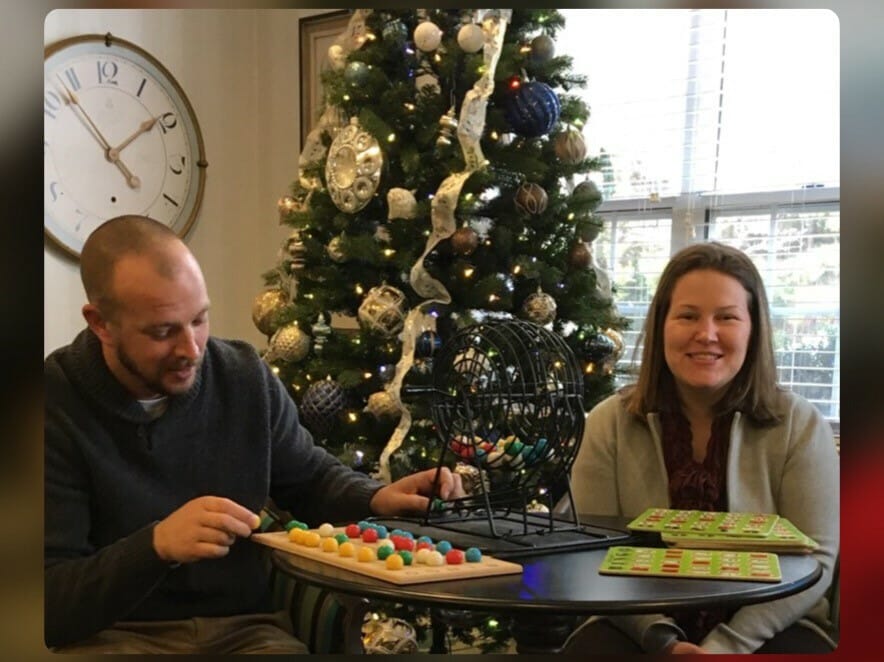 For the past two years Greenville, South Carolina residents, Shannon Falon and Stephen Roe have brought joy to the patients and seniors of Providence Care through a simple game of BINGO. Lovingly referred to as the "Dynamic Duo" Shannon and Stephen spend time with residents doing the group's favorite activity. "Residents shared how much it has lightened the load on their hearts and minds and gave them a regular activity to be totally engrossed in and all the while enjoying time shared with new and old friends," says Amy Howard Volunteer and Intern coordinator at Providence Care. Many seniors are grieving over declining health and loss of independence, while others miss a once active life filled with family and friends. BINGO provides the residents with a fun and interactive activity that brings joy to their lives. Shannon and Stephen are making a difference in their community and are today's Daily Point of Light Award honorees. Points of Light spoke with them about their commitment to service.
What inspires you to volunteer?
Shannon: I am very fortunate and have a lot to be thankful for. Life is short and I hate to see anyone not enjoying life as much as possible. I think it's important to volunteer with the elderly through Providence Care because companionship and a sense of community can help brighten someone's day and help them to live their lives as joyously as possible.
Stephen: I started volunteering for Providence when I as a little down on myself and just wanted to feel like I was doing something.
Describe your volunteer role.
Shannon: Stephen and I visit with the residents and play BINGO with them.
Stephen: Not only does everyone love bingo, but when have you heard of anyone ever not enjoying it?
What has been the most rewarding part of your work?
Shannon: Learning about the residents' lives. Many have lived amazing lives and have such interesting stories to share. They get a lot of joy from sharing their stories so just being there to listen and help put a smile on their face is very rewarding.
Stephen: At the end of our visits when we are thanked by everyone in the room for taking the time to come see them.
What have you learned through your experiences as a volunteer?
Shannon:Everyone needs help or someone to care at different times. We work with a lot of people who lived amazing, full lives, but many of them have lost many partners and friends. Companionship is so important, and if we're lucky we'll all live long and fulfilling lives with the ones we love. But one day anyone of us can find ourselves in a situation where we're lonely and need someone to care and listen to us. Empathy is so important. We all need help at some time or another.
Stephen: People are people regardless of age and we all just want someone to sit next to or just to banter with, even if for a short time.
Are there any future partnerships, programs, or events that you are excited about?
Shannon: I'm excited to continue working with Providence Care and to get to know the residents better. I'm looking forward to celebrating the holidays.
Stephen: I just want to keep doing what we are doing, simple but extremely rewarding.
Why do you think it's important for others to give back?
Shannon: I'm very fortunate. I've worked hard, but I've had a lot of help and legs up along the way. I think it's important to recognize my success didn't happen in a vacuum, and I need to show my gratitude through showing compassion and giving my time to those who haven't been as fortunate.
Stephen: We all need help in one way or another at some, I hope someone will be there for me some day. So why not reap the benefits of feeling great to help or just entertain someone else. A smile can be priceless.
What do you want people to learn from your story?
Shannon: Giving up a couple hours on a Saturday is a small price to pay, and means so much to the elderly that we visit and spend time with. I'll never regret spending my time volunteering and giving of myself. It's such a valuable, rewarding way to spend your time.
Stephen: Be there for someone else, if not for the obvious reasons but for what you can take away from the experience or even to be self-serving and feel great about what you did.
Do you want to make a difference in your community like Stephen Roe and Shannon Falon? Visit All For Good for local volunteer opportunities.
Share this post