Pennsylvanian Soccer Coach Donates Time to Help Local Youth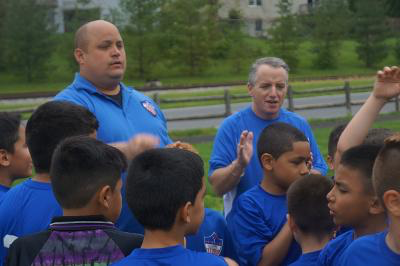 For the past three years, Allentown, Pennsylvania, resident Joel Arvelo has dedicated his time serving as coach of the Allentown Youth Soccer Club. In 2017, Joel logged in more than 1,200 volunteer hours with the nonprofit organization while working a full-time job as a forklift operator at C&S Wholesale Grocers, earning him the company's Volunteer of the Year Award. Joel coached six different teams and over 75 inner city kids ranging from age 6 to 19. Continuing his commitment to the organization, Joel dedicates his time and personal resources to make sure that these young athletes succeed. His involvement as a mentor and role model helps benefit the local children on and off the field. They are developing their athletic skills, sportsmanship, and teamwork – skills that will last them a lifetime.
Joel is making a difference for youth in his community and is today's Daily Point of Light honoree. Points of Light spoke to Joel about his commitment to service.
What inspires you to volunteer?
My children are my inspiration. The passion that they have for the sport they love. The willingness to help others. Watching my kids grow in front of me is a blessing. I enjoy every second of it. I grew up without a father, so I'm going to make sure my kids don't go through the thing I went through. Then you have the kids from the team… [It might be] their first time with a soccer ball and to see the joy in their eyes when they win a game and we celebrate together, or we lose a game and they fall and I have to pick them up and try again. You meet kids from different walks of life, different struggles, kids growing up with only one parent, sometimes with no food on the table… [You know] you have to do something, at least, through soccer and try to make a difference in their lives. That is my inspiration.
Describe your volunteer role with Allentown Youth Soccer Club.
I am a coach with the Allentown Youth Soccer Club and I am also the vice president. I line the fields, pick up kids around town so they could go to practices and games. I have many other roles within the club – sometimes it's difficult to find volunteers to help out.
What's been the most rewarding part of your work
Seeing these kids grow in front of my eyes, or when they tell me that they are going to college, or … they see me on the streets and they call me coach, and knowing I have touched their lives. And, to tell you the truth, they have changed mine.
What have you learned through your experiences as a volunteer?
That hard work pays off. I see it through my kid's achievements. They know if they work hard, they could go places. Not everything is colors or rainbows, but if you want something really bad nothing is impossible. The sky is the limit.
Are there any future partnerships, programs, or events that you are excited about?
Right now I'm coaching a U11 [Under 11] travel team that is coming from rec, and it is going to be a hard transition for them, more challenging, but I know they are going to do well. We have dreamed about winning a championship together, so they are working really hard so their dream comes true.
Why do you think it's important for others to give back?
We could only help so many people and I think if more people join and volunteer we could change the world. For me, this is bigger than soccer, bigger than any sport out there. These kids are our future. Future mayors or doctors, governors and, who knows, even a president, and that is why I think it's important to give back.
What do you want people to learn from your story?
I want people to learn that with love, a little work, and dedication everything is possible.
Do you want to make a difference in your community like Joel Arvelo? Visit All For Good for local volunteer opportunities.
Share this post
---