Emphasizing a Personal Connection, Atlanta College Student Hand-Delivers Essentials to Homeless Population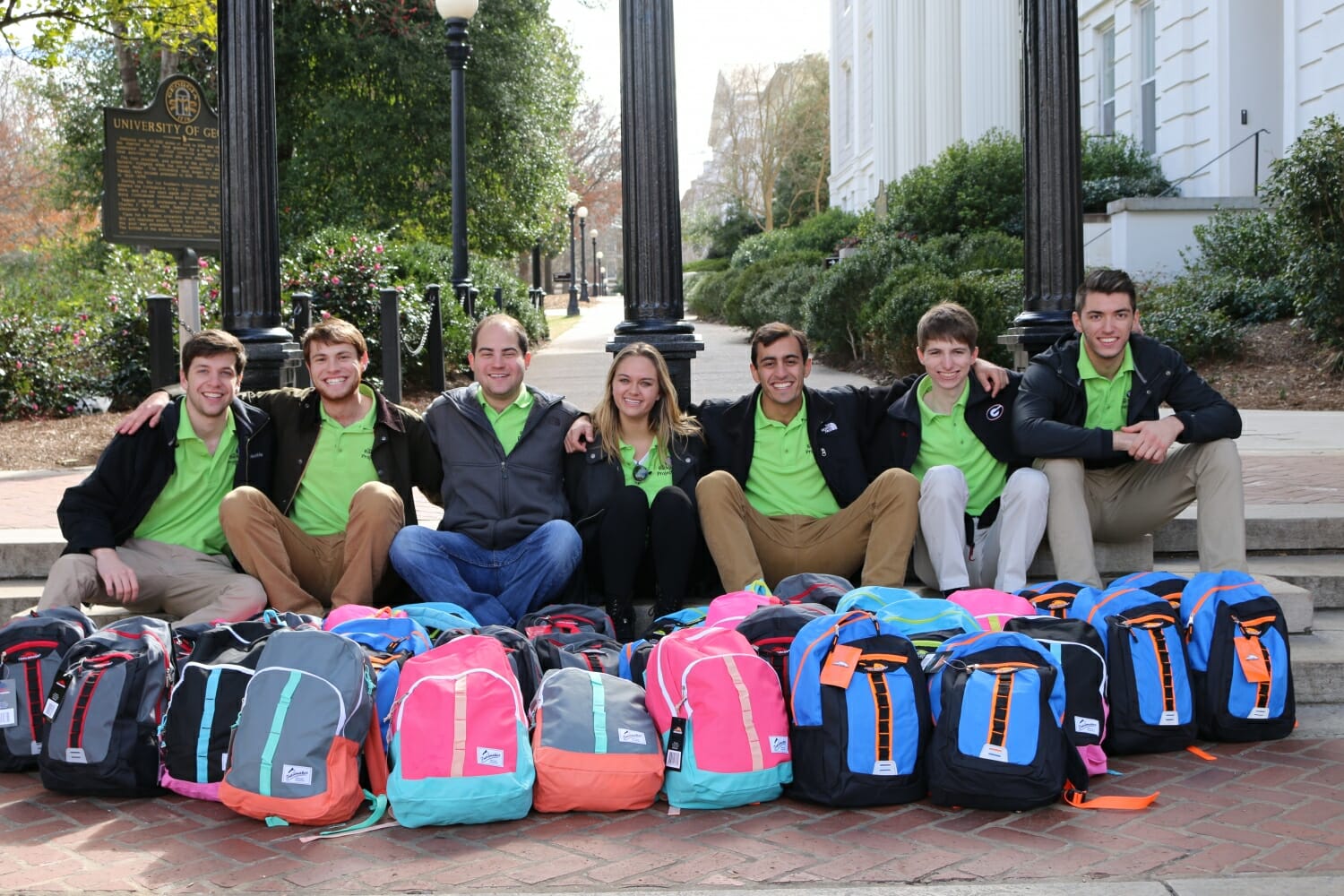 A native of Dunwoody, Georgia, a suburb outside of Atlanta, Zach Leitz says he was never exposed to the problem of homelessness in his community. However, after becoming a student at the University of Georgia in Athens, he was shocked by how rampant and visible the issue was in the college town.
Learning that Athens-Clarke County was one of the poorest counties in the nation, Zack worked to identify how to best serve the homeless individuals in Athens and surrounding areas. Inspired by a video he watched online, Zack launched The Backpack Project, Inc. in 2015. Zack decided that he could make a significant impact through a small-scale operation by offering backpacks to homeless individuals throughout the year with essential supplies like food, clothes, toiletries and other miscellaneous items.
Having served thousands of clients since starting his organization, the now 22-year-old and recent graduate is making a difference in his community by addressing the physical and emotional needs of homeless individuals and is today's Daily Point of Light award honoree. Points of Light spoke to Zack to learn more about his work with The Backpack Project, Inc.
What inspires you to volunteer?
I have volunteered since I was a child, but over time I've developed my own philosophy surrounding service. I now think of philanthropy as a civic duty and I appreciate the concept of civic rent. For all of the opportunities that our community affords to us, we have a responsibility to give back to our community. Philanthropy could and should be a centerpiece of every person's life in whatever arena is most important to them.
Describe your volunteer role with The Backpack Project, Inc.
At UGA I handled fundraising and organized outreach. The Backpack Project, Inc. was built to be run, managed and operated by UGA students in perpetuity. We currently have a team of 16 compassionate and innovative student volunteers who work each day to bridge the gap between aspiration and reality in homeless services across the cities of Athens, Atlanta and Augusta.
Explain how these backpacks work.
We have four different backpacks throughout the year: a summer and winter backpack with different essentials and a men's and women's backpack. Each backpack is made for less than $20, and each contain more than 40 items including food, clothes, toiletries and miscellaneous supplies. We focus on direct delivery, so we hand-deliver each backpack we make. The face-to-face contact is an important part of our mission. In addressing the more personal, emotional aspect of homelessness, we're not just delivering physical supplies. By learning more about their environment and their needs, we're able to improve our backpacks and serve them better.
What do the backpacks mean to the people you give them to?
It comes down to reminding someone of their value and self-worth. With each backpack, we are reminding these people that they're loved. When you think about the phenomena of people walking by someone who is homeless and not making eye contact, or not taking the time to nod your head and say hello…it's dehumanizing. For someone to take the time to seek out these individuals, give them something that will make them more comfortable and take the time to sit down and listen to them – that serves as a reminder to these individuals that there's hope.
What's been the most rewarding part of your work?
Being able to create an organization that has allowed students to get involved and experience philanthropy hands-on has been rewarding for me. Additionally, the moments when you are face-to-face with the people you are supporting – when someone says that you've really made a positive impact on their life and tells you that you reminded them they are loved. That feeling is beyond words. Those are the things I hang on to.
What have you learned through your experiences as a volunteer?
I've experienced enormous personal growth through launching this organization. I've also personally found that "happiness pursued eludes, while happiness given returns." It communicates that those who spend their time, effort and energy working to help others are those who will truly find happiness themselves.
Why do you think it's important for others to give back?
It's everyday philanthropy. Anybody, anywhere in the world, regardless of their status or occupation in life, has the capacity to give back. It's a fundamental thing and what bridges us in community. It teaches us empathy. Your perception is not the only one that exists in the world. It puts you in someone else's shoes; I look at it as somewhat of an opt-in civic responsibility.
What do you want people to learn from your story?
For a long time I knew what issues I was passionate about and what was important to me. The question I was left with was, what can I do about it? If everybody could understand the potential they have to affect change and that the amount of things you can do is so vast and so powerful, that's when real change happens. People don't realize how powerful they are.
Do you want to make a difference in your community like Zack Leitz? Visit All For Good for local volunteer opportunities.
Post written by Marlena Militana.
Share this post