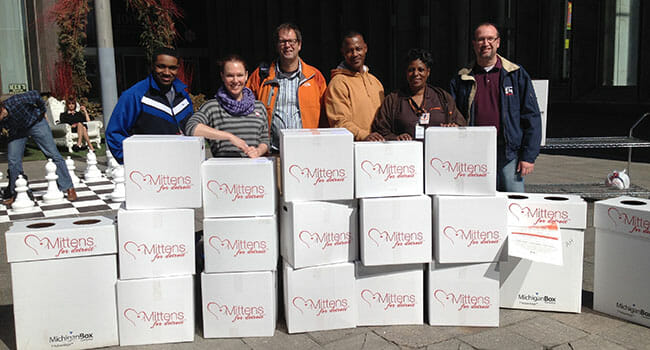 Erin Cummings (second from left), founder of Mittens for Detroit, with representatives from Gleaners Community Food Bank and The Children's Center of Wayne County.
For years, Erin Cummings had found success as a working actress, appearing in television series like Mad Men. In 2010, though, her career took a dramatic leap when she landed her first regular role in a network show, playing a medical examiner in the police procedural Detroit 1-8-7.
It didn't take her long to fall in love with the often-troubled namesake city where the series was filmed. Soon after arriving, she noticed that baseball's Detroit Tigers were hosting the Texas Rangers, which she considered her home team, during her birthday. "Somehow I convinced the Tigers to let me throw out the first ball," the 38-year-old actress recalls with a laugh.
It was a fun way to celebrate (the Rangers won 10-0) but something much more meaningful occurred after she discovered that she had distant relatives in town and moved in with them. It was a blustery Halloween evening and as Cummings and her cousin Kathi handed out treats, a shivering little girl started crying because she had lost her glove. Kathi invited the girl and her family inside and found a pair of replacement gloves that fit, sending the girl back to trick-or-treating with a warm hug (and a few pieces of chocolate).
"I was so touched by this simple act and how it acknowledged a basic human need," Cummings says. "I couldn't stop thinking about how easy it could be to remedy discomfort, even if in a relatively small way." Because the series had generated so much attention in Detroit, Cummings had already been incorporated into the fundraising circuit in town. But, she says, "I was only involved because of my celebrity and it felt a little empty. I started to wonder if I there wasn't something more I was supposed to be doing there."
After that Halloween, she had her answer and her nonprofit, Mittens for Detroit, was born. She started calling everyone she knew and before long she had a long list of volunteers willing to help with public relations, building a website and corralling supplies.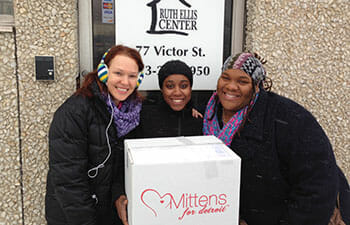 Erin Cummings delivers mittens to the staff of the Ruth Ellis Center, a safe house for LGBTQ youth.
"Over the first four months, we collected almost 10,000 pairs of new gloves," Cumming says. "And it was all done with in-kind donations, not monetary ones." (Cummings' choice of "mitten" in the name is a playful reference to the shape of Michigan, which has earned it the nickname of "The Mitten State.")
The basic model remains the same, with collection boxes set up from October through January in retail locations throughout the state, including about 100 Starbucks. Gloves must be new, Cummings says, because they're being distributed to people who "may not have owned brand new mittens or other articles of clothing, and the newness is a respectful and dignified way in which to give these pairs."
To date, the nonprofit has collected more than 165,000 pairs of gloves and mittens from donors around the world. Several times through the season, the organization stages The Big Sort, where volunteers sort the items by gender, age group and destination – MFD now sends gloves to more than 100 schools, homeless shelters and nonprofit agencies in the region.
Although her latest acting gig keeps her in New York City these days and she's frantically planning her wedding, Cummings remains deeply involved with MFD. She's in constant contact with Executive Director Wendy Shepherd, whom she credits with growing and professionalizing the organization.
"My goal is to get back out there more often for the actual deliveries of the gloves, which is my favorite thing to do," Cummings says. "I love sitting down and having lunch with, say, a homeless veteran and hearing his story. Or, helping a four-year-old child who's never owned gloves and doesn't know how to put them on."
For those who don't live in Detroit but are interested in, well, lending a hand, there are many ways to support MFD, says Cummings. Knitters can send their own creations, while those who would rather donate money enable MFD to purchase new gloves wholesale from a Michigan supplier. The organization's website also has a shop that sells jewelry, cleverly designed by Cummings to suggest both a mitten and an open heart.
Erin Cummings is a shining example of how social innovation, cross-sector collaboration and citizen engagement can drive change. Join us in Detroit in June for Points of Light's Conference on Volunteering and Service, which provides the singular opportunity for thousands from around the world to come together to shape the future of volunteerism.
Share this post