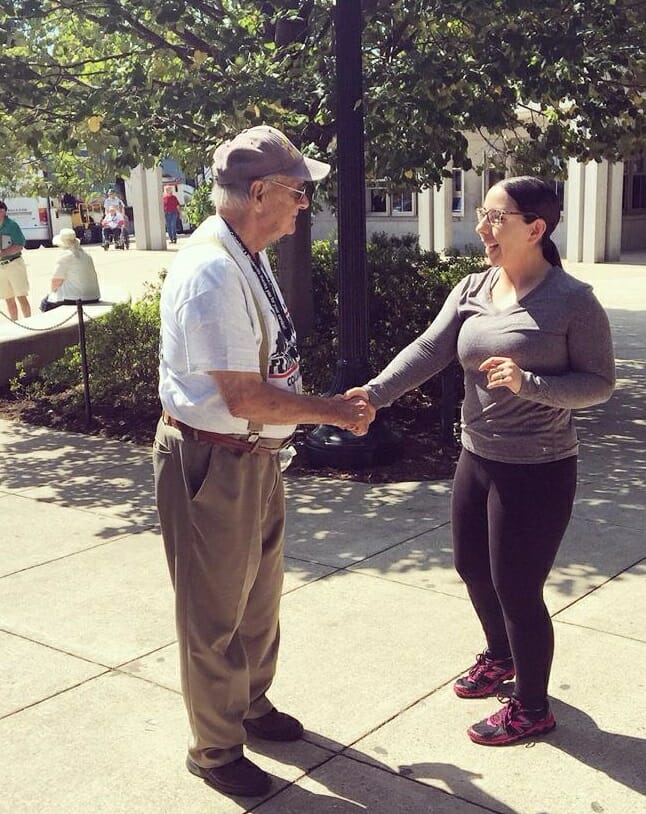 Military service is significant for Melissa Ann Sullivan, and she's volunteered extensively to show her appreciation and respect.
"I'm acutely aware of how things were prior to 9/11. This is the conflict of our generation, and I've looked at how it's affected society to see how I could do my part," she says. "Service is very important to me – something my parents instilled in me at a young age."
Most recently, Sullivan has volunteered more than 80 hours with the federally-operated Armed Forces Retirement Home (AFRH). Currently, she's planning a Spa Day for the AFRH ladies who account for 10 percent of the home's 450-person population.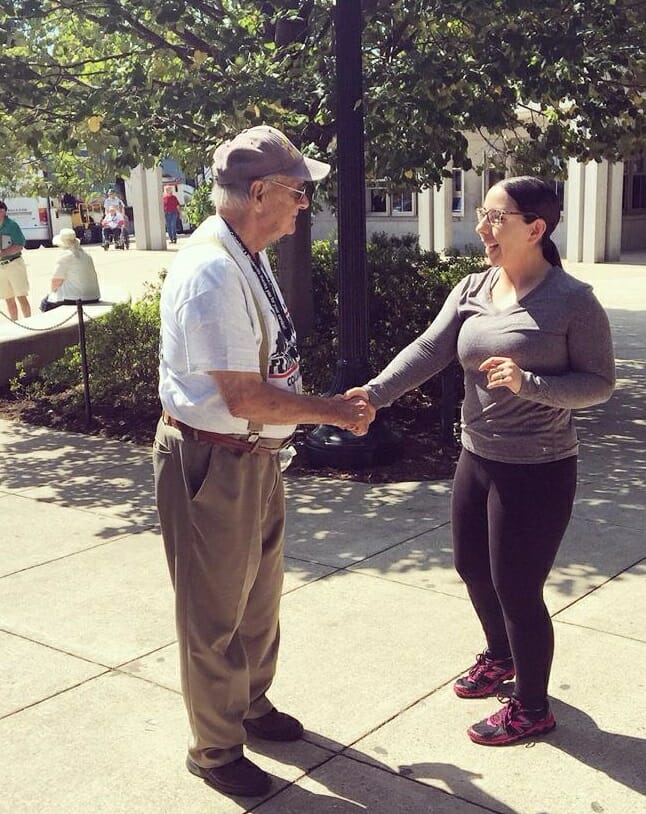 Sullivan greeting an honor flight veteran at the WWII Memorial in DC.
She distributed more than 100 jackets during the 2015 VA Winterhaven StandDown and engaged dozens of homeless veterans during the June 2015 Friendship Place "One Day Veteran Stand Down." Additionally, in 2010-2011, she volunteered more than 40 hours in the Comfort for America's Uniformed Services (CAUSE) Digital Entertainment Library and has spent more than 16 hours with the Tragedy Assistance Program for Survivors (TAPS). She also worked for 10 hours with The Mission Continues in multiple 1st and 2nd Service Platoon-led projects in Washington.
Sullivan's initial interest in serving appeared in high school when she launched a service project called Operation H.E.R.O. (Helping Each Other Reach Out) through the website AnySoldier.com . The website offers soldiers' wish lists during deployment. Sullivan organized car washes, bake sales, and garage sales to fulfill wish lists for more than 1,000 soldiers over five years.
After moving to Washington, D.C., Sullivan worked with Honor Flight, an organization which charters flights for World War II veterans nationwide to visit the capital for a day. Each flight brings between 50-and-90 veterans. Greeters meet them, and those who are physically-disabled or who need additional services receive a guardian. In six years, Sullivan has greeted approximately 5,000 veterans and been a guardian for 15.
"Whether I'm working with homeless veterans or older WWII soldiers, volunteering gives me the opportunity to share my gratitude," she says. "In some cases, veterans share memories of their experiences with me that they've never discussed before."
Share this post