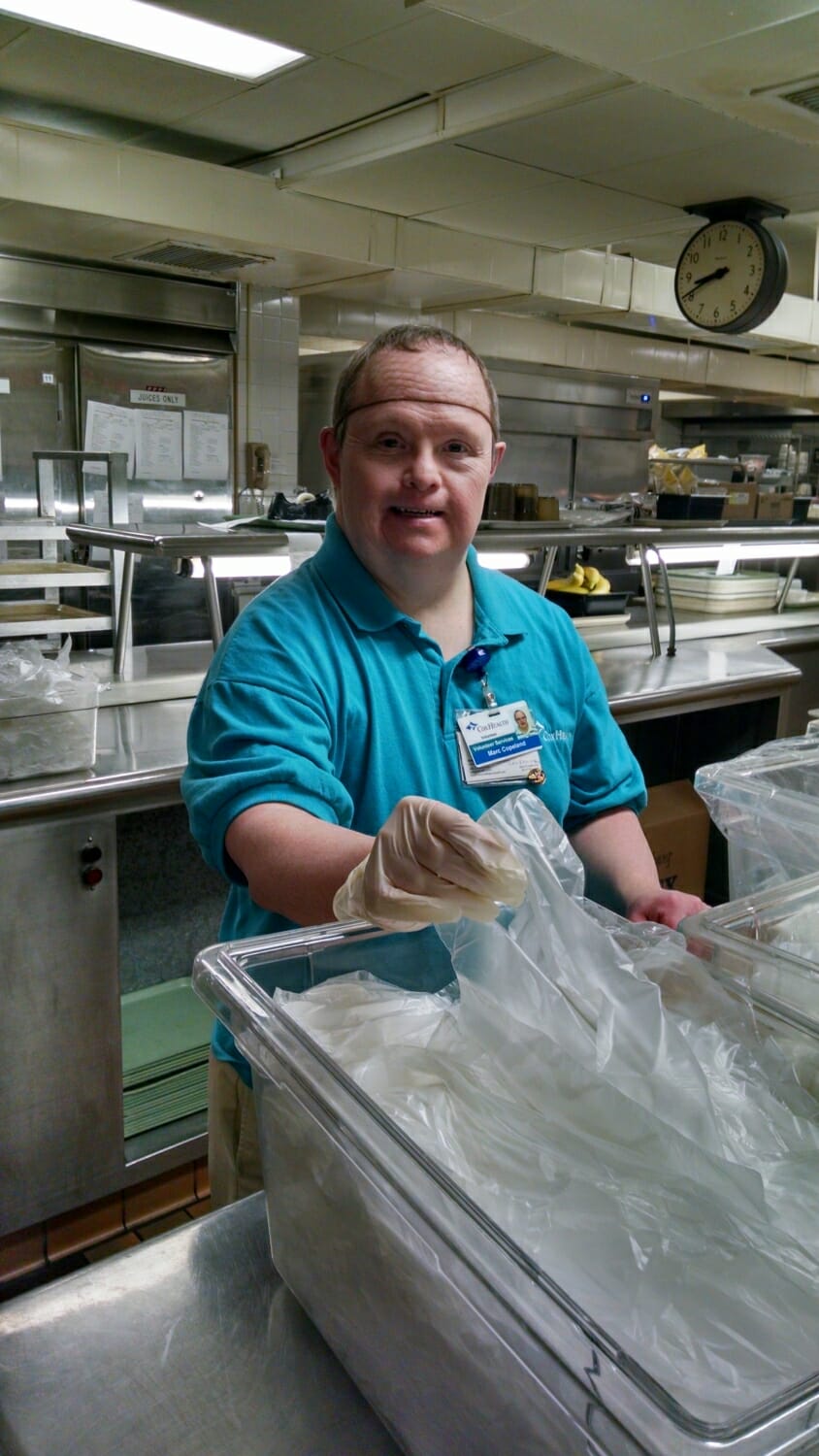 As the youngest of nine children, Marc Copeland is used to pulling his own weight. He was also raised to never expect special treatment, despite the fact that he was born 46 years ago with Down Syndrome.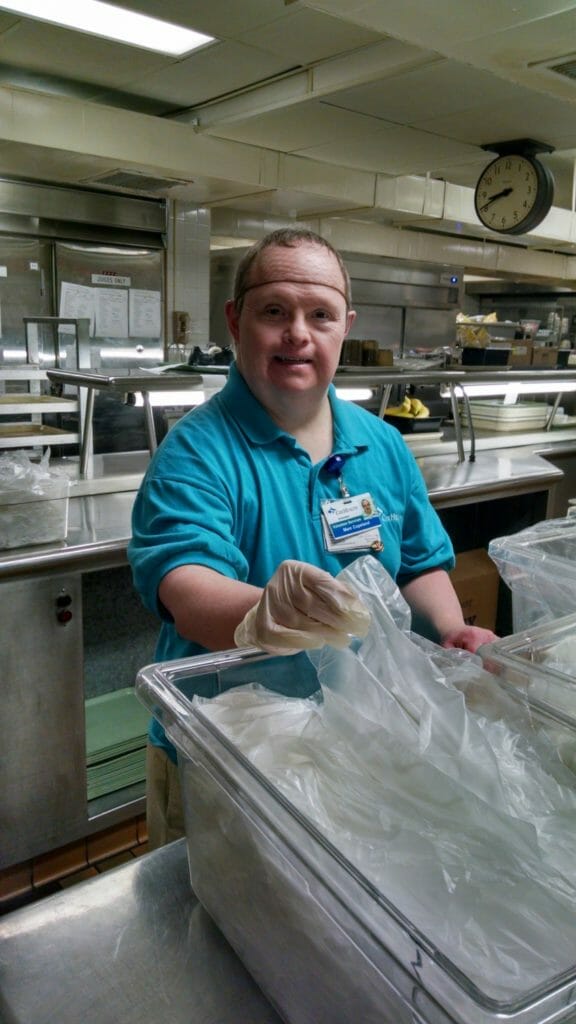 Marc Copeland
Until 2013, Marc worked at a small manufacturing business in his hometown of Springfield, Missouri. When the business closed up shop, this perpetually busy guy didn't waste any time. He started volunteering at Cox North Hospital that March, and since then he's racked more than 5400 hours of service in three different departments. Marc's sunny disposition, infectious grin and famous bear hugs make him a popular guy around the hospital. "Other departments want Marc too and he'd love to help – but he has no more time to give," said Pat Long, Cox Health Volunteer Coordinator.
Marc lives with his sister Merrian, who supervises food service at Cox Medical North. "I put in long days starting at 5 am, and Marc is there with me every day," she said.
"I like to help people," said the always positive volunteer. His service takes him all over the hospital, in the cafeteria, where he cleans tables, and counters, helps carry trays when needed, prepares the salad bar and wraps silverware for patients. Then he's onto accounting, stamping invoices and statements, helping with filing and shredding documents. In the fitness center, where he works out himself five days a week, Marc cleans equipment, sets out towels for the members, organizes bikes for the spinning classes, helps with paperwork, and anything else that needs doing. He has worked in outpatient admissions walking patients to their appointments and is a super people person – there are just not enough hours in his volunteer day.
Service isn't new to this Special Olympian, who won the bronze medal in swimming freestyle in 1991. For the past 15 years, he's volunteered at his church twice a week, organizing the music for Wednesday practice and helping with the kids during Sunday School. He's also a crackerjack fundraiser, raising more than $15,000 in the past 10 years for A Sporting Chance, a Missouri-wide non-profit that gives everyone, from young people with special needs or at risk teens to seniors the chance to participate in sports and recreational programs.
Marc is especially loved at McAlisters Deli, a local restaurant that holds fundraising nights four times a year. Marc buses tables, refills drinks and serves food to customers, always with a smile on his face and a hug ready to go.
"I know from talking with my peers and employees here at the hospital that Marc is a joy to work with," said his sister. "He's fun and lightens the load of the day. In the three years he's been working with us, I can see a difference in employee morale. His joy for life is just contagious."
Share this post