Ex-Military Wife Making Dreams Come True for Generations of Veterans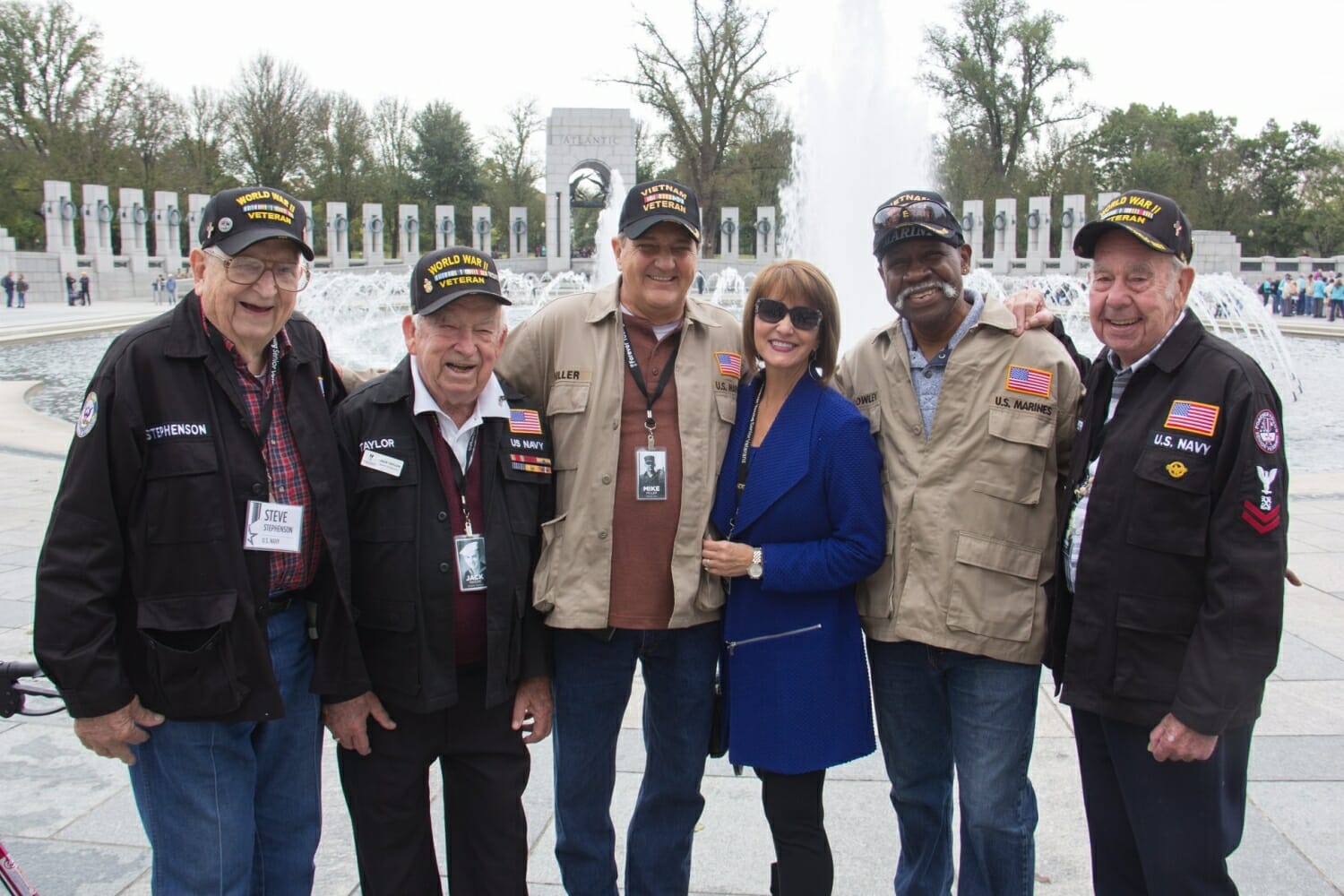 As the wife to a former pilot in the Air Force, a daughter and niece of WWII and Korean war veterans, and sister and cousin to even more who have served, Diane Hight comes from a true military family. As she puts it, her family has served in the military from the Civil War to Afghanistan.
But what sets Diane's service apart from others in her family is her dedication to those veterans themselves. Through Forever Young Vets, an organization she launched in 2006, Diane provides honor, healing and hope to military veterans 65 years and older by granting their unfulfilled dreams, returning them to the places they fought, and sharing their stories of sacrifice. Effecting change in the winter of these heroes lives is her goal, helping them to heal from old wounds by reuniting them with long-lost peers and celebrating their legacies.
Giving back to more than 3,000 veterans and raising more than $2 million to date, Diane is gifting heroes with invaluable experiences, and is today's Daily Point of Light award honoree. Points of Light spoke to Diane to learn more about her work with Forever Young Vets.
What inspires you to volunteer?
Growing up, my dad really instilled in me a love for America. He was so proud of his service in WWII and Korea, it defined him in a lot of ways. My dad and uncle, who both served in WWII and the Korean War, have both since passed, but Forever Young Vets is an opportunity for me to give back to their comrades.
Tell me about your favorite wish.
So many of these guys didn't receive the recognition they deserved, they just came back home from war and went back to work at the farm. We had a 93-year-old sailor who had been a pitcher for a minor league baseball team for the St. Louis Cardinals. He had dreams of playing for the Majors – but had to leave baseball to go fight, and he never went back. His wish was to throw out the first pitch for the Cardinals. This was one of my hardest wishes, it took me about 2 years to get it done. At the age of 95, he got to go and throw out the first pitch at a Cardinals game with his two grandsons. When he was returning from the game, he called and told me that he threw the ball 95 mph. He was serious. It made him so happy.
Describe your volunteer role with Forever Young Vets.
I have never taken a salary, I volunteer out of love and passion for the older veterans. Our organization has about 25 volunteers in all, and it's exciting to help these veterans. That's the one thing I love about granting wishes for veterans, they know what's important. They're not going to ask for a big screen TV. They want meaningful experiences: to be reunited with a buddy that they fought with, or to get their Purple Heart medal they never received, or they want to go back to Iwo Jima. When you have been fighting in a war, they know that possessions mean nothing. It's people that matter, and America.
What makes these wishes so special?
The greatest challenge is getting wishes from the greatest generation because they will not ask for free things. They were taught that you don't accept free things, you work for it and you pay for it. They almost don't believe you when you tell them you want to do this for them.
You rely on fundraising for your trips with the vets. Tell me about them.
After granting individual wishes, the word spread, and we ended up having a group of 30 men, up to the age of 100-years-old, that wanted to go to the World War II memorial in Washington D.C. That was our first trip in 2009, and it was life-changing, to see what the memorial meant to these guys. We got back, and we had 50 more guys that wanted to go. After that, I just started raising money like crazy to do more trips, because I felt like these veterans had given enough, they deserved this free trip. We're taking a group of WWII veterans overseas for the last time this upcoming year. We'll be going to the 75th anniversary of the Battle of Normandy in June 2019, and to Belgium in September 2019 to celebrate the 75th anniversary of the Battle of the Bulge. This is the last year because they're getting older and not able to travel as much. Check out our website for more information about how you can help: http://www.foreveryoungvets.org/givetoveterans/.
What would your dad and uncle say to you today, if they were able to see what you were doing for vets?
I know they would be so proud. And I know my dad would be on every trip with me if he was here. They would be very grateful, because they were both in combat and witnessed the horrors of war. Our organization is about honor, healing and hope. We want to help bring peace to veterans and their families who often suffer silently.
How has leading your life in service changed you?
You can't help but change when you see other people's lives changed. It's made me appreciate what our veterans have done even more than I previously did. For instance, we had a man that went in on Omaha Beach and fought through the Battle of the Bulge – he couldn't even talk about the experience. Now he attends speaking engagements and he shares his stories. His children would tell you he's a different man than who they grew up with. It's so fulfilling to see someone's life improve. I'm just thankful that I can even hang out with these guys (laughs). They are the real deal.
Why do you think it's important for others to give back?
I don't think that we can totally be happy if we're not giving back to others. The more you give, the more you get back. I wish that people would volunteer more, I don't think people realize the joy in it – it's addictive. The veterans are so grateful for the tiniest little thing you do for them.
What future events do you have coming up that you're excited about?
Our Dreamgivers' Gala is Saturday, August 11, 2019, at the Hilton Memphis. We will raise money to return WWII Battle of the Bulge veterans back to Belgium for the 75th Anniversary. We will also raise funds to take WWII, Korea, and Vietnam vets to Washington DC for a five-day "Trip of Honor." Check our website for more information: http://www.foreveryoungvets.org/events/.
Do you want to make a difference in your community like DIane Hight? Visit All For Good for local volunteer opportunities.
Post written by Marlena Militana.
Share this post