Family Bonds Together By Serving Chicago Community
Meet Daily Point of Light Award honorees the Riley-Scruggs family. Read their story and nominate an outstanding volunteer or family as a Point of Light. 
Volunteering has always been important for Lisa Scruggs, who became especially dedicated to community service while attending Georgetown University. The importance of giving back was something she wanted to impart on her children — and based on the family's tireless track record of steadily volunteering throughout their Chicago community, she has succeeded. 
Lisa, along with 16-year-old twins Jacob and Maya and 10-year-old Zachary, have been ardent supporters of The Honeycomb Project, an organization that mobilizes families to volunteer for various nonprofits in Chicago. Since first joining in 2013, they have particularly focused on The Honeycomb Project's volunteer opportunities related to food insecurity. 
"Certainly as parents, my husband and I think it's incredibly gratifying to know our kids are able to have this experience to see up close the different needs in the community and think of different ways to address it and push it into thinking," Lisa said. 
Each month since the COVID-19 pandemic began, the Riley-Scruggs family go grocery shopping for seniors living in Lincoln Perry Apartments, a Chicago Housing Authority affordable housing community. The family shops for groceries as well as other needed items like cleaning supplies, then set up a mobile grocery store at the apartment complex for the seniors to shop safely. Jacob and Zachary also often help the seniors with their carts and bring the groceries back to their apartments for them. 
"It's really cool hanging out with my family and having another bond, another thing we can do together," Zachary said. "And we connect with other people as well." 
Aside from their work with seniors, the Riley-Scruggs family has made blankets out of recycled bags for the homeless, written notes for veterans, and created care packages for families with kids in shelters as well as for children being treated at La Rabida Children's Hospital.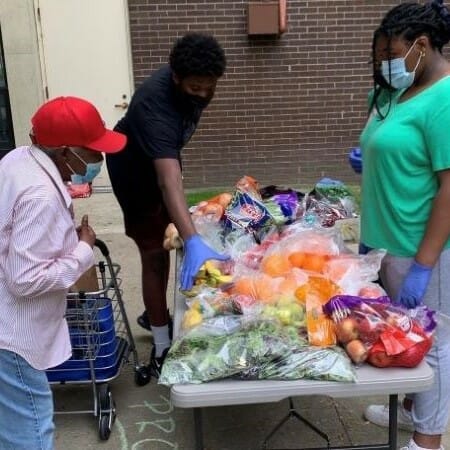 The family has also helped step up into leadership roles to help plan events for The Honeycomb Project. This past summer, they served on a planning committee for a party that also served as a school supply collection drive for college-bound students who were struggling to afford items such as backpacks, toiletries, and sheets and pillow cases for their dorm rooms. 
"The situations people are born into, they're not always as fortunate as us, so it's always important to give back and make sure people are able to not feel helpless," Jacob said. 
Bri Lilly, The Honeycomb Project's program manager, described the Riley-Scruggs as one of the "cornerstone, foundational families," especially during the pandemic, who can always be relied on to help out in some way. Even if they are unable to attend an event, she said, they may stop by with a donation of groceries instead. 
"They are, first and foremost, kind and selfless," Bri said. "They think of others before themselves and put needs of others above their convenience or above their plans or schedule." 
Lisa said she was drawn to The Honeycomb Project due to their variety of different projects making it easy to incorporate volunteering into a regular part of the family's routine, the importance of which she really wanted her kids to understand. She hopes that when they are adults, they will continue to search for volunteering opportunities and involve their own families one day as well. 
The family is also spreading the spirit of volunteerism to others in their community. The kids sometimes bring friends along with them on service projects. 
"Teenagers should volunteer," Maya said. "It's a great way to bond with your friends but also give back to the community."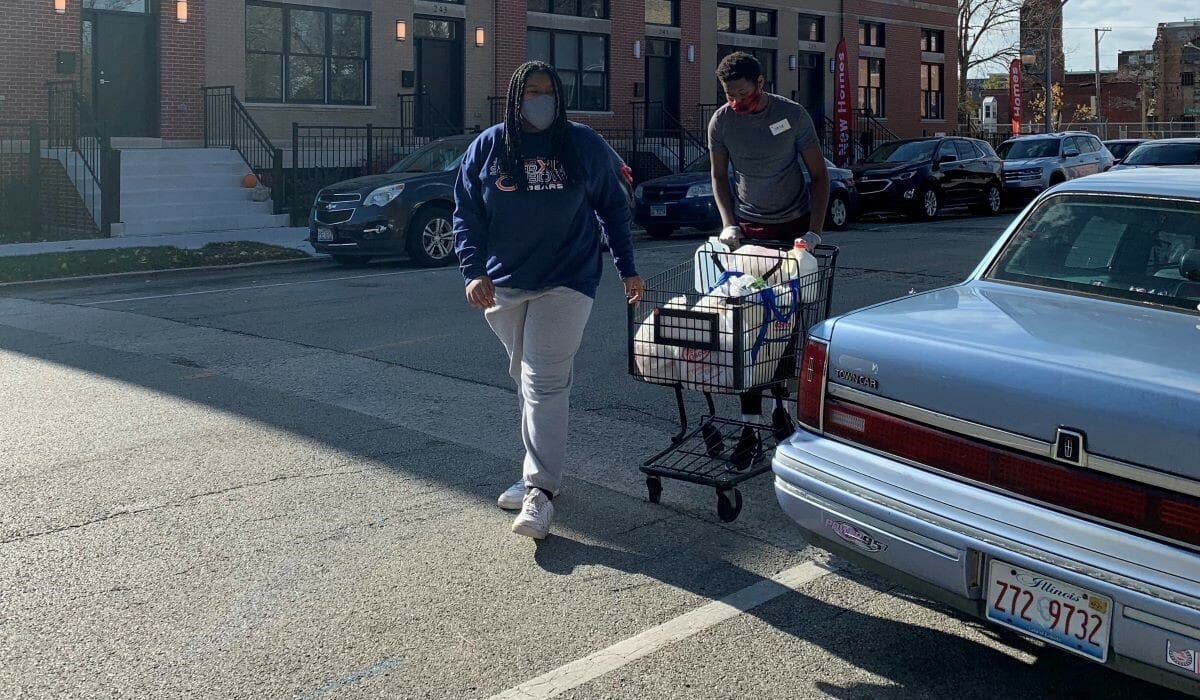 The Riley-Scruggs make sure they are participating in a service project at least once a month, even despite their busy schedules — Lisa serving as a lawyer, her husband a Chicago firefighter, and her kids attending school and being involved in a variety of different activities. 
"For us as a family, it's a way we make sure we're not sitting in front of screens individually doing what we often do, carrying out our individual lives, but it's a time we come together as a family, too," Lisa said. 
Looking to the future, the family plans on continuing to support Lincoln Perry Apartments throughout the pandemic. Later this month, they will help throw a Halloween party for the seniors, in order to get them socializing and continue to check in on them. 
Do you want to make a difference in your community like the Riley-Scruggs family? Find local volunteer opportunities. 
Share this post