Father-Son Team Volunteer to "Do Good" by Helping Homeless and Sick Children
Meet Daily Point of Light Award honoree Symond Boschetto. Read his story and nominate an outstanding volunteer or family as a Daily Point of Light.
It was just $5 in Symond Boschetto's pocket that launched the 8-year-old's efforts to help homeless individuals on the West Coast. That pocket money, his father Russell says, has gone on to change thousands of lives.
Symond, currently living in West Linn, Oregon, created Share Hope USA in 2015 to help the homeless in Los Angeles after the now 13-year-old saw a homeless man on the highway holding a sign saying he was hungry. Dedicating his time to providing assistance to homeless individuals and since branching out to lift the spirits of sick and injured children in local children's hospitals, Symond and his father have teamed up to inspire other people to do good, and have helped thousands across Los Angeles and the greater Portland, Oregon region as they work to change their community for the better.
Points of Light spoke with Symond and Russell about their volunteerism.
Explain what inspired you to serve those in need.
Symond: We were driving up to an exit on the freeway and we saw a homeless person holding up a sign saying he was hungry and that he needed food. I had $5 in my pocket at the time, which I probably would have spent on snacks. I asked my dad why he was on the streets. He said most of these people had lost their jobs and didn't have homes. My dad said there were many ways to help people like this, and I said, you don't understand, I don't want to just help this man – I want to help all of them.
Russell: That $5 represents the touching of over 9,000 homeless lives. When we started down this path, we had no idea that five years later, we'd still be doing it. We have literally changed peoples' lives. People who are no longer homeless will come up to us and ask if Symond is that same little kid who fed them all those years ago. They tell us that the only reason they got off the streets and got clean is because Symond feeding them, an 8-year-old kid at the time, served as their inspiration. That's a pretty important $5.
Describe your role with Share Hope USA.
Russell: Symond is the engine, I'm the wheels. He tells us what he wants to do and who he wants to help, and then me and my wife do what we can to get him towards that goal. In Symond's pursuit to do good and be kind to others, we started helping the homeless but have now branched out to help sick kids in hospitals. Alongside our volunteers, we plan events, fundraise and connect with local shelters and hospitals in need of donations.
In addition to the support you provide to shelters, you also connect with homeless directly. Explain.
Russell: We hit the streets with our Street Team. We'll fill up carts filled with care packages of basic necessities and we'll pull them to the back of freeways and alleyways and get resources directly to homeless that aren't living in shelters. We also hold events every other month where we pass out clothes and hot food, plus barbers who provide haircuts, groomers for homeless pets, we also sometimes offer medical help.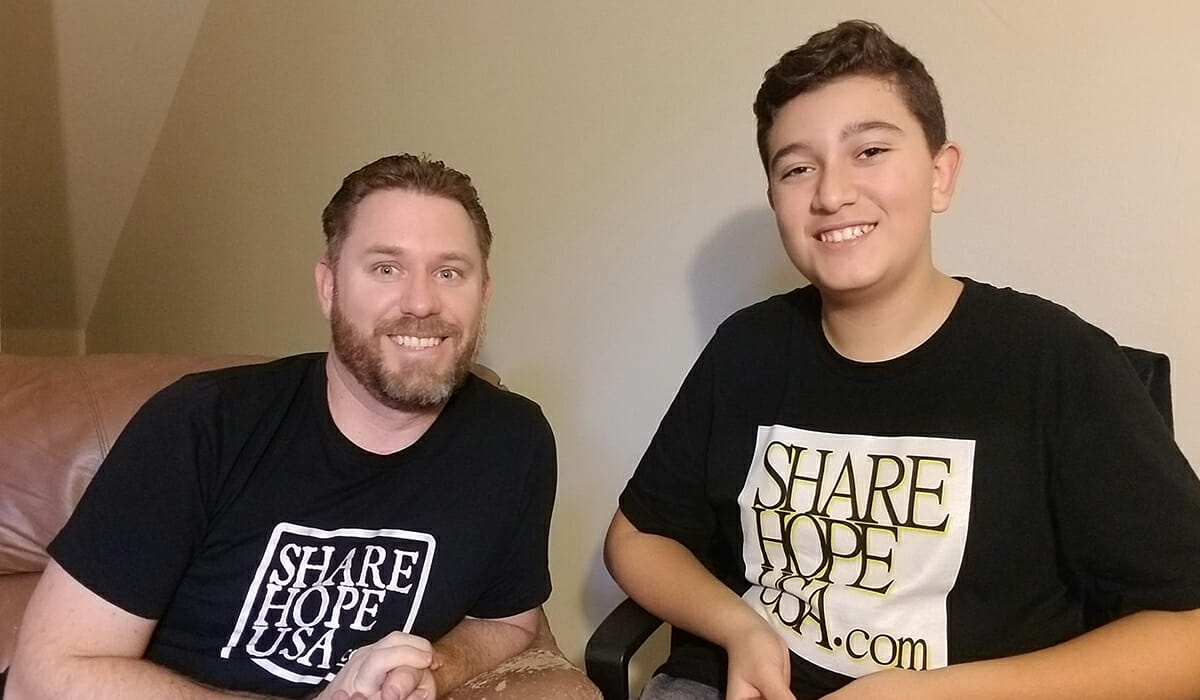 Share one personal story with me from your volunteerism.
Symond: One of the first people we helped, her name was Dana. We've been following her since the very beginning, she was the first homeless person I met and helped.
Russell: Some of those we've helped have gotten themselves clean and some of them are still fighting the battle. Dana is dear to our hearts, she's still fighting the battle that she was fighting the first day we met her. We bring her items she needs, we always ask her, are you ready for help? We'll offer to start the process for her at the shelter. She's not ready. We have other people who…
Symond: They've seen me grow up, so as I change, they change as well. They feel like family now.
In one word, what does volunteering mean to you?
Russell: Essential.
Symond: Hope. We offer happiness and hope through our service.
Why do you think it's important for others to give back?
Symond: You reap what you sow. You give something, you'll get something back. You give someone food and you get a good feeling and you feel like you're helping someone. We've started our youth ambassador program to help other kids make an impact in their community.
Russell: Through our ambassador program, we hope to plant that seed of change and inspiration of hope, that these kids can accomplish anything they want in life.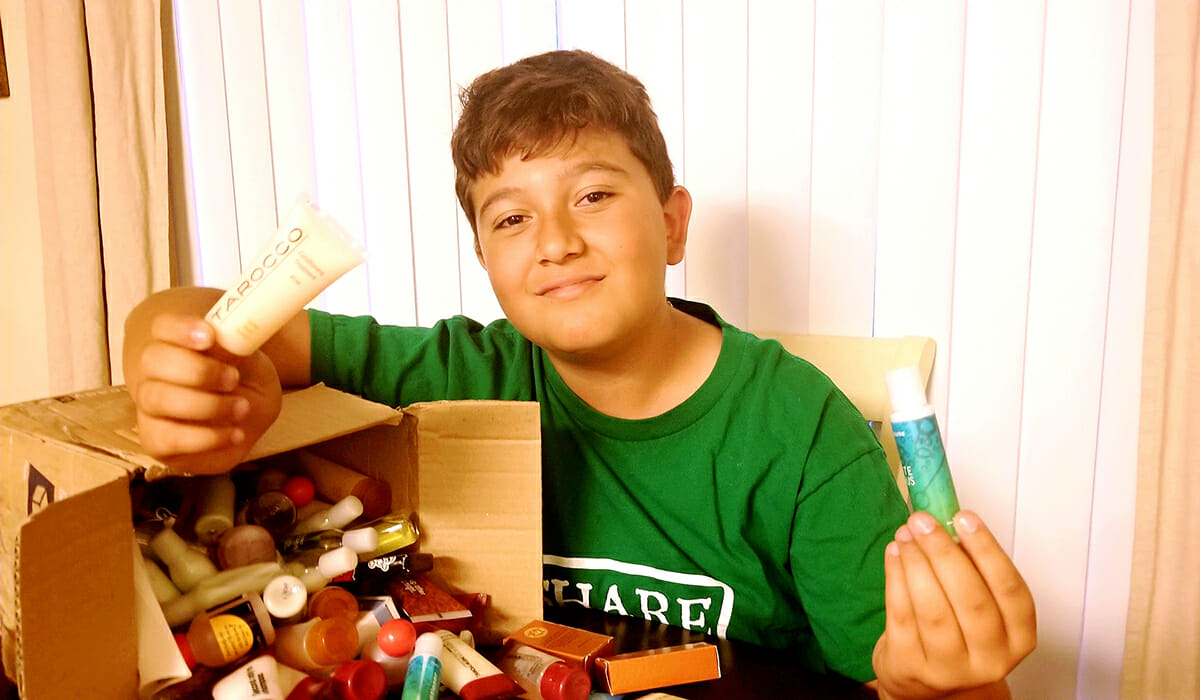 You're also helping sick children.
Russell: Along with our homeless outreach, Symond said he wanted to help kids in the hospital. We started collecting Play-Doh, and have since collected over 46,000 containers which have been handed out to kids at Children's Hospital Los Angeles. We've had to postpone our annual Play-Doh drive because of the coronavirus pandemic, but we'll be doing the drive next year to support sick kids in Oregon and L.A. based hospitals.
How can readers help?
We rely on donations to provide support to our community. Please visit our website for more information about how you can help.
Do you want to make a difference in your community like Symond Boschetto? Find local volunteer opportunities.
Share this post