Teen Gives Students a voice; alerts School District to Surprising Reasons Some Students Lag in Studies
Meet Daily Point of Light Award honoree Brandon Griggs. Read his story and nominate an outstanding volunteer or family as a Daily Point of Light.
When Brandon Griggs needed to prepare a Power Point presentation as part of a routine classroom assignment, his family couldn't afford electricity at the moment, much less a computer.
Brandon, who lives in an impoverished neighborhood in Jacksonville, Florida had few options.
"When I sprinted over to the library to work on it, it was closed," Brandon tells viewers in a compelling TED Talk video he created last October. "When I raced to the community center, they turned me down almost instantly. And I went from door to door, asking all of my friends and neighbors, not one of them had a computer I could use."
Determined not to give up, Brandon set off on foot to find a Best Buy store to ask for use of a computer there, "which seemed like a good idea, until it started to rain," says Brandon. Ultimately, Brandon arrived, soaking wet, at Best Buy and somehow completed the assignment, earning his "first-ever A grade."
Today, Brandon, now 16 and a high school junior, gets straight As and is on track to earn an "Early College Program" associate's degree in arts along with his high school diploma next year. He's university-bound and plans to study medicine. Not bad for a teen who nearly flunked his Florida Standards Assessments (FSA) test in middle school.
But Points of Light is honoring Brandon for more than his own self-improvement. He's our Daily Points of Light honoree for his immediate instinct to help other students in similar circumstances.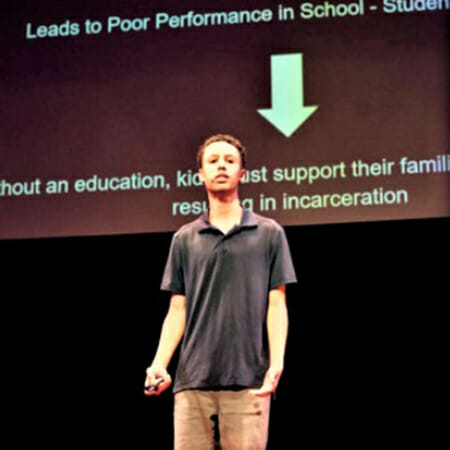 Thanks to Brandon and his "Hear the Youth" program, more students now have computers and Internet access – something not only key to ordinary classroom work in the 21st century – but especially significant during the coronavirus pandemic, when classes have been held remotely since March.
"He's a very intelligent thinker and he thinks globally," says Khristi Keefe, Brandon's school counselor. "Sometimes teenagers become a bit self-centered and more focused on their own needs, but Brandon stood out right away because he thinks about a very large picture."
Brandon invited school district officials to round-table meetings with students at his school, one of 22 high schools in the enormous Duval County Public School District.
"No one knew it was such a big issue that so many students lacked access to computers," he says.
He and other youths also began showing up at City Council meetings.
"To our surprise, most of the people there were not representative of the communities where we live, yet they were trying to solve problems that affect us, like crime and poverty," he said. "We felt empowered when we got up and shared our experiences. We invited the council members and School Board members to visit our school and listen to the youth that they were talking about and saying they were trying to help."
"We had about 30 or 40 (youths) at our very first meeting," said Brandon. "They were super excited."
Local and school officials were surprised to learn how many students didn't even have basic access to the internet, while the teens learned of a resource that they were unaware of.
Duval County Public Schools Superintendent Diana Greene explained an existing school district program sells refurbished laptops to families in need for just $40 apiece.
"Brandon talked about how challenging it was for many of his classmates to do their homework, because their textbooks are online and teachers asked for reports to be submitted online," says Greene. "He pointed out that the public library only allows computer use for 30-minute increments."
That's when Greene realized that another roadblock is lack of internet, due to the monthly cost.
"I went to our chief information officer and said, 'What would it cost us to provide hot spots on a check-out basis?'" she said. In fall of 2019, the district launched a program to distribute hot spot devices to high school students. This spring, with the coronavirus pandemic requiring online instruction, some 3,000 devices are in use by district families in both elementary and high school.
"The program started with the conversation with Brandon," said Greene.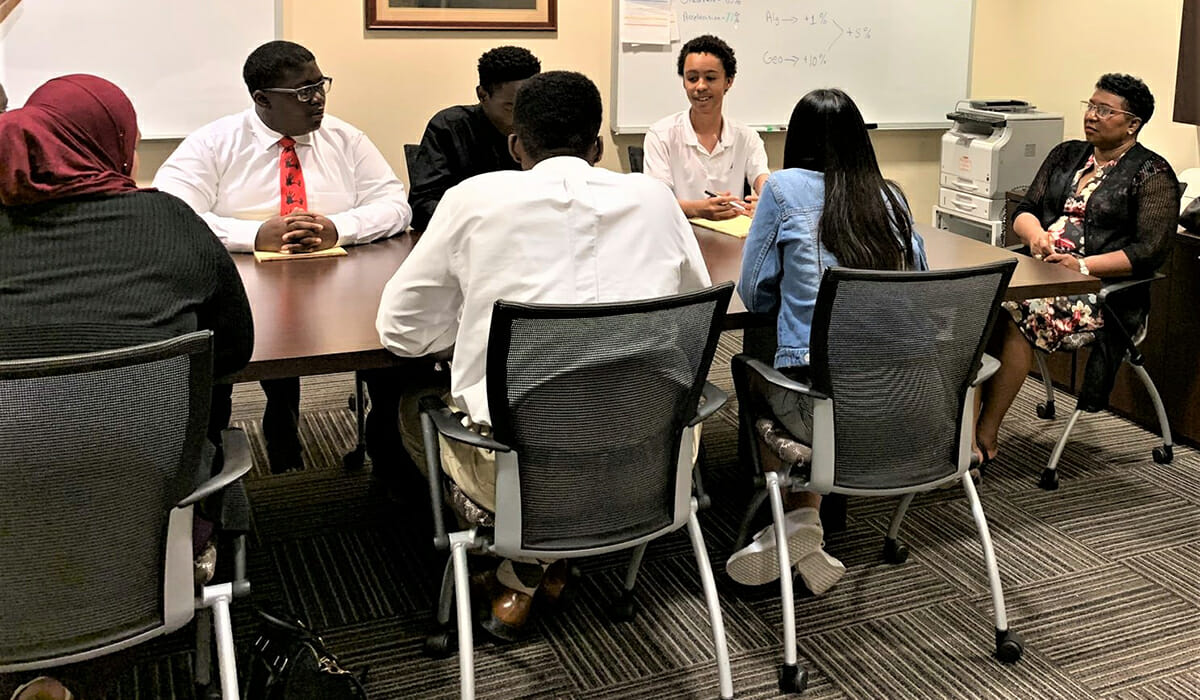 Brandon's Hear the Youth team also persuaded school officials to arrange a meeting with the district's cafeteria food vendor to discuss how inequities in income affected both student morale and nutrition.
"It was very evident that they felt the food service needed some fresh perspective and changes," said Greene. Although the students could not change the fact that some students could afford higher-priced items from food trucks that were allowed on campus, the food vendor did agree to add popular items, such as chicken fingers, to the standard menu.
Brandon says he's learned that "it's really important to let people talk about what their issues are." He adds, "You can't really lead them in any one direction. You just have to let them have their voices heard and let them empower their cause. Young people really can make a difference."
Do you want to make a difference in your community like Brandon Griggs? Find local volunteer opportunities.
Share this post