Feeding Migrants Far from Home, Mother, Daughters Make Over 500 Burritos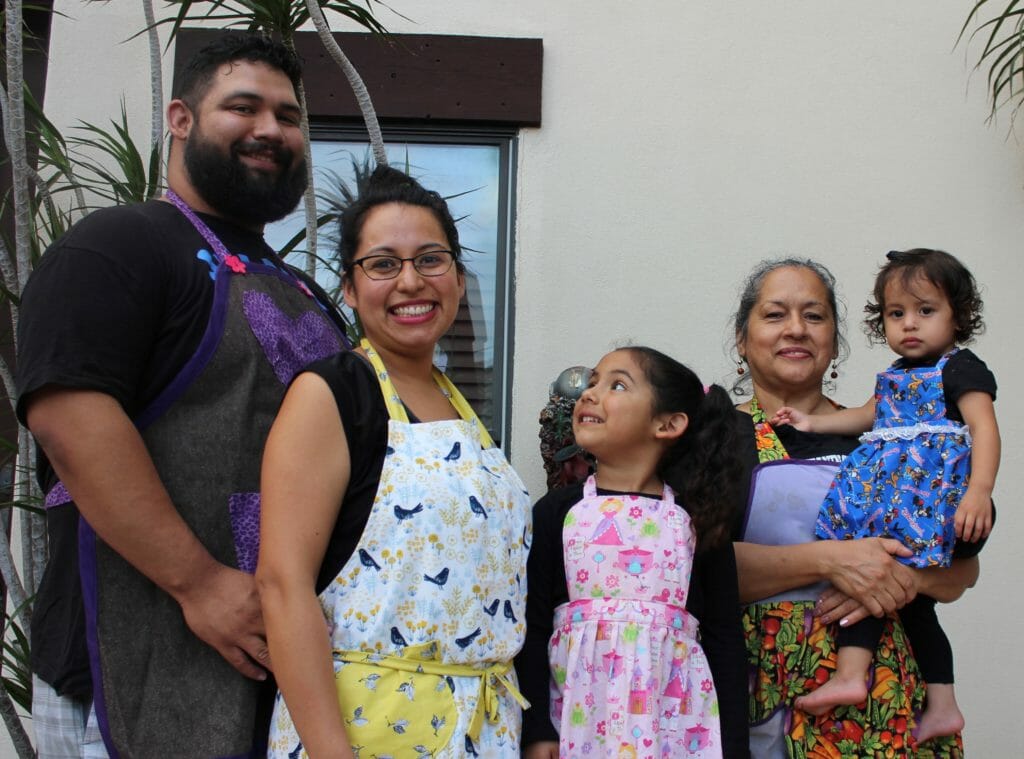 33-year-old Dianna Medina says that her grandmother used to tell her, 'if you see someone that needs a burrito, give them one.' Dianna is now sharing that sentiment of goodwill through her service, by making food for immigrants far from home and in need of food and care.
The McAllen, Texas young mother and first-generation American says she recognized her family in the faces of immigrants passing through McAllen, and knew she had to do something to help. Cooking two dozen burritos each week alongside her two little girls, the family brings the fruits of their labor to Catholic Charities of Rio Grande Valley each Friday, where immigrants are sometimes in limbo due to the crisis at the border, their futures uncertain.
Originally starting project "Burritos Sabaneros" as a Christmas service project, Dianna and her children have hand-made and delivered more than 500 burritos since December 2018. Dianna is helping to put food in the mouths of those in need in her community, and is today's Daily Point of Light award honoree. Points of Light spoke to Dianna to learn more about her volunteerism.
What inspires you to volunteer?
My parents and grandparents immigrated to the U.S. from Mexico. I see myself in the faces of the people that we are feeding. I see my girls in the children we pass at the immigration center when we deliver the food, and I feel blessed that we're able to help and share what we have.
Describe what you call Project "Burritos Sabaneros"
We started Project "Burritos Sabaneros" as a way to connect service, our religion and our family life. "Mi burrito sabanero" is a popular Spanish Christmas carol, and I'd play it for my children, 4-year-old Gema and 19-month-old Ely. My girls are young, we decided that this project would be our gift to Jesus during the holiday, as my children are familiar with Christmas. We committed to making two dozen burritos each Friday, and used social media to spread awareness of our initiative to drive monetary, food, clothing and other donations to the Catholic Charities center. Starting on Wednesday night, we'll begin the process of cleaning, soaking and cooking the beans. Then, we start the mix for the homemade tortillas. We make 3 dozen in total, and our family keeps 1 dozen – I joke that I feed my workers with peanut butter tortillas (laughs). When we go to the center to drop off the burritos, we see the families who will be eating the food we've made.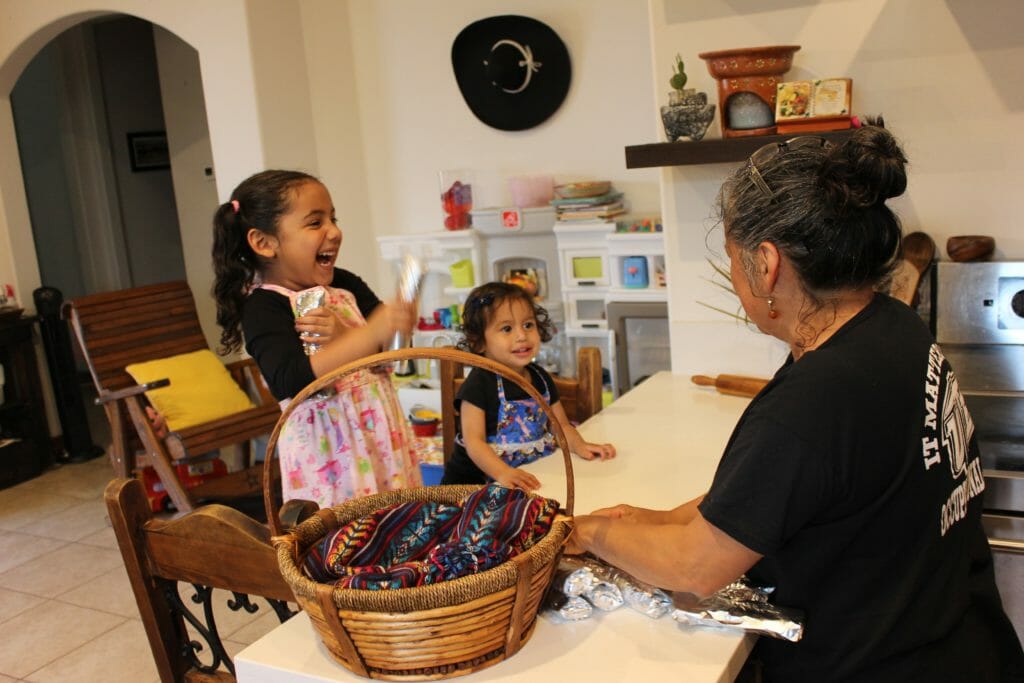 What have you learned through your experiences as a volunteer?
How our efforts have multiplied. We started with this humble goal thinking that maybe one day, we could feed 200 people. It's so much bigger than that now. We've learned that we didn't need to feed 200 at once, we've been doing it slowly. It's become bigger than us. It's a multi-family project. We've gotten donations from friends, they want to help support our community. It takes just a $50 donation to make 300 burritos.
Can you share your tortilla recipe?
It's been evolving. I took a recipe from my mom, then incorporated some changes from a cookbook that I really love. The below "Burritos Sabaneros" recipe makes a dozen tortillas.
2 ¾ cup flour
2 tbsp lard
¾ tsp salt
¾ cup warm water
½ tsp baking powder
Combine flour and baking powder. Add lard and break it into the flour. Add salt to warm water, then add to dry ingredients. Blend this all together with your hand, the mixture will become a large ball, it should be moist but not sticky. Then you cover the dough and let it rest for 30 minutes. After 30 minutes, If the dough is sticky, use a little extra flour to shape the dough into small ball shapes, approx. ¼ cup size balls. Sprinkle some flour on a flat surface, then start rolling the dough out to make a flat, circular shape. Put each tortilla on a hot griddle, allow each side to fry for 30 seconds then flip. Enjoy!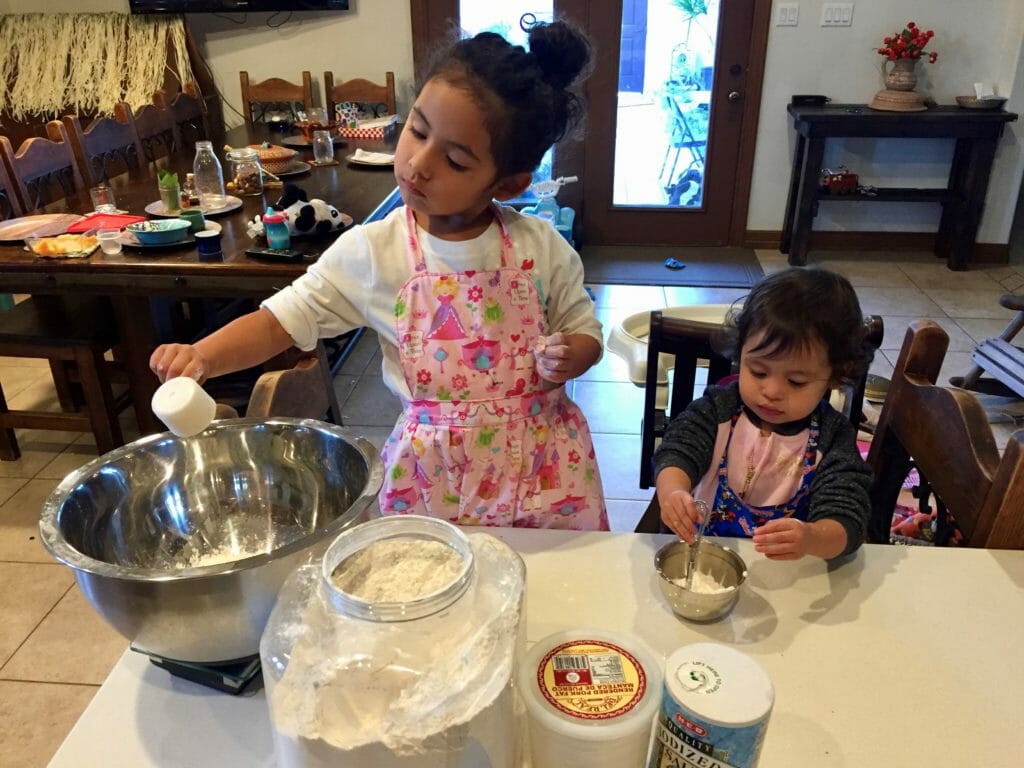 What does it mean to know that you are making an impact on these people?
When I was in college, my grandma would say, 'if you see someone that needs a burrito, give them one.' She'd watch television and see people working so hard to cross the border to make a better life for their family in the U.S. As a young adult, I didn't 'see' these people in need…everyone that age tends to be in their own personal zone. When I saw my grandma this Easter, I told her that I finally found the people who needed a burrito. It took a few years to find my calling, and it's so meaningful to me that I can share my faith and experience God's love with my daughters as we serve others.
Share one personal story with me from your volunteerism.
As these individuals go through the immigration process, shoelaces are one of the items confiscated at the border. While we were at the immigration center in McAllen, I noticed a mother putting her son's shoes on, without laces. This is a basic thing to do for your child, lacing up their shoes, but yet, these people are away from their families, and many people don't even know this is what immigrants are going through. What we are doing is restoring dignity to these people, as they are separated from a lot of things we take for granted.
What do you want people to learn from your story?
I felt overwhelmed by the whole political situation and negative news, and it took awhile for me to realize I didn't have to take on a large scale problem to make an impact. As a family, we decided we could spend 3 hours per week giving back, and we could gain a lot. We've gained peace, and my daughters have a better understanding of the world. This service has been full of life lessons for our daughters and a blessing for our family.
How can readers help?
We give back to Catholic Charities of Rio Grande Valley, however Catholic Charities has chapters across the country, and in your community. Please visit their website for more information on how you can help: https://www.catholiccharitiesusa.org/.
Do you want to make a difference in your community like Dianna Medina? Click here to find local volunteer opportunities. 
Share this post