Inspired by Her Parents, Woman Volunteers Countless Hours at Organizations Throughout Atlanta Area
Eight years ago, Mary Stockstill had what she called an "aha" moment. She had just experienced the death of her parents, lifelong volunteers who instilled in her an attitude to always give back. While she hadn't done much volunteering before, Mary was inspired to carry on her parents' legacy by getting involved in her own community within the Atlanta area. That inspiration would carry on to not one, but four different volunteer organizations where Mary passionately dedicates her time to serve.
She leads a team of about 70 of her coworkers at Novelis, an industrial aluminum company, in cooking meals for the Ronald McDonald House, a nonprofit organization which provides housing to families with children receiving treatment at nearby hospitals. Twice a month, she and her coworkers buy, cook and serve meals for the families who reside at Atlanta's Ronald McDonald House. With Novelis, she also participates in their Recycle for Good program, which collects cans to raise money for Habitat for Humanity, a nonprofit which helps to build and provide affordable housing across the country. She and her coworkers have built five houses so far, and plan on building three more this year.
Outside of volunteering with Novelis, Mary also donates her time to the Homeless Pets Foundation, which takes care of homeless cats and dogs in the Atlanta area and helps to find them a home. Additionally, Mary raises money each year for Special Olympics Georgia through two major fundraisers — polar plunges in Georgia and New Jersey, and by repelling down a 24-story building in Atlanta.
For not only the countless hours she spends dedicates to bettering her community, but also for her constant recruitment of others to live a life of volunteering, Mary is today's Daily Point of Light recipient. Points of Light spoke with her to learn more about all Mary does for these organizations.
Describe your volunteer role with the Ronald McDonald House.
We started a grassroots coordination of volunteers, ten per meal, to basically plan, buy, prep and serve the families at the Ronald McDonald House twice a month. I did this for about six years for Coca Cola and then I came to Novelis and they were kind enough to let me start the group here. We built the team up to about 70 volunteers who take turns serving brunches on the weekend or dinners during the weeknights. We all gather, plan a meal — our last one was a German theme, or good old meatloaf or grilling, whatever it might be — and everybody goes out and buys the supplies and then we show up at the house and prepare the meal and serve all the residents who, poor things, are stuck at the house, really.
I was invited to one meal and I just enjoyed it. It was so much fun and to see the joy on the families faces. They're away from home, this is their opportunity to have a good old home cooked meal and it saves them a lot of money from having to buy lunches or dinners at the cafeteria at the hospital. They have enough bills. So once I went to that one meal, I was really excited and I just talked it up with all my other colleagues and we designed an apron for our team and then started scheduling out two meals a month. So my part was basically just to get a lot of volunteers interested and signed up and make sure we had teams that could staff each of the meals.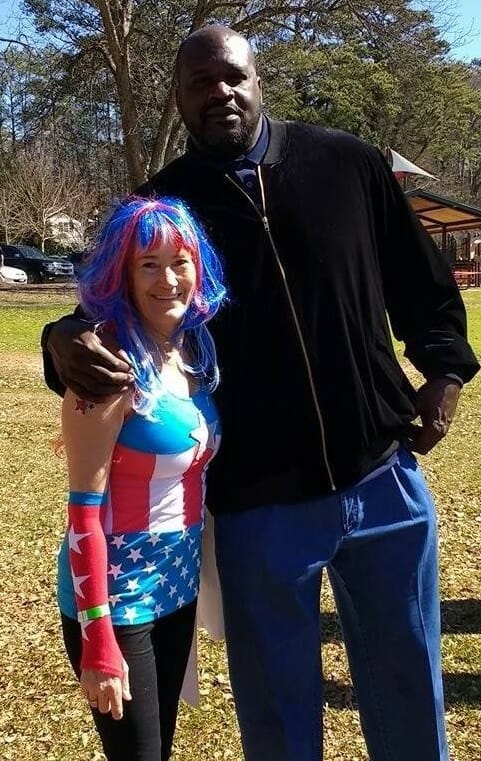 Describe your volunteer role with Special Olympics Georgia.
I started actually with Special Olympics New Jersey, and that I was just carrying my father's legacy with doing polar plunges [fundraisers] and volunteering. My sister does a lot of work with the one in New Jersey. So I looked into Special Olympics Georgia and my daughter and I would go and, they're called 'fans in the stands,' basically you just show up at the events and rally the athletes and cheer them on. We would also hand out the medals, the awards to the winners. But mainly my primary focus, since I'm kinda spread thin, is basically to fundraise for them. For the Georgia one, I do two different primary fundraisers, and I've raised a good chunk of change. We repel 22 stories each year and raise money for them. We also do a polar plunge each year, and that's basically just running into the icy water.
Describe your volunteer role with Recycle for Good and Habitat for Humanity.
That's been since I've joined Novelis, three or four years ago. Recycle for Good is the company's sponsored program, which basically says three million cans equals a Habitat for Humanity build. Three million cans equals $84,000 roughly, and that's the cost of building a house. We're doing it down on the westside of Atlanta. The Recycle for Good piece of it is me just going around, going to festivals, going to schools or my neighbors, collecting aluminum cans. We'll collect a good amount, 40-50 pounds weight wise. Then we turn them in. We're going to be doing I think three houses this year. We just started last Wednesday building the walls at the warehouse. We go to, for example, the Mercedes Benz Stadium, up to the Atlanta United games and the Falcons games — and collect all the cans from the vendors at the stadium … then as well as in neighborhoods and all that. And then that's the money that gets used to sponsor our build. We've done five already. We pre-build the walls at the warehouse, the exterior and interiors, and then we put them on a truck and they take them out to the site and just kind of pop them up. And then we start painting and plumbing, and all that good stuff. I got to do roofing, which was fun.
Describe your volunteer role with the Homeless Pets Foundation.
It's a no-kill shelter and I coordinate the volunteers, so I will try to recruit volunteers. We'll go out to adoption events, at Petsmart or we'll go out to the Gwinnett Strikers [baseball] games. We take our homeless pets, our rescue dogs. We have about 40 of them at any time, we've had as many as 70 at a time. I do about 40 hours a month volunteering and doing adoption weekends and being the voice of the animals, describing the dogs, saying this one's good with others, this one doesn't like cats, yada yada.
What made you want to get involved in so many areas?
Basically the life changing moment was my parents passed away within three weeks of each other, eight years ago, and they were always volunteering for everything. They were the den mothers, the Boy Scout leaders, the coaches, all those kinds of things. My parents instilled in me all of this give back type of thing. I was basically not that active and then when they passed away, I realized the world had lost some really wonderful volunteers so I just started signing up for things, probably to help the pain. I just enjoyed it so much, it brought me out of a bad place. It's just taken off. The Ronald McDonald House was just, ok, a few people — 'hey, you want to go cook a dinner once in a while?' To 'hey, we've got a dedicated team of 70 people and we're doing this twice a month.' It just bloomed. And then the dogs, my parents always did animal [volunteer work], and so I'm a huge dog person. And Special Olympics, my father and my sister, my sister is a huge volunteer for Special Olympics, so as a tribute to him and her I do the Special Olympics. Basically just about eight years ago I had an 'aha' moment of ok, I have to give back. And I guess I enjoy being with people and volunteering is a huge way to meet new people.
What made you want to get so many others, including your coworkers and daughter, involved in your volunteer work?
We're all connected. We have a fun time doing these things. It's a great way to get people out. Some people don't come out of their shell until they do a volunteer event and then all of a sudden they're excited about it, they're out doing things. It's a way of connecting with people. Especially with kids, I do a lot with middle schoolers and high schoolers, and they're bored and it's like, I have plenty of opportunities. I think that's the biggest thing for me, there's never a lack of opportunity to volunteer. So I think that's probably why I have a variety of different ones, because I try to help people get connected to different activities. And the kids love it. The kids are absolutely amazing. The middle schoolers, you give them something important like that to do, and they're just totally engaged. They call me up all the time, 'is there something going on this weekend, what's going on?' It's good to connect. If you go to a Ronald McDonald House meal … our vice presidents, the basic clerks, the temporaries, all of us, we all cook together and everybody's on the same team and everybody is on an even level helping others. It's just fabulous.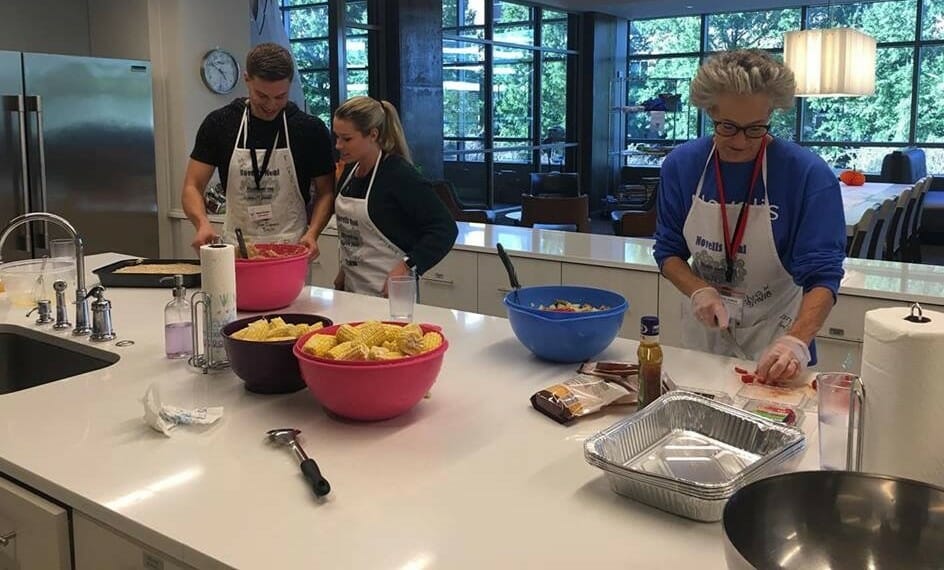 What's been the most rewarding part of your work?
Making it easier for others. The kids, the special athletes, it takes a lot of money for them to go out and feel like champions. The kids can go out and compete get medals and feel like champions with the funding that we give for the games. The dogs get adopted into homes and I get follow-up pictures for years — 'the dogs saved me,' the families are now happy and playing with the dogs. The Habitat build, I've been back and seen some of the families at their homes. They're all so happy. Because they work so hard to get into those homes. It's not like a handout, it's definitely a hand up. The Ronald McDonald House meal, several times we've had families come up and just thank us for a home cooked meal. Because when my teams cook, they cook with heart. I pitch it to them, 'this is a big family reunion guys, you got your family here, this is how you're cooking.' And the families there at the Ronald McDonald House are just so grateful to have a home cooked meal while their patients are in there being treated or getting transplants. And it also saves them money, they have enough expenses.
What have you learned through your experiences as a volunteer?
Just tell the story. Be the voice. Talk to everybody. You never know how you can be connected. I can connect with a lot of people because of all the different activities I'm in, or I can recruit a lot of people because of all the activities. Maybe you don't want to cook, that's fine. Maybe you want to go walk dogs, that's fine, there you go. So having a variety of connections with people and just being the voice for whatever cause it is. I can talk up Ronald McDonald House all day long and I can talk up the dogs all day long and Special Olympics, any of that stuff.
What do you want people to learn from your story?
You can always be a positive impact to someone else. There's so many ways to do it. The biggest message is to go out and be a voice. It comes around. The joy you get, it's huge.
Do you want to make a difference in your community like Mary? Click here for local volunteer opportunities.
Share this post