First Grief, Then Service
As a widower, Randy Thomas found himself with too much time on his hands. The loss of his wife of 47 years was devastating and he knew that spending too much time alone wasn't a good thing. His son, the chief of the local Appleton police department, obviously agreed. He asked his dad to come by the station – maybe there was a way he could help out. Randy, the former manager of an engineering documentation department asked a question: how does the department handle its records? He was shown a massive room filled with file cabinets. Which is when he rolled up his sleeves and got to work. Almost six years later, the cataloging and digitization of the force's critical documents is close to completion. Managing the slow, tedious work isn't always fun, but with more than 4,000 hours logged, the sense of accomplishment, community and self-worth that the job delivers means the world to this upbeat octogenarian.
Randy is committed to making a difference in his community and he is today's Daily Point of Light Award honoree. Points of Light spoke with him about his commitment to service.
What inspires you to volunteer?
I guess in general my reason is a selfish one. I was born in 1934 during the depression, and those were hard times. I feel value as a person and find more satisfaction in doing things for other people. We always volunteered as a family, in church and in our community.
Describe your volunteer role.
All of the department's records were on hard copy. So I had to record, catalog, scan and assign a record number to each file – and in some cases marrying up cases that belong together. It can be tedious – there can't be any errors. Two sided documents have to be copied onto single sides – then everything is dropped into the metafile. I usually work about three or four days a week, between three and five and a half hours a day. It's slow going!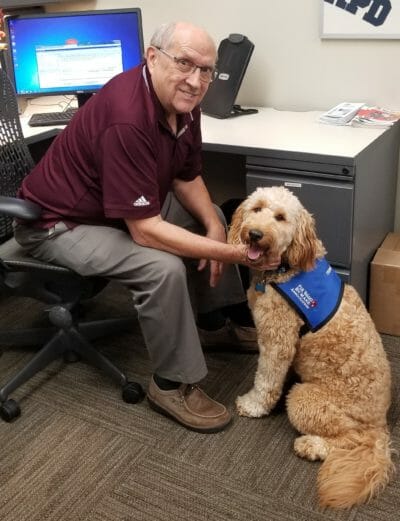 What is the most rewarding part of your volunteer role?
I guess since I lost my wife, it fills a need. It feels good that somebody needs me, gives me a feeling of self-worth. I love working with the officers and the community. It makes me happy to still make an impact.
What have you learned through your experiences as a volunteer?
I learned that sitting around home is not good, Even when I tried to keep busy, most of the time I was by myself. Interacting with people is what it's all about.
Are there any future partnerships, programs, or events that you are excited about?
We have a brat fry at the police station on awards night. They always need volunteers for that and it's coming right up.
Why do you think it's important for others to give back?
I'm a Christian and I truly know that there is more joy to give than to receive. The appreciation you get from other people is just wonderful.
What do you want people to learn from your story?
Just do it – don't wait. I've talked to my friends who have lost spouses to tell them how volunteering fills a void in my life. You can still be happy, just in a different way. I wish that more people would give it a try. Instead of complaining about people not coming to see them – they need to go out and do something.
Do you want to make a difference in your community like Randy? Click here for Good for local volunteer opportunities.
Share this post