Retiree Builds Life of Success Through Foundation of Literacy, One Child at a Time
They are the children who get left behind. Unable to read at grade level and many lacking support at school or home, these children believe they aren't smart enough to read, says 71-year-old Michael McAdams.
A Colorado Springs, Colorado based organization is stepping in, however, to break that cycle of illiteracy and help support the thousands of elementary school children at risk of failing in school in Colorado. The Children's Literacy Center (CLC) is a statewide program that facilitates tutorial sessions between volunteers and children on a one-on-one basis, so that the child is able to meet state reading standards and go on to find success in school and life.
A retired Air Force civilian, Michael says that his love for reading and children has translated into service that makes a true impact on the lives of children in his community. Having served as a volunteer with the organization for 28 years, Michael is today's Daily Point of Light award honoree. Points of Light spoke to Michael to learn more about his volunteerism with CLC.
What inspires you to volunteer?
The kids that we teach at CLC have come to believe, either through themselves or through messages they've gotten from adults, that they can't learn. They've internalized this idea that, 'I'm dumb, I'm never going to learn to read'. Inevitably, once we spend time with them, there comes a point when they realize that they can learn to read. That moment is just such an incredible change to the kid's attitude. It's more than just teaching them how to read a few words on the page, it's amazing to be able to teach confidence, and give these children hope.
Describe your role with Children's Literacy Center.
I meet with the assigned child one-on-one twice each week. We spend part of the time working with word skills, reviewing letter sounds, and determining how to decode words they don't know. I'll read a paragraph or sentence, then they'll read a paragraph or sentence. The back and forth reinforces their learning and reinforces what smooth reading feels and sounds like. I'll work with some children for one semester, but sometimes the tutoring lasts up to a full school year. It just depends on how long it takes to get the child up to school level reading.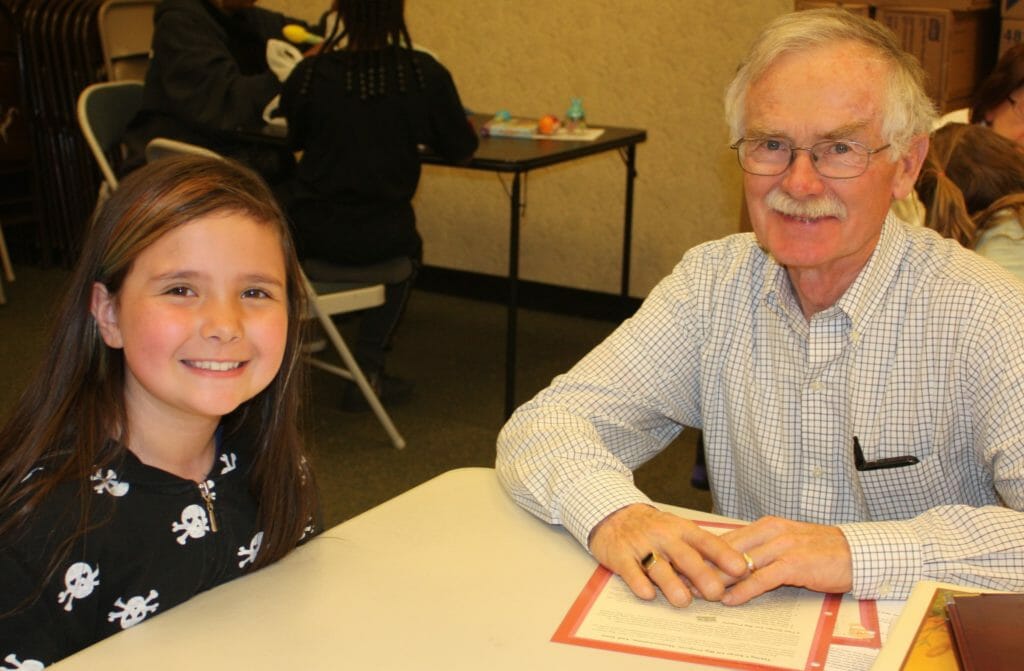 What have you learned through your experiences as a volunteer?
Nearly every child can learn to read. What they need is somebody that knows that they're going to be able to learn to read. Some of these children face barriers to reading, whether their parents are illiterate or semi-literate, or there's some other issue. I approach these situations as an outside adult, with the absolute certainty that these kids are going to be able to read. We look at whatever level they are at and build on success from there.
What does it mean to know that you are changing a child's life so profoundly?
It's obviously very, very satisfying, and it's exciting. That moment when the child begins to learn and begins to know that they can learn, is absolutely incredible. It's also just fun to be with these kids. We read funny stories, we read poems and we celebrate everything that they learn.
Share one personal story with me from your volunteerism.
Recently, I tutored a child in 2nd grade whose family was in turmoil. She was dealing with her family splitting up, and at the same time, she wasn't getting much support at school. So when she came for her tutoring sessions, she'd frequently arrive with something on her mind that was upsetting her, and we'd spend time just letting her talk before we moved on to the actual reading lesson. I worked with her for a year, and by the time we finished, she was reading at a 5th grade level. Fortunately, all of her family dynamics had sorted out by then. It was just a delight to work with her, and it was good to be able to be an adult on the outside of everything that was happening to her, providing support, while at the same time we were teaching her to be a better reader.
What is your favorite children's book to read? Your favorite adult book?
One of my favorites for children are the Shel Silverstein books, for example, "A Light in the Attic", because they're silly, and there's no stress while reading the book if you don't get the words right. Also, for little kids, all the Dr. Seuss books. The reading mechanics are great for kids, but also, just the silliness of the books takes the pressure of reading away. One of my favorite adult books is "A Man Called Ove" by Fredrik Backman.
What do you want people to learn from your story?
Look for a passion in your life where you can help somebody else. Yes, my service adds to these kids' lives, but it adds to all of the tutors' lives immensely as well.
How can readers help?
The Children's Literacy Center is always looking for new tutors, and holds training sessions year-round. To learn more about CLC or find out how you can help, please visit their website: https://www.childrensliteracycenter.org/.
Do you want to make a difference in your community like Michael McAdams? Click here to find local volunteer opportunities.
Share this post