North Carolina Teenager Uses Passion for Science to Mentor Kids
It's not always easy to get a kid interested in learning in school, much less outside of the classroom and on their free time. But Sarah Houston's passions for both science and volunteering encouraged her to take on that very challenge by helping out at her local Discovery Place, a network of museums in the Carolinas that provide educational programs for students across all grades. Since last fall, Sarah has donated about 15 hours of her time each month to Discovery Place's biology lab, Explore More ME. There, she helps teach the labs to visiting families on top of cleaning and taking care of the lab itself. In addition, she helps teach Discovery Place's weekly biotech session for homeschooled students in the area.
On top of Discovery Place and being a student herself, Sarah also makes time to volunteer for her church's peer mentoring program. The sixteen-year-old has a long history of volunteering, including at a local food pantry and pregnancy resource center. But Sarah, who aspires to work in the medical field, says Discovery Place is the perfect fit for her when it comes to volunteering — and she encourages others to also find how they can combine what they're passionate about with volunteering.
For helping to spread her love of science to kids while still a student herself, Sarah is today's Daily Point of Light honoree. Points of Light spoke with her to learn more about how she's helping to spread knowledge in her community.
Describe to me the different ways you volunteer.
Currently, I actively volunteer at my church and then at Discovery Place. I work in a lab called Explore More ME — a biology lab — and I can help out with teaching lessons and interacting with guests. We always have monthly labs and I get to learn them and research them, and then whenever families come in, I can help them complete the labs or answer any questions they have. I'm also responsible for the upkeep of the lab so cleaning, general work like that.
With my church, I'm on the youth board, so we plan events for that. We started a biweekly teen talk which is like a peer mentoring program, and that's funded by our church. It's for underserved youth in Concord and Charlotte. We always choose a different location every two weeks.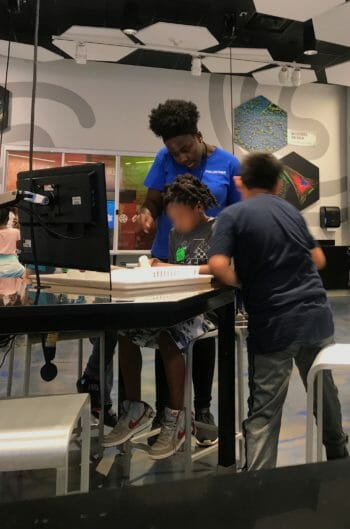 Why did you want to volunteer for Discovery Place?
Just my passion for science, I would say. I want to go into the medical field, so being able to interact in a lab with other volunteers was really helpful for me. Also because I get to engage with little kids and their parents and try to make it a little bit more fun for them when they come.
What's been the most rewarding part of your work?
The most rewarding part is probably just seeing people smile or being able to brighten someone's day. Especially at a place like Discovery Place, a lot of parents will be frustrated and maybe not in the best mood, and then they come into the labs and they see all these different things that I'm able to show [the kids] and teach them and they get really happy. Just seeing that smile or knowing that I helped to make their day a little bit better is always very rewarding to me.
What have you learned through your experiences as a volunteer?
I've learned a lot, just to be open with people. I used to kind of be secluded or laid back and not really engaging, but now whenever I see someone off the street, I'm being really friendly just because I know what that can do to somebody's day. I've become a little more friendly and outgoing I would say. Also better at public speaking, having to explain labs. So just being a little bit better with public speaking and wording myself better.
Have your experiences as a volunteer influenced you in anyway in terms of what you want to do once you graduate high school?
My dream job in the medical field would be surgery. The EMM lab is always doing different dissections, a lot of hands-on activities you can't really find anywhere else. That's kind of why I was drawn to Discovery Place, because even though it's made for kids, those labs have really interesting scientific-based stuff. And we also get readings so we can research these different topics, and we can make our own projects with our supervisor. So being able to have a more hands-on approach has helped me decide more what to do with my career.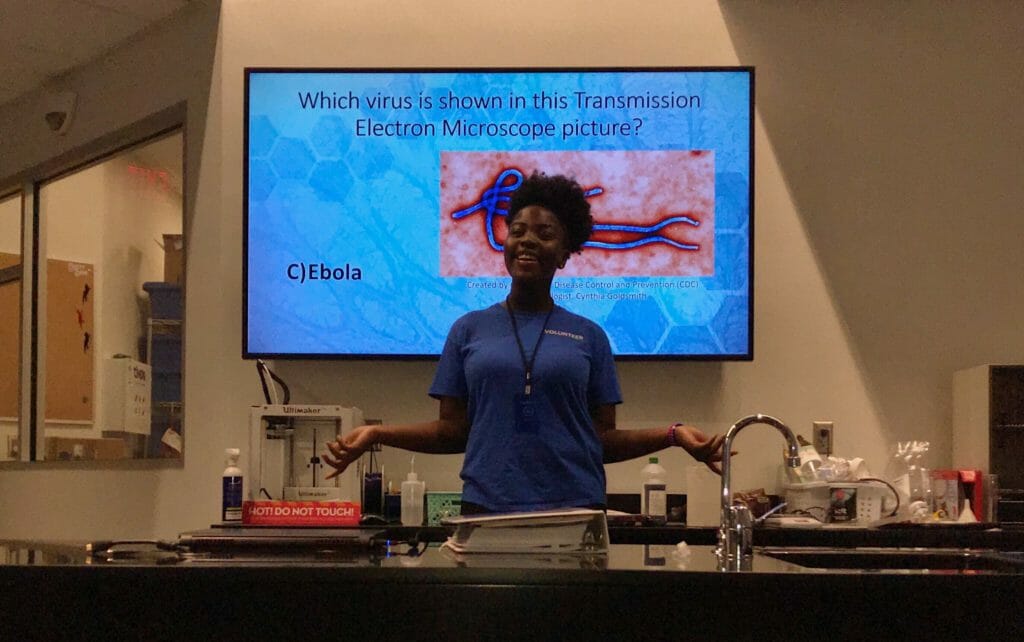 Why do you think it's important for others to give back?
I always think volunteering is a really important thing because it helps you grow with people. It helps you make bond with people even if it's someone you'll never see again. It's always good to learn more about others' cultures or experiences. Also just being able to inspire people or teach people. You can also learn about other people and learn how to be a better presenter and better person overall.
What do you want people to learn from your story?
You don't always have to go through a traditional route [with volunteering]. I think people should always look to volunteer in specialized fields or look to go somewhere inspiring that they are really passionate about. For me, I found out I was really passionate about science and Discovery Place fit that completely, so that was the perfect fit for me. I would always tell people to go after what they're passionate about, as well as have a passion for helping others.
I would say people should try to lead a little bit more in volunteering as well. Always try to do something unique to you and make it so you can lead others or teach others that are coming after you.
Do you want to make a difference in your community like Sarah? Click here for Good for local volunteer opportunities.
Share this post