Florida Couple Spend Two Decades Building Habitat for Humanity Houses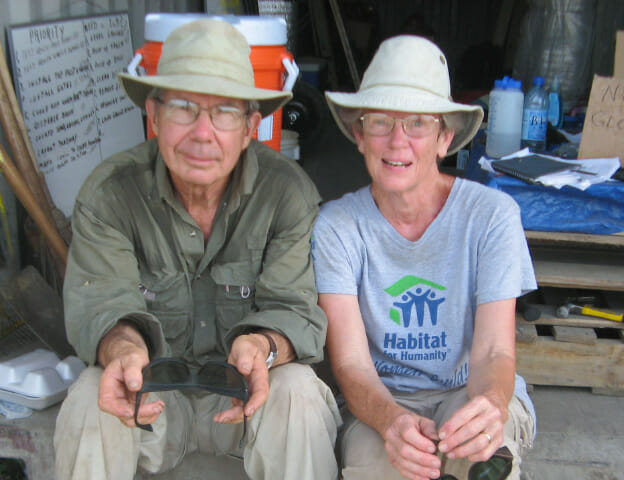 Bob and Joyce Daugherty were walking with their daughter around Baylor University campus when they noticed a house being built on a flatbed truck through Habitat for Humanity. They were so inspired by the cause that they signed on as Habitat for Humanity International volunteers.
For two decades now, they have provided leadership for Habitat for Humanity projects. They have participated in home builds in 21 states, as well as volunteering regularly for their local Jacksonville Habitat affiliate. "Our goal is to volunteer in all 50 states," they shared.
The Florida couple has also built homes in eight different countries using a wide variety of materials. They have built homes in Northern Ireland, Mexico, Australia, India, Thailand, Romania, South Africa and Haiti.
Joyce is inspired when she sees women in male-dominated societies learn new skills that they can put to use to build their own houses. "Seeing these women feel empowered is enough to send me back again and again," she said.
In addition to building homes, in 2008 Bob and Joyce became part of the disaster core team for Habitat for Humanity, have been lending a hand all over the world when disasters hits. They have responded to numerous disasters including Hurricanes Katrina, Sandy, Harvey and Irma totaling more than 5,000 hours of volunteer service.
They say the most rewarding part of their work has been the memories. "The joy we see can't be bought. The people in the community we serve become our friends," they said.
"Volunteers are happier people."
They have learned the experience of volunteering is a win-win for everyone involved. "As a volunteer, we win because we learn new skills and it brings us happiness. It is also a win for the receiver, as they gain positive energy and a new home. We've also learned volunteering helps the community as a whole."
As for their future Habitat for Humanity plans, they say you never know when or where a disaster will hit, but they are always ready to go help rebuild on a moment's notice. And, when asked what their favorite build has been, they answer, "The next one."
Bob and Joyce know not everyone has the skills required to build houses, but they hope others learn from their story to find one's passion and to give back. "Everyone has a skill you can contribute; find something that is the best fit for you and volunteer."
Want to make a difference like Bob and Joyce? Visit All For Good for local volunteer opportunities.
This post was written by Karen Cohen.
Share this post