Former Foster Care Youth Turned Nonprofit Founder and Advocate for Young Men
Meet Daily Point of Light Award honoree Jamal Stroud. Read his story and nominate an outstanding volunteer or family as a Daily Point of Light.  
Jamal Stroud of Blythewood, South Carolina, grew up in the foster care system and lived in six different homes by the time he was 6 years old. But where this experience could have led to negative outcomes throughout his life, instead Jamal harnessed hope for his future and ended up creating his nonprofit organization, Big Homie Lil Homie Mentoring, a 501(c)(3) offering a mentoring program for young males growing up without father figures.  
"I wanted to contribute to my community – Columbia, South Carolina," shared Jamal. "I feel that giving my time, and other volunteers giving their time to mentor these young men, contributes to a healthier Columbia, a healthier South Carolina, and ultimately a healthier world." 
Big Homie Lil Homie focuses on instilling confidence and building character in young men from fatherless homes or who are in foster care settings. This mentorship program, which includes 500 young men in South Carolina, takes place both virtually and in person.
On a national level, Jamal also works as the mentor and outreach manager for Camp HOPE America, where he provides technical assistance to 40 different programs throughout the United States.  
The Big Homie Lil Homie program mentees often struggle with depression, hopelessness, acting out or other issues due to a lack of positive adult male role models. Jamal saw this pattern and knew he wanted to help create a different trajectory for South Carolina youth.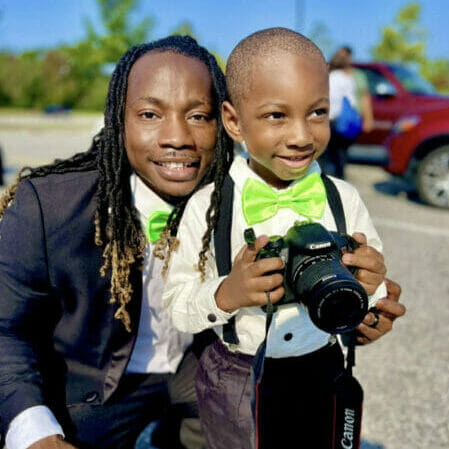 Jamal was given a chance, when someone said they believed in him, and wanted to work with him, supporting his organization. This one chance led Jamal to his desire to create the same situation for other young men who perhaps haven't been given a shot. 
"I wanted to make sure that other children who are growing up how I grew up, in toxic environments, or being shipped from home to home, don't lose the ability to dream," Jamal said. "That's what happened to me. So when we work with mentees now, we talk about the power of dreaming and the power of seeing great potential for the future." 
Today, Jamal has been recognized locally and nationally for the lasting impact on more than 10,000 youth, offering support and positive male role models for young people in South Carolina. He's been a guest on The Ellen Show and has received numerous awards, including winning the prestigious Jefferson Award and the Public Elevation from MENTOR. 
To those who are interested in volunteering with a cause they care about, Jamal encourages jumping in now.  
"We have to care about what we love. We have to care about our communities," he stated. "At Big Homie Lil Homie, we work with kids in traumatic situations or who have been exposed to trauma. If we don't work with them now, we're only going to lock them up at 18 or 19 because we're not dealing with the problems early on. If there's a cause that you care about, start now. Maybe it's a small act of volunteering for a couple of hours. It doesn't need to be a big, big goal. Start small, start now. You'll find that pouring into that community or passion will truly change the world." 
Do you want to make a difference in your community like Jamal? Find local volunteer opportunities.  
Share this post