Hospital Volunteer Brings Comfort to Patients in Stressful Times
Meet Daily Point of Light Award honoree Alison Juray. Read her story and nominate an outstanding volunteer or family as a Daily Point of Light.
Well before the time Alison Juray started volunteering at Mount Sinai Morningside hospital last year, she was fluent in both Russian and English. In 1989, her parents and grandmother immigrated to New York City from Tajikistan. Alison grew up in Brooklyn speaking the former at home and learning the latter in school. And after seeing the large Spanish-speaking population amongst patients, she hit the books again.
During the summer of her 21st birthday, Alison is spending her time volunteering in a lab that researches pancreatic and colorectal cancer treatments. Of her three older siblings, she'll follow her two sisters – one a dietician and the other a healthcare manager – into the field.
When school is in session, Alison averages 20 hours per week volunteering by scheduling her classes in a way that enables her to spend full days at the hospital, mimicking hospital staff. This future physician has an innate ability to comfort patients, from being a listening ear to distracting people in pre-op from hunger. Her adaptability, kindness and composure in the fast-pace of the hospital makes her a point of light for everyone who steps through its doors.
What inspires you to volunteer?
My parents told me a story once that when I was a kid, I was going down a slide and slid too far. I fell and scraped my knee. I didn't cry but instead said, "Can you please take me home? I need to clean this and put a band-aid on it." 
That story inspired me, and after seeing how hardworking and fulfilled doctors, nurses and people in the medical field are and how they change the lives of patients every day, that cemented my decision. So, I'm currently on the pre-MD/PhD track at CUNY Hunter College. I want to be a physician-scientist. 
Describe your volunteer role with Mount Sinai Morningside.
I've assisted nurses with lab deliveries, dietary requests and overall patient well-being. I also train incoming volunteers across all units of the hospital. That's one of my favorite parts. I show them the ropes, introduce them to the staff, make sure they're able to communicate with patients in the correct manner, etc. Occasionally, I help with health fairs or events.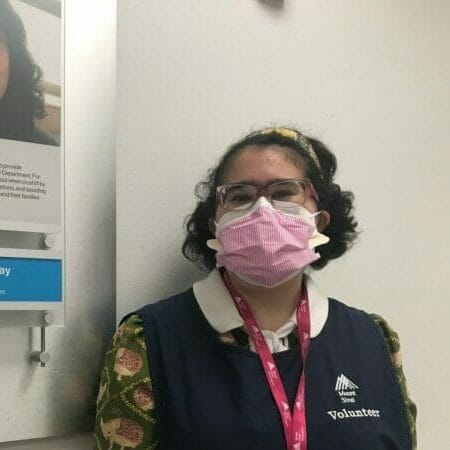 In the emergency department, one of my favorite things is working in triage. The triage nurse takes vitals and records the main complaint, and we transport patients to their bed or seat for their follow-up with the other nurse and doctor inside. You get to see the frontlines. I ask patients if there is anything I can get them such as a pillow or water. I adjust the bed and get them ready for the nurse. 
Also in the emergency department, we give out lunch trays. Patients about to go to surgery aren't allowed to eat, but we all get hungry. So, I like to sit there with them. We have books and games in the volunteer office, so I grab one of those. Anything that can distract them. Before they know it, they're going for their surgery. It's something that I really love to do. Making people less uncomfortable in uncomfortable situations has become my strength as a volunteer. 
Why is speaking someone's native language important?
Even speaking a couple of words, like if I noticed that they're Spanish-speaking, or they look to their translator or interpreter. In that gap or delay in translation, just saying, 'Hola! Cómo estás?' is something that can really brighten their face. They feel like they're being seen and heard. And that means a lot to me, because when my parents went to the doctor, they always had to take either me or one of my siblings with them. Even though they speak English, medical English is difficult. 
What's been the most rewarding part of your work? 
I love talking to people about their life, so patients who are willing to open up during their most vulnerable time is very rewarding for me.  I've heard stories of people who came to America 10 years ago with their children, and they struggled to adjust. Hearing their stories of perseverance makes me emotional just thinking about it, because my parents went through the same thing. Hearing that type of story makes me feel like I'm not alone. And I tell them that my parents did the same thing, that they're not alone. 
You go into the hospital with the hopes of recovering and coming out. But unfortunately, that doesn't always happen. My first week in the inpatient unit, I met a Russian-speaking patient and was able to get to know her really well. She became one of my favorite patients. I went to her every time I had a shift, and one day, she passed away. Her daughter came back to thank everyone at the hospital and said that her mother remembered me and wanted to thank me. That really changed my life. Being able to comfort someone in their final days means a lot to me.  
What have you learned about patient care through your experiences as a volunteer? 
I've learned how to communicate with patients when they're frustrated. Being in the hospital is stressful; you're in there because you're in pain or sick. Having someone check up on you and make you feel better is valuable. I've learned a lot of ways to do that. If I notice a patient is uncomfortable and hunched over in their bed, I make sure that everything is close to them so they don't have to move around a lot. I make sure the TV is on their favorite show. It makes a world of a difference.  
A lot of the time, patients spend all day in their room without many people to talk with. So, I sit next to a patient asking them 'How's your day? What are you looking forward to when you recover?' Taking the time to listen is so important. 
And outside of patient care?
I've learned time management. I'm kind of a busy person, but being at the hospital is always my priority because it's fulfilling. Instead of feeling drained after a shift, I feel full of energy. And that's just because of how much happier I feel that I'm able to make other people's day a bit better. 
One thing I learned in the emergency department is to keep a level head. It's very noisy. There are people running around everywhere. Staying calm, cool and collected is the best thing you can do. Patients are depending on you. And the nurses and other healthcare staff are depending on volunteers and co-workers to make a calm, safe environment. 
Why is it important for others to get involved in causes they care about? 
I think everyone should learn something new every day, and the only way to do that is to step out of your comfort zone and do these types of service acts to make yourself and the people around you feel better. 
After the pandemic, one of the things that people struggle with is being open to listening to other people. One way to do that is acts of service. It's a great way to learn and be open to new perspectives. You grow as a person. Volunteering has opened my eyes to the possibilities of making one small change and creating a butterfly effect. 
What do you want people to learn from your story?
I want people to read my story and volunteer at the nearest hospital, because it is such a rewarding experience. You walk out a different person than when you walk in. Being in the hospital is stressful. Anyone willing to offer a helping hand will be valued, loved and taken care of. 
Do you want to make a difference in your community like Alison? Find local volunteer opportunities. 
Share this post