Teen Inspires Community Through Volunteer Projects
Meet Daily Point of Light Award honoree Ava Khossravi. Read her story and nominate an outstanding volunteer or family as a Daily Point of Light. 
When she was eight years old, Ava participated in one of her first service projects: packaging care packs for unhoused people. The care packs consisted of necessities such as shampoo, toothbrushes, toothpaste, floss, tissues, socks, combs and protein bars. From that first volunteer project, she caught the service bug, and continued to participate in other service projects around her community, including beach cleanups. Later, in middle school, she joined Junior Optimist International, the youth wing of Optimist International, a worldwide volunteer organization consisting of more than 2,500 local clubs whose members work each day to make the future brighter through volunteerism. 
As a member of Junior Optimist International, she has volunteered on other projects such as maintaining lagoons, volunteering with youth athletics and donating 100 backpacks filled with school supplies to a school for unhoused children in downtown San Diego.  
Read on to learn how Ava is inspiring other young people in her community to get involved through service. 
What inspires you to volunteer?
I am inspired to volunteer as I want to continue to spread good deeds. For example, during an event that I volunteered at called Junior Adaptive Sports Camp, other JOI Club members and I helped children with disabilities play sports. I learned so much from these kids. One kid I was helping tried many times to hit a tennis ball. She had cerebral palsy, but she had such a positive attitude. She focused on all of the things that she could to create the best version of herself while supporting the people around her. As soon as someone else was able to hit the ball, she had the biggest smile and was genuinely happy for them.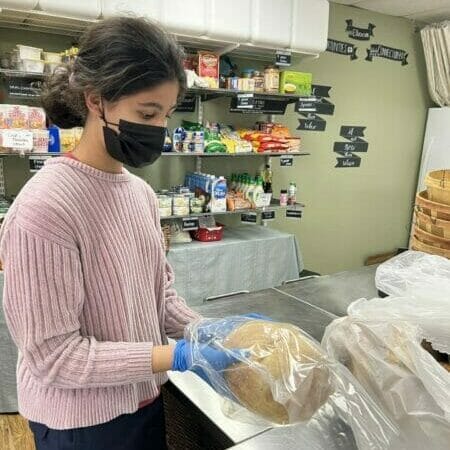 The positive attitudes of the people at Junior Adaptive Sports Camp have influenced me to think about all the things that I can do instead of what limits me, which ultimately inspires me to volunteer.  
Later on in the camp, there was a fun tennis match where there were two teams consisting of a mix of volunteers and campers. Volunteers sat in a wheelchair and played tennis alongside the campers for a change. The goal of the match was to try to get the ball over the net to the other side. I remember I was having a very hard time moving around in the wheelchair quickly and holding the tennis racket in the correct position. My team was very coordinated, and they all could easily hit the ball over the net and have a consistent match going. But, I will never forget when one of the players stopped to explain to me how I could wheel myself faster using only one hand. I thought it was very nice of her to stop to explain because even though she was a very fast player essential to the success of the team, she also had such an amazing heart to try to include others and make sure they could all put in their very best effort. Being inclusive and positive in various situations also drives me to volunteer.  
Describe your role with Junior Optimist International.
I frequently volunteer at the food bank or Feeding San Diego and inspire others to join me. I really love volunteering, especially when some of my friends join me. With more people, we can sort through more food and share it with the community before it goes bad.  
Additionally, I organize and volunteer at special events and I have reached out to other organizations and grants to help spread optimism. For example, last year, I received a $600 grant from AoPS Academy. I used this money for a new service project. In collaboration with other members from the club, I purchased one hundred backpacks and filled each with school supplies such as folders, loose leaf paper, spiral notebooks, pencil cases, pens, pencils, erasers and crayons. Then, I brought them over to the Monarch School, which is a school for unhoused children in downtown San Diego. 
Spreading positivity in environments is contagious. As a Lieutenant Governor of Junior Optimist, I hope to reach out and continue to support others who want to help people. 
What's been the most rewarding part of your work?
The most rewarding part of my work is helping others spread good deeds. Whether that is through recycling food before it goes bad, maintaining a lagoon, helping out with different Helen Woodward Events, volunteering at a Toy Drive to make sure people have food and toys for the holidays, tutoring an underprivileged student or creating STEM lessons to empower girls' education, I believe that there are many different ways to help others and make a positive difference in the world.  
What have you learned through your experiences as a volunteer?
One thing that I have learned through my experiences as a volunteer is learning about different people of different backgrounds. When I volunteered at a Holiday Toy Drive and Celebration for Low-Income Families, I had the opportunity to make cotton candy and popcorn as well as watch kids safely play in a bouncy house and obstacle course. I loved talking with them and sharing their enjoyment when they made it through the bouncy house obstacle course successfully!  
Are there any future partnerships, programs, or events that you are excited about?
Yes! Some events coming up in the future that I am excited about are Junior Adaptive Sports Camp, which is happening again this summer. I am also really excited for the beginning of the school year because I hope we can recruit more people to join Junior Optimist as well as make their own clubs at their own schools.   
Why is it important for others to get involved with causes they care about?
It is super important for others to get involved with causes they care about because it helps them make meaningful connections with others. Through these meaningful connections, people can share their experiences and help each other reach their goals together.  
What do you want people to learn from your story?
There are so many ways to volunteer and get involved in your community. It is also very important to have a sense of appreciation. It is super important to appreciate your situations, experiences, connections, opportunities, and everything that life has to bring!  
Do you want to make a difference in your community like Ava? Find local volunteer opportunities. 
Share this post