Former VISTA with Persistent Passion for Service Helps Feed Denver's Hungry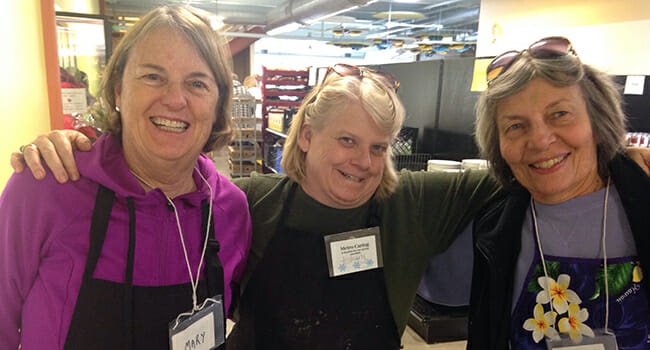 Meet Daily Point of Light Award honoree Barbara Motichka. Read her story and nominate an outstanding volunteer, family or organization as a Point of Light.
Barbara Motichka has spent the majority of her life giving back to the communities where she's lived, not just through volunteerism, but also by helping those around her become stronger and more successful volunteers.
In her 20s, Barbara left her home in New York to become a VISTA, now AmeriCorps VISTA, helping migrants in Utah before eventually moving to Colorado. Volunteering has always been Barbara's passion and it only made sense for her to return to it full force after she retired.
Barbara says she began volunteering "to get out and learn and be with people, see how people dealt with things, how people compromised, and how people work things out."
Over the past three years, Barbara has spent three days of her week ensuring that the shelves of Metro Caring's pantry are full and that those experiencing food insecurity receive an experience that is dignified and respectful. Since she started, Barbara has volunteered more than 1,400 hours – giving more hours in 2016 than any other volunteer at the pantry.
"Barbara takes the time to interact with our participants, asking them how they are and how their experience has been, checking to see if she can do anything to help or improve their experience – and often spending time trying to help participants find what they are looking for on the shelves," says Heidi Vielhaber, volunteer manager and service learning professional at Metro Caring.
Barbara says she does this because "it's about respect and making people feel comfortable," adding, "I've gotten to know a broad spectrum of people, younger people, people with families, people with handicaps, people with health issues. It's just a treat."
Barbara loves to not only help participants shop the pantry but also teach them about the need for nutritious meals. This goes hand in hand with Metro Caring's mission to offer access to healthy foods, nutritional education, and self-sufficiency.
In addition to her work for Metro Caring, Barbara volunteers with the Women's Homeless Initiative, a coalition of churches and organizations in Denver that work with Capitol Hill United Ministry to give sanctuary and hospitality every night to women who would otherwise be on the street. Barbara helps out at St. Johns, her local WHI location, by helping them get things set up every Monday night and picking up overnight shifts when other volunteers cancel.
Barbara's advice for people wanting to volunteer is to find something that they're interested in and that works with their schedule.
Metro Volunteers, a Points of Light affiliate, honored Barbara with its monthly Heart of Volunteerism Award in recognition of her passion and dedication. For volunteer opportunities in your area, find your local Points of Light affiliate or search All for Good.
Share this post