Retired Doctor and His Furry Sidekick Lift the Spirits of Hospital Patients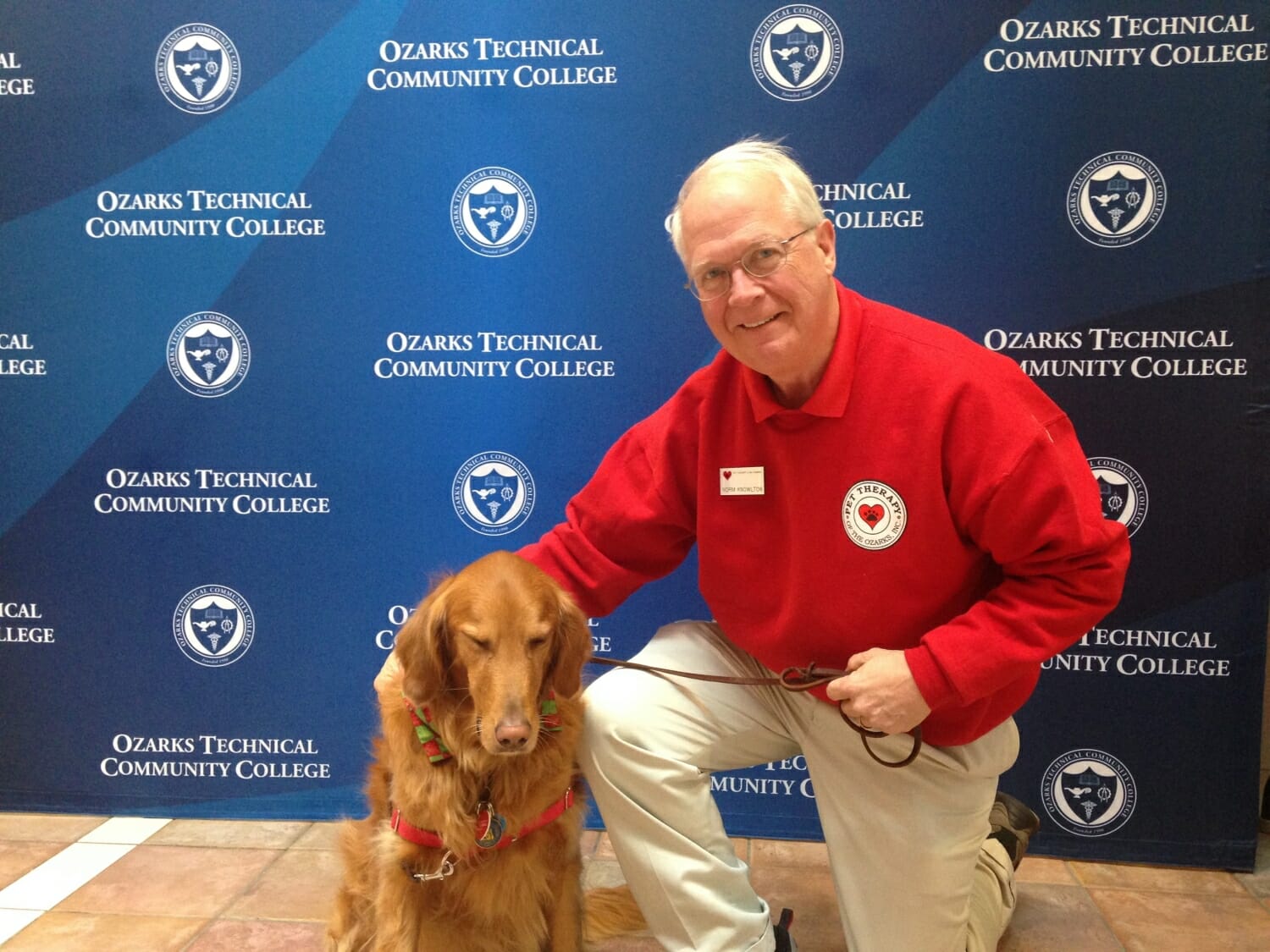 In 2013, Dr. Norman Knowlton III retired from his almost four-decade career in internal medicine. Though he no longer saw patients as a doctor, he still wanted to give back to people facing illness or health crises. His desire to make a difference in the lives of others led to his volunteer role at Cox Health Systems – alongside his trusty sidekick, Lucy. Norm and his golden retriever, who is a certified therapy dog, bring much needed sunshine, smiles and laughter to the corridors of Cox Health and its patients.
Norman is today's Daily Point of Light, and he spoke with Points of Light about his service work with Lucy.
What led you to your volunteer role with Lucy at Cox Health?
My wife and our 8-year-old red golden retriever, Lucy, were already involved with Pet Therapy of the Ozarks before I retired [from internal medicine], but I decided to continue with Lucy and give back to Cox Health Systems.
Lucy and I became a team and were certified and titled, not only in pet therapy, but also in nosework. Lucy is an American Kennel Club titled "therapy dog advanced." We visit patients at Cox Regional Hospital in oncology, neurology, radiation therapy, chemotherapy, infusion, rehabilitation, medical and surgical units. We also visit nursing homes. At those facilities we try to assist, please and comfort patients in all stages of their health. Lucy and I make patients, family members, friends, hospital staff and employees feel warm and fuzzy and elicits smiles from all. We have [also] been greeters for the Springfield Cardinal Baseball games, participated with the Children's Miracle Network and assisted children in their reading skills at the local library.
Can you recall a defining moment when you truly understood the impact of the service work that you do?
Lucy and I visited with a 38-year-old gentleman in a comforting and supporting role who had recently been told that his case was terminal and hospice was going to see him later that day. Lucy startled several times and stared at a blank wall above this patient's head. The patient quickly recognized her attitude and exclaimed that she had just seen his Angel. The nursing staff and all assumed that the patient was correct.
Why do you think it's important to volunteer?
I have always felt volunteering is my duty to serve my community, hospital, and especially patients and because it is the right thing to do.
In five words or less, describe how giving back to others makes you feel.
Fulfilled, useful, worthwhile, pleased, proud.
Do you want to make a difference like Dr. Knowlton? Visit All For Good to find local volunteer opportunities.
Share this post