Formerly Unhoused Woman Founds Nonprofit to Support Others in Similar Situations
Meet Daily Point of Light Award honoree Jessica Currie. Read her story and nominate an outstanding volunteer or family as a Daily Point of Light.  
Jessica Currie of Milwaukee, WI, is no stranger to homelessness. After dropping out of high school, she spent time as an unhoused teenage mother, struggling to find the assistance she so desperately needed. Today, after having earned a Diploma in Nonprofit Management from Milwaukee Area Technical College and graduating with honors, she is a wife, mother of six, motivational speaker, author and founder and executive director of Missionary Currie for Women and Children.   
This community-driven, nonprofit organization is dedicated to assisting underserved and unhoused women and children in Milwaukee and Racine through transitional housing and essential supplies, plus access to workshops, mentors and resources. 
Read more about how Jessica's own experiences with homelessness gave her insight into the type of support that unhoused individuals most need, and how she works to provide this support. 
Describe your volunteer role.
I run a nonprofit organization, Missionary Currie for Women and Children. We provide emergency housing, clothing and supplies and a food pantry for unhoused women and children. We have a drop-in center where people can come in and have a meal, take a hot shower. We have a community room where people can come access computers, work on resumes or Excel spreadsheets, whatever they need. I've been doing this work for about seven years.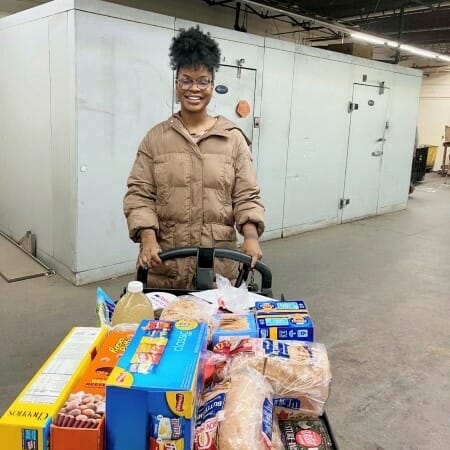 What inspired you to start Missionary Currie for Women and Children?
This all came from me being an unhoused teen mom. I experienced homelessness at 16 and then again at 19. During that time, when I reached out to services that people referred me to, they were largely unavailable. They were fully booked.  
So, when I transitioned from homelessness, I went back to school, I got married and I was making engine parts for Tesla. When my department was shut down, my husband and I talked about me either going to school or starting a business. I decided to do both. I got an education in nonprofit management and then I started Missionary Currie for Women and Children. 
The food pantry is one of the greatest assets we have. We can serve any county and any zip code, with no restrictions. In the nonprofit world, it's a luxury to have an organization that can provide food without restrictions. We provide emergency food, local schools, senior homes and even youth centers. We're out here filling in the gaps. 
What inspires you to volunteer?
What keeps me going is God. This is my assignment. This is my purpose. When I was unhoused and sleeping in my car, there was no one but God that was able to help transition me out of homelessness and transform me into who I am now. There was no one there for me. I was calling all of these agencies, trying to get my stuff together. And I remember crying in my car, not knowing how I was going to continue. I heard God tell me my next steps. And even though I didn't transition out of homelessness that night, I never cried again during my time of homelessness. I just knew things were going to get better. I knew I had a mission. 
Any rewarding stories from your volunteer work?
I think the biggest reward is serving women who have survived domestic violence. Those women are so vulnerable, but they are so strong. We try to help them manage in any way we can. For instance, we try to do things during the holidays to help take their minds off of problematic past relationships. We do cards, we give candy, we send Santa or the Easter Bunny to their houses.  
We do an annual community baby shower every single year. I came up with the idea for this when someone was interviewing me and asked what I wished I had had as an unhoused teen mom. I thought, maybe a community baby shower, since my parents had not been supportive during my pregnancy. After that, it just came to pass within months, and this is our sixth year of doing it! We do car seats, strollers, big raffles, hundreds of dollars. We help with credit repair, rent assistance programs, emergency assistance programs, we have the Health Department there. 
During COVID, we did two community baby showers – both virtual! We get donations from all over – Amazon, Target. I broadcasted from my living room with a throne of diapers set up behind me! At the end, I always do an "Oprah moment." "You get a car seat!" "You get a stroller!" "You get a pack n' play!" It's a huge event, and we've had women give testimonials years later about how it's impacted them and provided them with things they could have never afforded.  
Why is it important for people to get involved with the causes they care about?
If you really care about your community, you'll care about the causes that affect them. A community should be like family. Family starts in a community. If you can help, if you can show love, there will be less crime, fewer mental health issues. It's so important to pour into your community. They will pour into you.  
My six children range from 1 to 14, and they help me with the nonprofit. They help with the events. They dress up for the holidays. They help me with supplies. They are very involved. 
What's your advice for people who want to start volunteering?
My advice is to get involved with a cause that's near and dear to you. Go and support a cause that means something to you. There are so many different organizations working with so many different causes. Everyone can find something that's meaningful to them. 
What do you want people to learn from your story?
If you're unhoused or going through a tough time, just trust God. Know that your story is not just your story. It will help someone else.  
Do you want to make a difference in your community like Jessica? Find local volunteer opportunities.  
Share this post