Four-Legged Friendship: Couple Connects with Children and Seniors With Therapy Dogs
A dog is known as "man's best friend", but Mel and Joyce Grimm have magnified the benefits that result from a relationship between dog and owner, using their love for four-legged friends to give back to the community.
Self-described dog people, the New Mexico couple volunteers alongside their certified therapy dogs, David and Andrew, both Shih Tzus, connecting with others in need to provide comfort and healing. Helping abused and neglected children, lonely seniors, and school children that need special attention, the human and canine team is involved in various volunteering efforts across Northwest New Mexico.
Employing dog tricks, games, and sometimes just some peaceful quiet time with a pup, the retirees have impacted the lives of hundreds of children and adults, and are today's Daily Point of Light award honorees. Points of Light spoke to Joyce and Mel to learn more about their volunteerism.
What inspires you to volunteer?
Mel: We see a lot of improvement in people's attitudes when we visit, especially the senior citizens at the Cedar Ridge Inn, a nursing home and rehabilitation center. While at Cedar Ridge, these seniors miss being away from their animals. They like to see us, and they like to pet our dogs.
Joyce: Our community has been very good to us. We're former school teachers and are now retired. When you have time on your hands, you should be giving back. What we do is civic-minded, because when we spend a part of our day giving a little bit back to our community, the city is able to use resources elsewhere to better the lives of everyone.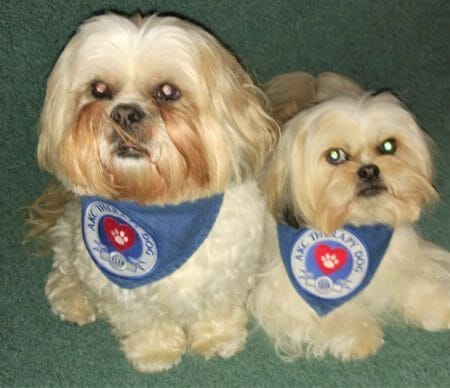 You volunteer with a number of different organizations. Explain.
There are many organizations within our community where we're able to connect people with our therapy dogs. Some of those organizations include:
● Cedar Ridge Inn: We've volunteered at this nursing home and rehabilitation center since 2008. We take Andrew and David in a wagon, and we spend about an hour visiting elderly there. The residents get to love on the dogs, can put them in their laps, and the Shih Tzus even perform tricks.
● Welbrook Rehab Center: Each Tuesday, we visit this rehabilitation center, which is for residents going through short-term intensive physical therapy.
● Childhaven: We've volunteered at this organization, which serves abused and neglected children on a temporary basis, for 18 years. Our dogs were approved by the board to visit. These children often come in over the weekend, and so we visit on Monday's, so that there is a little furry dog waiting to greet them. We do tricks with the dogs and we teach the children how to do tricks. Our certified therapy dogs provide a playful and loving interaction for the children.
● Sacred Heart School: We've volunteered with students that need special attention in reading and or practice in speaking English since 2004. The children will read to our dogs, or we'll read together. It's often successful when the children read to the dogs alone, because they are not judgemental and this helps to increase the child's self-esteem.
Explain what this comfort means to the children at Childhaven.
Joyce: We provide emotional support and an emotional outlet for love through the children's interaction with the dogs. Being teachers in the schools for many years, no child can hide inside their personal shell of darkness for long. We know how to brighten the esteem of every child. We want to provide them with positive, uplifting words of kindness and support to enhance their success in life. When the children learn how to command the dogs to perform tricks, this enhances their self-esteem.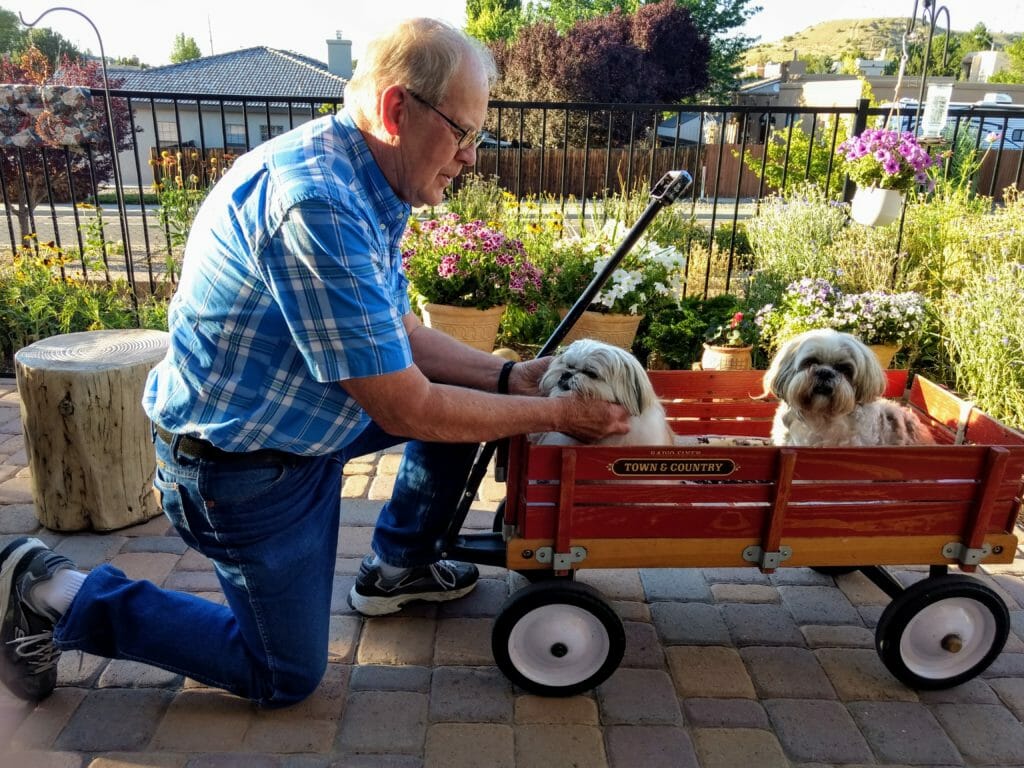 What are your favorite tricks to do with the dogs?
Joyce: I will brag, each of my dogs have an advanced trick title with the American Kennel Club (AKC). I am the trick lady (laughs). David's favorite trick, he has a little pink Barbie Doll convertible that we put a teddy bear in. David will pull the convertible around the room with a cord until the teddy bear falls out. When we are volunteering with children, all the kids will yell, "he lost his passenger!" Andrew dances when I sing, he will spin and twirl.
Mel: I work on agility with the dogs. We attend AKC trials with them, and both David and Andrew are at the masters level in agility and in rally, in addition to holding obedience titles.
Joyce: Mel will set up a rally course in Childhaven's backyard later this summer, and we'll show the children how a rally trial works. This is a form of obedience where dogs maneuver a course.
What have you learned through your experiences as a volunteer?
Mel: We've met a lot of people along the way (laughs). You become friends with people. Just the other day, we were in a store and we had our dogs in the cart. He happened to be a dog lover. We spent half an hour talking to that man.
Joyce: I can tell you how Mel has changed. When he was in high school, before my time, he was voted the quietest boy in the class. And now he could talk to a telephone pole. He's thrown into places where there are people that he doesn't know, and he's learned that it's quite fun to talk to them.
Share one personal story with me from your volunteerism.
Joyce: One our original dogs, our Kai-Lee, was the littlest of our dogs. We went in to work with one boy in 3rd grade whose parents demanded perfection from him. His teachers sent him to me to read to the dogs for some TLC. We realized he was reading way, way above grade level. As he sat down, Kai-Lee sat down beside him, and she knew that reading wasn't what that boy needed. She would climb up into his lap, and she would kiss him. They would roll around on the floor together. I clued the principal in on what was going on with this child and dog, he needed to interact with a loving creature, he didn't need to read more. The dogs are sometimes best able to tell what humans truly need.
What do you want people to learn from your story?
Joyce: You don't have to conform. You don't have to go to the hospital and pass out mail. There are so many ways to give back. Identify whatever your special ability is, and then share it. You can get back so much more than you give.
How can readers help?
Childhaven is celebrating their 50th anniversary in September. Please check their website for more information about how you can help: https://childhavennm.org/.
Do you want to make a difference in your community like Mel and Joyce Grimm? Click here for local volunteer opportunities.
Share this post