World-Traveling Teen Leads Nonprofit to Provide Supplies to Those in Need
Nora Moumane might be just 17 years old, but she's already lived in five different countries. As the daughter of a father who works in the humanitarian NGO field and a mother who works as a consultant for UN agencies, traveling is the norm for this family. Her parents met while traveling and as Nora's grandma would visit them in the different countries they lived in, she noticed different issues and needs of the locals living there. So the family started a charity group called Reach2Teach.
More than 20 years later, Nora's grandma went into retirement, and Nora took on the role of president. She took Reach2Teach from more of a family project and grew it into an official nonprofit organization. Reach2Teach has done projects in Cameroon, Sudan, Burundi, Rwanda, Zimbabwe, Zambia and various states in the U.S. bringing school supplies to students or whatever supplies are needed for the locals who are most in need. At an orphanage in Cameroon, Nora led the effort to provide 250 orphans with 35 pounds of school supplies. At a health clinic in Sudan, her nonprofit provided over 200 toothbrushes, 30 scarves and 20 pairs of gloves to around 70 families.
Even at such a young age, Nora has shown leadership and a true passion to help those in need. She is today's Daily Point of Light Award honoree and we spoke with her to learn more about her volunteerism.
Describe your volunteer role with Reach2Teach.
Our mission is to educate and help out with hygiene supplies of whatever is needed in specific countries. In Cameroon, we worked in local orphanages and we donated school supplies – basic things like pencils, things that they would need for education. In Sudan, we recently donated a bunch of hygiene supplies for women in rural areas because they needed a bit of an incentive to come to hospitals. Women don't really prioritize health over their families or their husbands there so we gave out scarves and toothbrushes. In Charleston, we donated books. Reach2Teach is a need-based charity. We do one project at a time so we can focus and put all our effort in it. We like to do projects in the countries we're living in at the time. So in Cameroon, I was actually the one that brought the school supplies to the orphanage so that I can make sure it got there.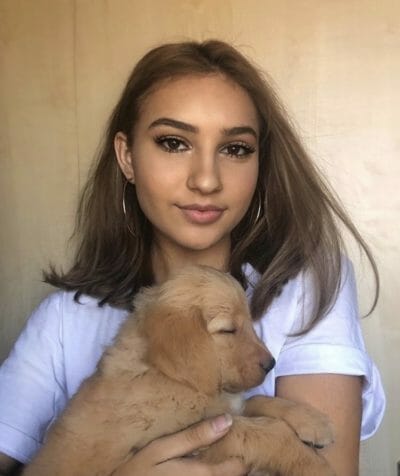 What's one memorable project or moment that stuck with you?
In Cameroon with the orphanage, these are kids whose parents sometimes don't have the ability to take care of them. They're born with special needs and it's really heartbreaking. We played games and basketball with them after giving them the donations. Their teachers and guardians were incredibly grateful as well so that really stuck with me to see the actual impact of what we're doing. Getting to see them experience that joy really made an impact on me.
What inspires you to volunteer?
I've been moving around from place to place since I was six weeks old, as soon as my passport could be printed. So being someone from that point of privilege and going to a country where people don't have anywhere close to the privilege that I do, it really is heart-wrenching and you want to do everything you can to make a difference.
How does it make you feel when you see these children receive their supplies?
Completely overjoyed. I find it very fulfilling and honestly, I'm considering pursuing humanitarian aid in the future specifically because of this. I enjoy it so much and I find it to be such a lasting impact on me.
What's been the most rewarding part of your work?
The feeling of seeing a problem and doing the best you can and knowing that you can make something happen. You just feel a connection to people that I wouldn't otherwise feel. It's one thing to drive down the road and see people who need help but to go speak with them, go play games with them, to give them what they need, it's a connection that I wouldn't get anywhere else.
Are there any future partnerships, programs, or events that you are excited about?
The women's clinic in Sudan was very grateful for our donations last time. We received some awesome pictures of them with the donations so we want to do that again and with even more donations if possible. Also, Ethiopia, it's close to Sudan and we want to do a similar project there. The level of poverty there is honestly shocking. I think we could make a real positive difference there.
Why do you think it's important for others to give back?
I think we have a responsibility to each other as humans. I don't think it's fair for one government to say these aren't my people so I shouldn't take care of them or for one person to say that's not my family so I don't care if they're starving. I understand there aren't enough resources to go around for everyone. I understand that you can't take care of people all willy nilly because you won't have enough to feed your family. But when you can take care of others, and you can do your best to make this a better place for as many people as you can, we have a responsibility to make that happen. It's not right to look at someone suffering and have every opportunity to help them and still choose not to. That's not humanity. We need to have the bravery to be able to sacrifice some things for the life of somebody else.
What do you want people to learn from your story?
I want them to learn that no matter if you're not associated with any NGO, no matter if you have no idea how to help people or where to start, it's possible. It doesn't matter if you don't know where to put your efforts, it's possible for everyone to help and make a difference. Go online, look up charities in your area, do some fundraising. Do the best that you can because if enough people do that, it makes a difference for everyone.
Do you want to make a difference in your community like Nora? Click here for local volunteer opportunities.
Share this post