Fourth-Generation Firefighter Volunteer Carries on Legacy Through Service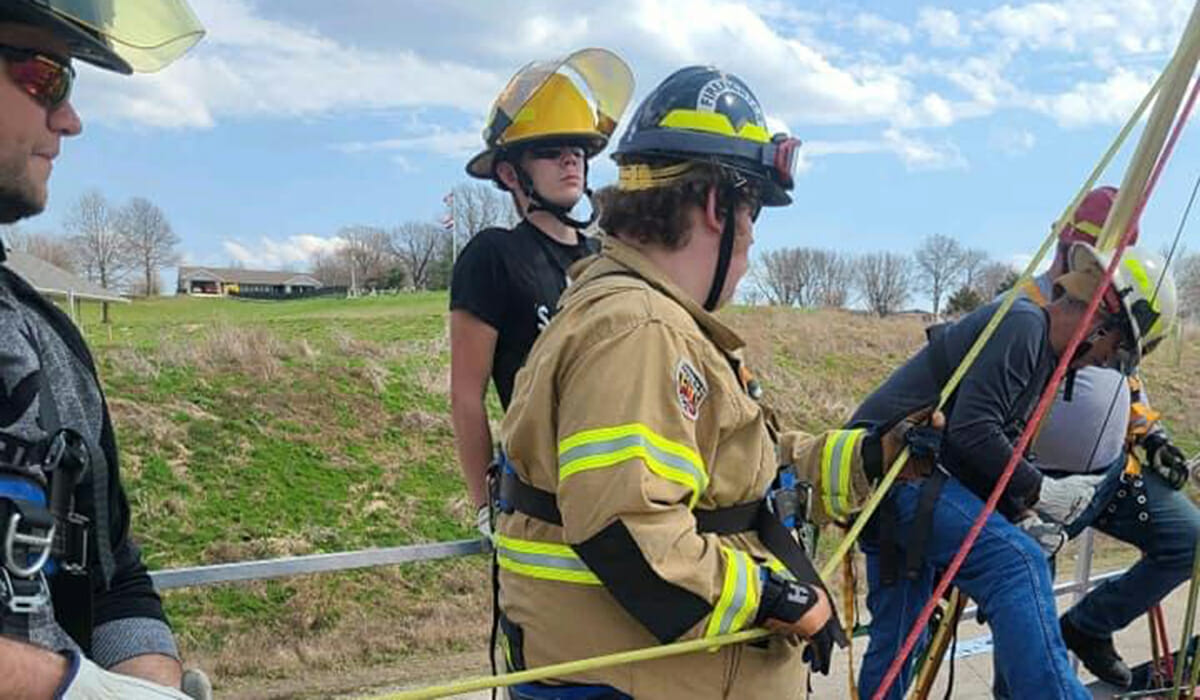 Meet Daily Point of Light Award honoree Nick Hursh. Read his story and nominate an outstanding volunteer or family as a Daily Point of Light.
Nick Hursh is a proud, fourth-generation firefighter whose desire to serve is driven by helping his community and fellow neighbors. Receiving the call for his first fire at age 14, the Burlison, Tennessee resident has dedicated thousands of hours of service since then.
As a volunteer firefighter for the Gilt Edge Volunteer Fire Department, Nick leads the department in training drill attendance, total call response and station staffing hours. Responding to fires, rescue and hazmat situations across Tipton County, Nick has served thousands of hours to help his community and fellow neighbors, inspiring others in the process.
What inspires you to volunteer?
I've been working as a firefighter since I was 14, I'm fourth-generation. I love helping people in the area I live in. I love getting up early in the morning, and whenever that pager starts beeping, we instantly just get up and go.
Describe your volunteerism with the Gilt Edge Volunteer Fire Department.
I respond to fire and EMS calls alongside other department members, I also assist with our training. Most of the time, I drive the trucks to our calls. Our calls range from a house door being accidentally locked by an infant child, to some of the hardest calls we have, like extricating individuals out of cars.
You're recognized as the "go-to" volunteer. How does that make you feel?
It makes me feel trusted, and makes me feel happy that people, whether from the community or members of the fire department, can come to me when they need help.
Share one personal story with me from your volunteerism.
Last August, we got called to a vehicle accident with entrapment. Two vehicles were involved and two people were trapped in each car. I drove one of the trucks there, put gear on, and started extricating the 18-year-old out of one car. (The scene) was hectic and there was a lot of yelling going on. A couple months later we had a holiday dinner, and the girl we rescued showed up in a wheelchair, she'd survived her injuries. She's now out of the wheelchair, up and enjoying life. It means a lot to me to know she is ok. I fell in love when I went to my first fire as a 14-year-old kid, after I started responding to calls, getting my hands down and dirty. I received a Unit Citation for this rescue.
Why do you think it's important for others to give back?
That's always the hardest question. Right now, it's really hard to get people to volunteer. Giving back helps your community but it also makes you feel good. It's important to give back, from the food bank to feeding the homeless to volunteer firefighting and volunteer paramedic and EMT service.
What's been the most rewarding part of your service?
It's rewarding to know we can make a difference in somebody's worst day by showing up with a fire truck and people ready to help.
How have you continued to volunteer throughout the COVID-19 pandemic?
In 2020, I responded to 336 of the department's 538 calls, attended 50 out of 50 training drills, and logged nearly 2,000 hours of volunteer time with the department. I also received my 3rd and 4th Unit Citations and my 2nd life-saving award since joining the department in late 2017. Because of the pandemic, if we were responding to a COVID positive patient, there'd be a medical person gowned and ready to go to treat the patient. We were equipped with extra equipment and PPE and also increased decontamination efforts.
What do you want people to learn from your story?
I want people to learn to try to make a difference and help out in any way possible.
In one word, what does volunteering mean to you?
Good. Feeling good.
How can readers help?
Please visit the Gilt Edge Fire Department Facebook page and website for more information about how you can help.
Do you want to make a difference in your community like Nick Hursh? Find local volunteer opportunities.
Share this post