From Florida to India, Teen Joins Fight Against Period Poverty
Meet Daily Point of Light Award honoree Anagha Talluri. Read her story and nominate an outstanding volunteer or family as a Point of Light.
At just 14-years-old, Anagha Talluri is traveling the world to help fight period poverty — the inadequate access to menstrual hygiene products and education, as well as the shame attached to menstruating, that prevents girls from attending school. She is an active volunteer with PURE — People for Urban and Rural Education — a nonprofit that promotes empowerment through education on multiple issues including period poverty. Anagha travels to India every summer with PURE to participate in workshops that educate girls in rural villages on their periods and menstrual hygiene. Anagha has donated items to girls in Ethiopia and Uganda as well, and plans to travel to those countries with PURE in the future.
Through PURE Youth, the organization's youth leadership program, Anagha established and fundraised for a period pantry in her hometown of St. John, Fla., that supplies pads, liners, tampons, bras, and underwear for Title I schools in the area. Anagha's charitable acts don't end at empowering fellow girls — last year, she led fundraising efforts to buy food and clothing for a family of four who lost everything in a fire during the start of the COVID-19 pandemic.
Describe your volunteer role with PURE.
I work in a focus group called PURE Youth which focuses on empowering women and advertising our causes. I also started a period pantry which involves fundraising for pads, liners, tampons, etc., for schools that are in need of supplies. We have webinars every month. I also travel to India every summer, except for this one because of COVID, and I participate in workshops which involve speaking to young girls in India in rural villages who are misinformed about periods and menstrual hygiene. … [The] workshops include showing diagrams of the menstrual cycle and the system in our uterus. We also talk about stigmas and the prevention of using products that are seen as less-than sanitary, such as socks, plastic bags, and tissue paper.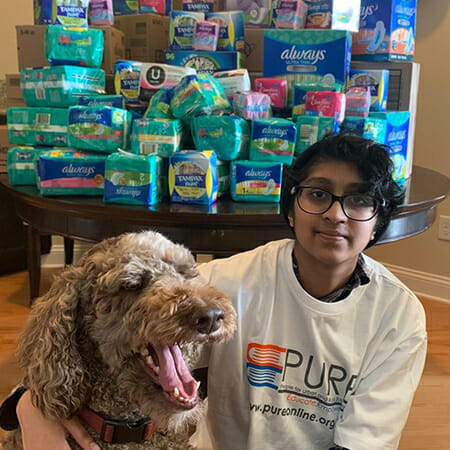 What made you want to get involved with PURE?
It started during my summer trips to India where I got to meet in person these children who were so bright and were my age, but didn't have the same resources that I had and the privileges that I had. I wanted to give them the same opportunities that I had and the same products for their health to stay healthy and continue their education further.
Why is it so important for these girls to be educated on their periods and menstrual hygiene?
In India, there's a lower rate of girls attending schools because when they're on their period, they feel ashamed to go to school. If we destigmatize their periods, they will feel more empowered to pursue their education and take care of their bodies and make sure that they can go to school.
Can you describe what you've done with your period pantry?
The period pantry involves us fundraising, usually through Facebook, and getting money around our local community to get donations for pads, liners, and tampons, and also bras and underwear, for girls who are in our local community in America, to get them the products they need. I started the period pantry just last year. We are sending them to Title I schools [in Florida] who are in need of them. We are thinking of starting in the nurse's office or a place on-campus where students can get what they need.
For anyone reading this who might be from a place of privilege where accessing products may not be difficult or something they think twice about, what would you want to tell them?
We all understand that certain things in nature are inevitable. It's not something that we should look down upon or look up upon. We should understand that this is natural. We need to help others who are silenced and who are marginalized and who are unable to get these products and this medical need. This is a medical necessity that people need. I want people to understand that this isn't just some feminist movement or some radical idea. This is nature. This is life.
Are there any future partnerships, programs, or events that you are excited about?
Sometime next month or the month after that, I'm starting a Youtube channel called Period Talks, which involves me speaking to other influential creators and charitable people who are fighting period poverty hands-on just like me. … I wanted to find a more public place to discuss period poverty because it's been so stigmatized and the more we talk about it, the more able we are to support and help others.
What's been the most rewarding part of your work?
I think the most rewarding part of my work has been going to India and seeing these girls in person and in the workshops asking questions and being so perceptive to our cause and our mission.
Why do you think it's important for others to give back?
It's important to give back not only to better yourself and better your connection with the world around you, but also to help others come to your level and be on the same playing field, because then that's when individuality sprouts and grows and blooms.
Do you want to make a difference in your community like Anagha? Find local volunteer opportunities.
Share this post