From Heart Disease to Refugees, Volunteer Gives Back to Causes Across the Globe
Meet Daily Point of Light Award honoree Mikell Reed Carroll. Read her story and nominate an outstanding volunteer or family as a Point of Light.
After growing up in an economically-disadvantaged family, Mikell Reed Carroll realized as an adult that she wanted to give back to others as much as she could, to pay forward those who had helped her family when they were in need. In the past decade, she has done just that, volunteering for numerous causes that are near and dear to her. She has been an active volunteer for the American Heart Association for over eight years, serving as a social media ambassador and organizing National Wear Red days all over the world. She has also volunteered since 2016 with Wreaths Across America, which coordinates wreath-laying ceremonies for veterans.
After her husband was assigned a work post in Croatia in 2017, Mikell began looking for ways she could volunteer there, particularly wanting to do something to help with the major refugee migration crisis in the Balkans. Her research led her to Refugee Aid Serbia, an NGO that supports refugees and asylum seekers across Serbia, as well as The Workshop, the organization's community center which provides an educational space for refugees in Belgrade. Mikell has led multiple donation drives and collected more than $10,000 in much-needed items and supplies to be distributed to refugees. She also completed a donation drive for the Red Cross in Croatia, collecting baby items for refugee centers. Now living in Belgrade, Mikell hopes to be able to volunteer with The Workshop in person once it is safe to do so, as the center is mainly operating virtually due to the COVID-19 pandemic.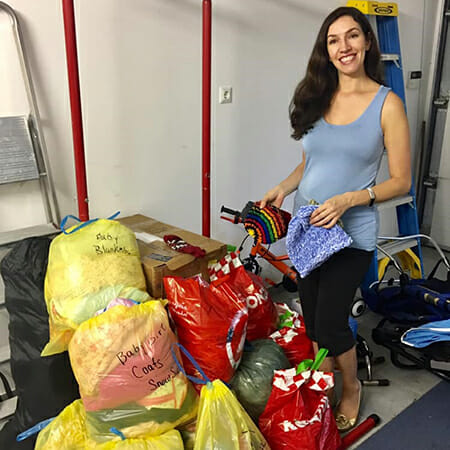 Describe your volunteer work with the American Heart Association.
I've been volunteering with the American Heart Association for about a little over eight years now. It's something that I'm always involved with, both the American Heart Association in Maine where I'm originally from, and also in D.C. since I'm often in D.C. every couple of years. I do everything from being a social media ambassador with them, to organizing National Wear Red Days all over the world. I've organized National Wear Red Days to spread awareness on heart disease in the U.S., Vietnam, Croatia, and Serbia. I have a long family history of heart disease, including my mom who's had two heart attacks, so that's one of the reasons I've gotten involved with the Heart Association. I'll probably be involved with the Heart Association for the rest of my life and hopefully will be able to volunteer in person with them when we're back in the U.S. in a couple of years. When we were living in the U.S., I was always volunteering at events for the Heart Association, whether that be the Go Red for Women movement, the Heart Ball, or a number of different fundraisers they do in the D.C. area. I often get called to help them do events PR, demonstrations, and help them with different television appearances and things like that as well.
How did you start volunteering with Refugee Aid Serbia?
At the time [that I was looking for volunteer work overseas] I had been hearing quite a bit about the major refugee migration crisis going on all over the world and particularly in Europe, in the Balkans. I started researching if there were any refugee agencies in Croatia. I didn't really find anything in Croatia that I could get involved with, and then I found the Refugee Aid Serbia website and Facebook page. They seemed really reputable and it seemed like they were doing great things. They had The Workshop that they ran in Belgrade at the time, which is where refugees almost every day of the week are taught Serbian, English, French, German, math, and any number of other subjects that they had volunteers to teach. In addition to that, at the time they were also traveling to refugee camps around Serbia and delivering needed items. I was interested after having seen the plight of refugee children. I had read some article at the time that there were a number of people sleeping in tents in the woods during the winter in Europe and it was really sad to me, so I wanted to see if there was anything I could do. … They let me know that they definitely had a need and told me a lot of winter items, clothing, blankets, shoes, boots, those types of things, as well as items for those in the refugee camps. They were also interested in items for The Workshop — games, toys, books, learning activities, art supplies, things that they were in short supply of.
What did you do to help out Refugee Aid Serbia?
I started a donation drive. I started contacting friends, family. I set up a wishlist on Amazon of items and had them ship to me, and then when we moved, we took all the items. We had brand-new winter coats, clothing, winter boots, all sorts of things like that. In addition to that, I'm from Maine, and I volunteered for a number of years at a place called the Bath Area Senior Center where my mom both works and volunteers. There is this great group of people called the Witty Knitters. They're a group of senior citizens who knit up a storm. They're always knitting and they do it for a number of different causes. I thought what a great idea it would be if they could knit some hats and things like that. My mom started collecting the items and then sending them to me, and when we came to visit before we moved to Croatia, we literally came home to hundreds and hundreds of items hand-knit by these senior citizens from my hometown. It was amazing.
We moved to Croatia around August 2017, and it was in October 2017 that we made our trip to Serbia. We loaded up our truck full of all the things we collected and drove to Serbia and visited the Refugee Aid Workshop for the first time. … They were so grateful for all the art materials and things for The Workshop, as well as all of the items they were able to take to refugee camps. I think at the time we had about $5,000 in donations. There were 30 brand new winter coats and of course all these amazing hand-knit items and things like that. That's been a lot of my volunteer work with Refugee Aid Serbia. I've done more donation drives and of course the Witty Knitters continue to knit things. We did another big trip to Serbia in August 2019, which is about a year before we actually moved there for our post now, with more donations. We collected another nearly $5,000 worth of donations at that point. The second time it was more supplies for The Workshop, as well as items like shampoo and things like that, so people coming into The Workshop could access them. They have an area where they keep hygiene items available for people if they need them to take back to the camp. I enjoy hosting parties and events, so I hosted an ice cream party for the volunteers there and for anyone coming into the center that day.
What have you done for Wreaths Across America?
I volunteered with them in Arlington, Virginia around 2016. Being that I'm from Maine — the wreaths actually originated in Maine — and my husband is a veteran in the Marine Corps, so that's something that stuck out to me. I went to Arlington and helped lay wreaths there. Last year while here in Europe, they were doing a wreath laying in Luxembourg at the American Cemetery there, so I flew out to Luxembourg and volunteered to lay, which was one of the most amazing Wreaths Across America experiences I've had. … Recently while we were back in the U.S. for the holidays, I was able to volunteer in person in Maine to lay wreaths in Portland. Of course it was very small compared to what we normally do because of COVID, but I was grateful to have any in-person volunteering experience considering what's going on right now.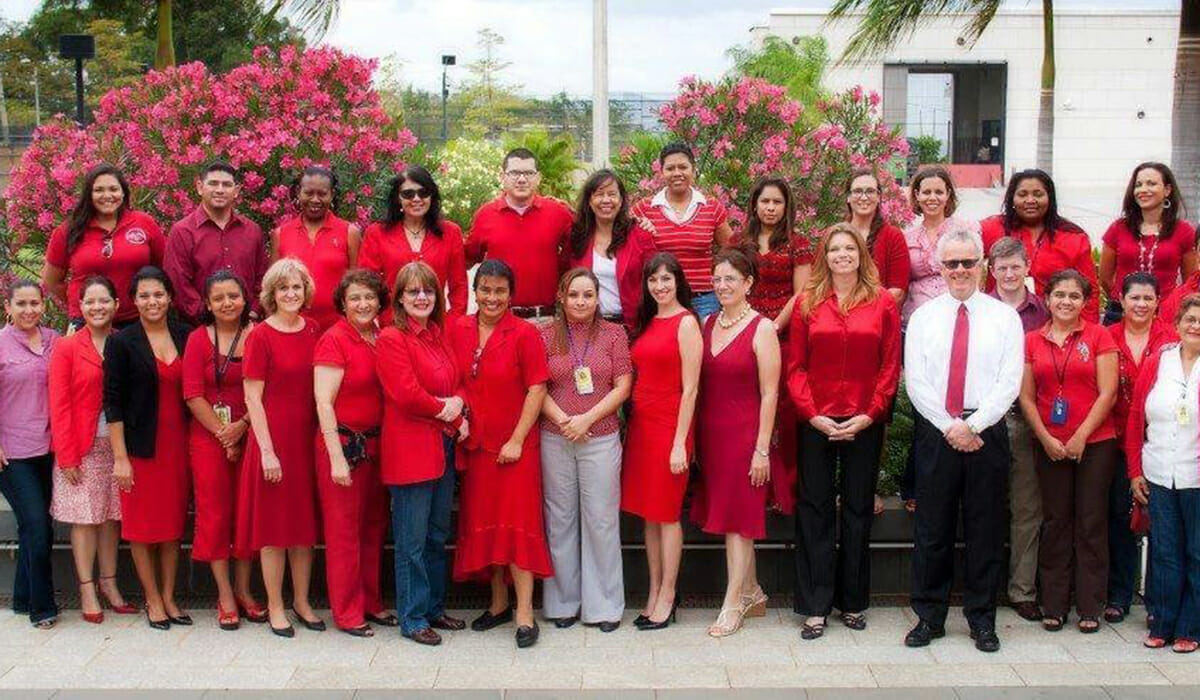 What inspires you to volunteer in so many different ways?
I personally grew up in an economically-disadvantaged family. I think one of the things I realized as I got older and finally came into my own and was in a comfortable place in my life, is that now I have so much. I feel I was given a lot and my family was helped out a lot when we were in that situation, so as a result I always wanted to volunteer and do things where I can give back, but for causes that I'm really interested in. With the American Heart Association, it's having a passion for advocating healthy lifestyles due to my family history. With refugees, it's something that resonated with me because of being a mom and thinking about people in those situations. I've been involved in a number of other organizations over the years. It's just things that strike me as something I'm concerned about, or I know someone maybe who's been affected by certain problems, so I want to get involved. More than anything I feel like I should be giving back. I have a lot, so why not be giving back to others?
What's been the most rewarding part of your work?
I think it's seeing how happy people are. With these donation drives, I don't necessarily get to see the people when they're receiving things, but even just the people at the organizations when they receive these items are so happy to see them and also happy that people care. Refugee Aid Serbia is a really small organization. They're not a huge nonprofit. They don't have a lot of funding and they certainly don't have a lot of recognition nationally, so that's something I would love to shine a spotlight on. … I encourage people to get involved especially with different organizations for the lesser-known nonprofits.
What have you learned through your experiences as a volunteer?
I think especially during this time, in the midst of a pandemic, when we all sort of can't help but be concentrated on our own families, it's such a realization there's a larger world out there. No matter what, things are still happening, people still need your help. I think sometimes you feel the most satisfaction when you go outside of yourself and realize what you can do for other people, especially during this time, and frankly it helps take you mind off your problems and it helps put them in perspective.
Do you want to make a difference in your community like Mikell? Find local volunteer opportunities.
Share this post