Volunteer Spreads Love for Learning with Students Across Arizona
Meet Daily Point of Light Award honoree Suraj Puvvadi. Read his story and nominate an outstanding volunteer or family as a Daily Point of Light.
As a middle school student, Suraj Puvvadi's love for learning was encouraged in part by a dedicated calculus teacher who played a significant role in the Scottsdale, Arizona teen's learning experience. The now 17-year-old is volunteering to highlight the value of education and motivate other students to reach their goals.
Focusing on various educational initiatives, Suraj tutors and serves as a role model to students K-12, including at his own school, BASIS Scottsdale. Volunteering hundreds of hours and making connections across the state of Arizona, Suraj is getting kids excited about education and inspiring students to reach their academic and personal goals.
What inspires you to volunteer?
Learning, being curious and engaging with others is how to be a powerful attribute to society. I am motivated to teach other people, regardless of age and demographic, because through the powerful tool of learning, you are a part of someone's educational journey.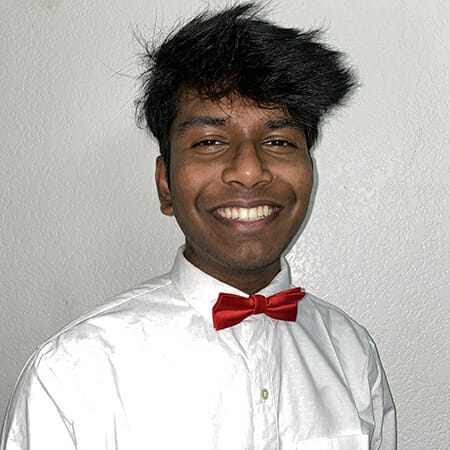 Describe your education-focused volunteerism.
My service is centered around helping others to reach their goals. I am a high school senior at BASIS Scottsdale, where I also currently volunteer as a teaching assistant and peer tutor. I previously volunteered at KUMON to tutor students in advanced math and reading.
Share one personal story with me from your volunteerism.
As a calculus teaching assistant, I work to get students interested in academics by using personal experiences or anecdotes. Many students I tutor want to get better grades, and I help make that process go from tedious or boring to more enjoyable by making it fun, and giving these students a new perspective on subjects as they continue their educational journey. Through my volunteerism, these students can elevate their grades, but it's also very heartwarming to pay it forward. I've been given a lot of great educational resources, and by making an impact one-on-one, I can in turn be a role model to kids.
Why do you think it's important for others to give back?
Everyone should embrace the volunteer attitude and give back in whatever way they can. Service is a civic responsibility, even if it's as simple as helping someone with a math problem or as global as being a part of a health task force. With more volunteers, we could really make a difference.
What's been the most rewarding part of your service?
Even more than the tangible impact, it's been rewarding to see the personal impact I can make. Tutoring a student who once saw homework as a chore and changing their perspective so they now see it in a new light revitalizes their love for learning. It's rewarding for me to spark that love for learning.
How have you continued to volunteer throughout the COVID-19 pandemic?
I now virtually peer tutor and serve as a teaching assistant. But the scope of my volunteerism has actually broadened as a result of the pandemic. I'm able to focus on calculus, but also help students in other topics because of the different programs students are now receiving.
In two words, what does volunteering mean to you?
Compassion and care. My service is conducted within the context that every single thing we get is because of what other people in our community are doing in turn for us, whether it's teachers or doctors. It's the work these people are doing that makes us who we are.
When you're not busy with school or volunteering, what do you do for fun?
I skateboard a lot, especially during the quarantine. I recently started watching more basketball and football. I also do research in my spare time and hang out with friends, virtually of course.
How can readers help?
If you'd like to help in your own community, please connect with your teachers and school leadership to ask how you can make an impact.
Do you want to make a difference in your community like Suraj Puvvadi? Find local volunteer opportunities.
Share this post