Future Caregiver Addresses Medical Expenses to Support Sick Kids and Families
Meet Daily Point of Light Award honoree Angelina Xu. Read her story and nominate an outstanding volunteer or family as a Daily Point of Light.
Angelina Xu has volunteered more than 500 hours at Children's Specialized Hospital in Mountainside, New Jersey, connecting with children battling long-term illness. When Angelina says she discovered how parents sometimes face exorbitant medical bills for their children's care, she knew she wanted to do more to offer support to the sick children and their families.
Founding a chapter of Miracle Network at her high school, the 18-year-old Basking Ridge, New Jersey senior is raising awareness for pediatric illness and fundraising to support patients and families. Raising $10,000 thus far and reaching more than 1,000 patient families across New Jersey in the past year alone, Angelina's volunteerism amid the COVID-19 pandemic has been critical as she connects patients and their families with resources.
What inspires you to volunteer?
I've always wanted to enter the medical field, and understand how important it is to take care of people of all ages. Volunteering In long-term care, I realized how profound the bond between doctors and patients are, and that motivated me to volunteer across different areas in the medical field.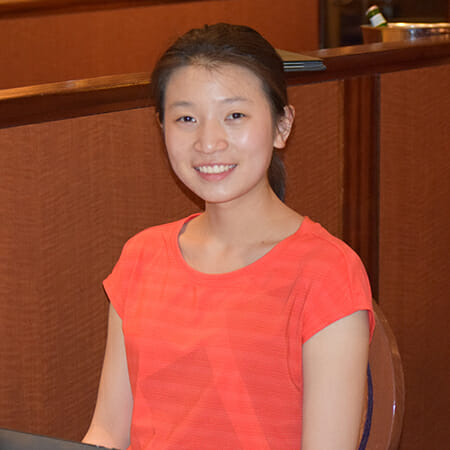 Describe your volunteerism with Miracle Network.
As founder and president of my local Miracle Network chapter, I've raised more than $10,000 by mobilizing my school through fundraising teams, raising community awareness through business sponsorships, and selling 300 pounds of cookie dough. We also offer support sessions for patients and their families so they can share their health journeys and rehabilitation stories.
Share one personal story with me from your volunteerism.
After founding the organization, word got around in school about our service. One of my teachers heard about our fundraising, and she expressed her gratitude for my efforts, telling me her son went to Children's Specialized Hospital for rehabilitation after an accident. It doesn't matter that we don't always know who exactly we're helping, but we know we are impacting people.
Why do you think it's important for others to give back?
That's one of the major driving factors behind every single community service project. You know you're impacting someone in some way. Knowing everything you're doing has a greater impact on others helps you to overcome obstacles.
How have you continued to volunteer throughout the pandemic?
COVID-19 closed the hospital to volunteers and halted in-person fundraisers. We were planning an in-person Miracle Network Dance Marathon, but that had to be cancelled because of the pandemic. Instead, I led virtual support sessions, reaching more than 1,000 patient families in New Jersey. Now that things are opening up more, we do want to facilitate in-person contact, but we also realize our virtual support sessions expanded our scope to be able to reach more families across the state. That was a major benefit.
What's been the most rewarding part of your service?
Interacting with the families and seeing the smiles from children. I can help them play games, and see the satisfaction they receive when we finish a picture or drawing together. The patients and families told us their stories during our virtual support sessions, and after hearing their stories, it was rewarding knowing that they could benefit directly from our efforts and the money we were raising.
What do you want people to learn from your story?
Keep an eye out for ways you can help your community. It's important to have that mindset and look for ways to actively support and improve society.
In one word, what does volunteering mean to you?
Compassion. And giving back.
When you're not busy volunteering or in school, what do you do for fun?
I play the violin. I've been playing it since kindergarten. I've been playing "Thais" Meditation, and I'm trying to get into popular songs as well. I also used to play the piano. I'm very interested in music. I also do science research.
How can readers help?
Miracle Network raises funds and awareness for more than 170 pediatric hospitals across North America. Please visit their website to find your local Miracle Network and support children's hospitals.
Do you want to make a difference in your community like Angelina Xu? Find local volunteer opportunities.
Share this post