Maryland Teen Opens Home to Hundreds of Foster Animals
Meet Daily Point of Light Award honoree Miriam Talalay. Read her story and nominate an outstanding volunteer or family as a Daily Point of Light.
Ever since she was ten years old, Miriam Talalay's home was filled with foster animals. The now 16-year-old Lutherville-Timonium, Maryland, native has fostered more than 150 animals with the Maryland SPCA and volunteered nearly 3,000 hours socializing, administering medication and intentionally caring for the basic needs of foster animals.
Talalay even remembers fostering a three-legged cat, a cat with leprosy, and many mothers and baby kittens over the past seven years. In addition to her foster animals, she has two dogs of her own, Rosie and Ruby, and one cat named Thumbelina.
Now a junior at Dulaney High School, Talalay has dreams of attending Cornell for biology and learning about birds in the school's ornithology lab. She invisions herself working with animals in some way, either working with an organization like SPCA or being a wildlife rehabilitator.
Talalay has always had an interest in art since attending art camp, and has been drawing for her entire life. Her favorite subject to draw is animals, of course, especially birds.
Describe your role with the Maryland SPCA.
My family adopted one of our dogs from the Maryland SPCA. We were looking for ways that I could volunteer with animals, but you have to be 18 to physically go to the SPCA to volunteer. Then we found fostering, which has no age limit, and I started when I was in fifth grade.
I've been fostering for almost seven years with nearly 3,000 hours of service time caring for over 150 animals. We mostly foster cats and kittens, but sometimes dogs, too. We have a large bathroom with a window in our basement where we keep them, or we let them roam the basement with supervision. Animals usually stay for two to three weeks, maybe a month, and we always post pictures of animals for people interested in adoption.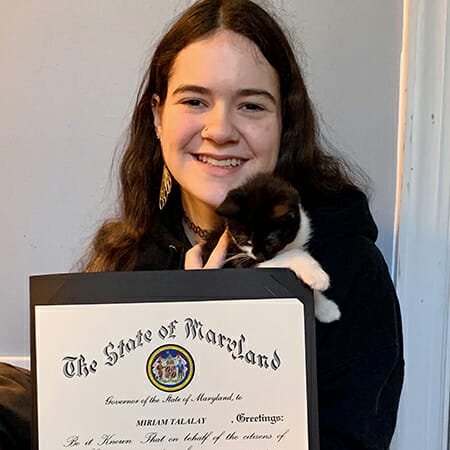 Did your volunteerism shift at all during the COVID-19 pandemic?
It shifted quite a bit because a lot of animals needed foster care because people weren't really allowed to go to the shelter anymore. Luckily, all of the cats and dogs went into foster care so we fostered a lot of animals and we had more time to do so. We were also able to foster more animals like puppies and those with medical conditions, like a cat who had to get both of her eyes removed.
We also had the first pair of kittens who were adopted during the COVID-19 shutdown, so we had this driveway adoption because no one could go inside buildings.
I also volunteered with the Blue Hill Heritage Trust in Maine during the pandemic and created a series of "Virtual Arts in Nature" videos on local trails for children and adults.
Describe the recognition you received from the Gov. of Maryland for your volunteerism.
I was recognized by Gov. Hogan for my hours of community service at SPCA in December of 2020 with a certificate. I was incredibly thankful to the people at SPCA who made the nomination. It was so nice to get their recognition.
Are you involved in volunteer service activities outside of SPCA?
Yes, I'm a part of our Key Club — a service club at my high school — and I chair animal-related events. One event is an animal food drive for the SPCA where we do collections every month to gather dry and wet animal food. Then I drive them over to SPCA and the food goes to SPCA's Kibble Connection, which provides pet food to low-income residents in Baltimore City. The other event is a dog toy making event where people make their own dog toys out of old T-shirts, socks and water bottles and receive service hours in return.
I actually just joined the Key Club this school year. I wasn't really sure how to join clubs during my first two years in high school, but then there was a virtual club rush during the pandemic, so I decided to try it on a whim and I've really liked it. There weren't really many animal-related things at school before I joined. I'm also a part of the environmental issues club at my school.
What inspires you to volunteer?
It's really just a love for animals. I've loved animals since I was very young, and animals have always been my passion. Getting to foster and getting to see all of these animals go to good homes instead of being at the shelter makes me so incredibly happy. I just enjoy being able to care for them because animals are just my favorite thing in the world.
What have you learned through your experience as a volunteer?
I learned how to take care of these animals, of course, and I learned how to give them medicine and do all sorts of duties. I also learned a lot about behaviors and socialization.
Why is it important for others to give back? Especially youth?
I would say that there's always going to be animals in the shelter, so the best thing you can do is take them out of that cage and get them to your house and care for them because all animals want is to have someone love them. It's a great way to familiarize yourself with service, especially for youth. Even though you can't physically go to the SPCA and volunteer right now, fostering a great way to make good connections. It's just very fulfilling, and it's just great for anybody who has a love for animals.
What would you want others to learn from your service story?
I really want people to learn that an animal's entire life is what we give them. Fostering is so important in the sense that we're their entire lives. Fostering allows them to feel loved outside of the shelter. Then they get put in loving homes, which is just so important because there's so many stray animals out there. There's always going to be puppies, kittens and dogs that aren't safe that need homes and fostering really helps with the process.
Are there any partnerships, programs, or events that you are excited about?
I just started fostering for another place called TRU Rescue, and we have a puppy from there right now. There's going to be a few adoption events at pet stores so people can meet the puppies.
Recently we also went to the Greater Baltimore Medical Center with TRU Rescue puppies to visit the nurses and had a little cheer up puppy party. The event was for nurses of the intensive care unit and other healthcare workers who have been hit hardest during COVID-19. We had puppies, snacks and other adult dogs and they all just snuggled. It was so nice to meet all of the nurses — they're working so hard. We just wanted to give back and that's my favorite thing. We will hopefully do this again soon.
Do you want to make a difference in your community like Miriam? Find local volunteer opportunities.
Share this post