Teen Advocate Makes Positive Impact on Community Through "Good Intentions"
Meet Daily Point of Light Award honoree Pranav Giridhar. Read his story and nominate an outstanding volunteer or family as a Daily Point of Light.
14-year-old Pranav Giridhar says he feels fortunate to have received a good education growing up. When the 8th grade Ashburn, Virginia student realized that not all children were able to enjoy the same kind of education, he decided to dedicate his service to advocating for quality education for underprivileged kids.
Launching Good Intentions Foundation in September 2020, Pranav advocates for education, climate action and sustainability across the globe. Millions and millions of primary school children are out of school around the world, a statistic which worsened amid the COVID-19 pandemic. Dedicated to offering critical social services, Pranav says his "good intentioned" volunteerism became even more important during the pandemic as individuals around the world faced adversity.
What inspires you to volunteer?
I never had to worry about whether I had to hop on a bus or walk two miles to school, and the more I read about the issues some children face and how that adversity results in lack of education, that hit me and made me want to help in any way I can. It's a blessing to have an education, and I wanted to help provide that blessing to other children, particularly underprivileged children.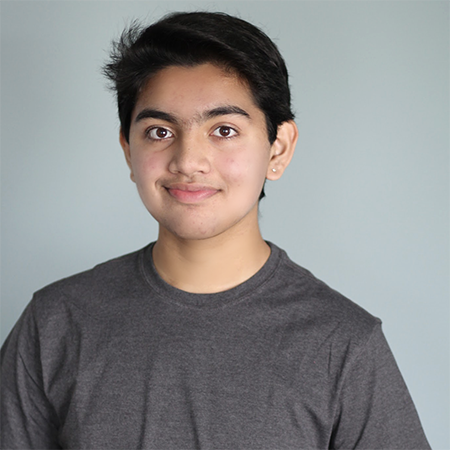 Describe your volunteerism with Good Intentions Foundation.
As founder, CEO and chairman of the board, I lead education and some environmental initiatives. I'm the president of my middle school student council and we wanted to do something for the community, so launching Good Intentions was one of my projects to help. We have about 15 volunteers, mostly other students. We hold many events online because of the pandemic.
Share one personal story with me from your volunteerism.
We collected clothes from communities in Virginia and donated these clothes to local charities. It was winter time so the majority of clothes we received were puffer jackets, gloves and scarves. I felt joy being able to provide a resource for a family that didn't have it, and I was proud of myself for taking initiative to help others.
Why do you think it's important for others to give back?
Volunteering gives you a sense of humility and lets you be more aware of issues people around the world are facing. You may just feel like your contribution is just a drop in the ocean, but that assistance could make someone else's life a lot easier. As a volunteer, you can provide resources for people who may not be able to provide for themselves.
What's in the future for your volunteerism?
We launched in 2020 to respond to issues that existed before the pandemic, but COVID-19 made those issues ten times worse, and that made me want to help out even more. We believe everyone deserves education, and Good Intentions is a long-term project to impact underprivileged children and make sure we're able to solve issues across environment and education.
What do you want people to learn from your story?
Contribute to whatever non-profit you want to help with the intention of actually helping others. Make sure you are serving because you want to help others, and you genuinely want to make an impact on people's lives.
In one word, what does volunteering mean to you?
Humility.
When you're not busy volunteering or in school, what do you do for fun?
I'm an entrepreneur. I run several technology companies, and most recently had a tech company acquired.
How can readers help?
Please visit our website for more information about how you can help.
Do you want to make a difference in your community like Pranav Giridhar? Find local volunteer opportunities.
Share this post