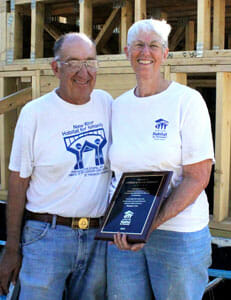 Poverty and homelessness is a very real issue plaguing many people all around the world. With over 1.5 million people worldwide living in impoverished conditions, and 95 million of those in America, it is going to take a superhuman effort to turn these staggering numbers around. With the help of the Gravlee family, there is still hope for a better future.
For the past 22 years, George and Diane Gravlee have served as dedicated volunteers for the Habitat for Humanity International RV Care-A-Vanner Program. What started out as a mission to Hawaii to restore the hurricane ravished island of Kauai back in 1993, has evolved into a steady commitment responsible for building homes all across the country.
The RV Care-A-Vanner Program is a volunteer based program open to anyone who wants to travel and help Habitat build homes. George and Diane are some of the longest serving RV Care-A-Vanners. Through three decades of selflessness, the Gravlee's have partnered with 96 Habitat affiliates, helping build homes in all 50 states, a feat no other group of Care-A-Vanners has yet to achieve. While it is noted that some 319 families have been impacted by the work of George and Diane, there is truly no way to quantify the blessings that come along with a stable home.
"Some of the children of the homeowners in the houses we first worked on have now graduated from college, married and have successful lives," said Diane. "For us, it is really all about giving the children a chance to have a safe and dry place to grow, study and play."
While the unfortunate effects of poverty are wide spread, the efforts of Care-A-Vanners like George and Diane are truly helping change the world.
Share this post